Peppers are not the most frugal vegetable out there.  Have you noticed the prices of them in the store?  They can be outrageous often over a dollar a pepper.  Don't even get me started on how hard it is to find organic peppers in my area, and even worse at an affordable price.
For this reason, peppers ALWAYS make my list of vegetables that I grow in the summer.  A fairly expensive food like peppers becomes frugal when they come directly from the garden.  They are certainly a special summer treat that frequently grace our table in the form of fajitas and toppings on pizza.  If you don't have a garden though, my second favorite place to find peppers is at Aldi.  My third favorite is to search sale bins at your regular grocery store or Farmer's Markets.  You can often find good deals there.
My absolute favorite thing to do with them is to make Italian stuffed peppers.  I look forward to them every single year with anticipation, so you can imagine how giddy I was last week when my first peppers were big enough to pick.  We don't usually get to harvest peppers until July, so mid-June peppers was almost like an early birthday present.  My how times have changed when Tara picks a purple pepper and it makes her heart go pitter patter.
Stuffed peppers are easy to make.  First you mix up your meat, rice or cauliflower rice, herbs, seasonings, and sauce.
Then you slice your peppers in half.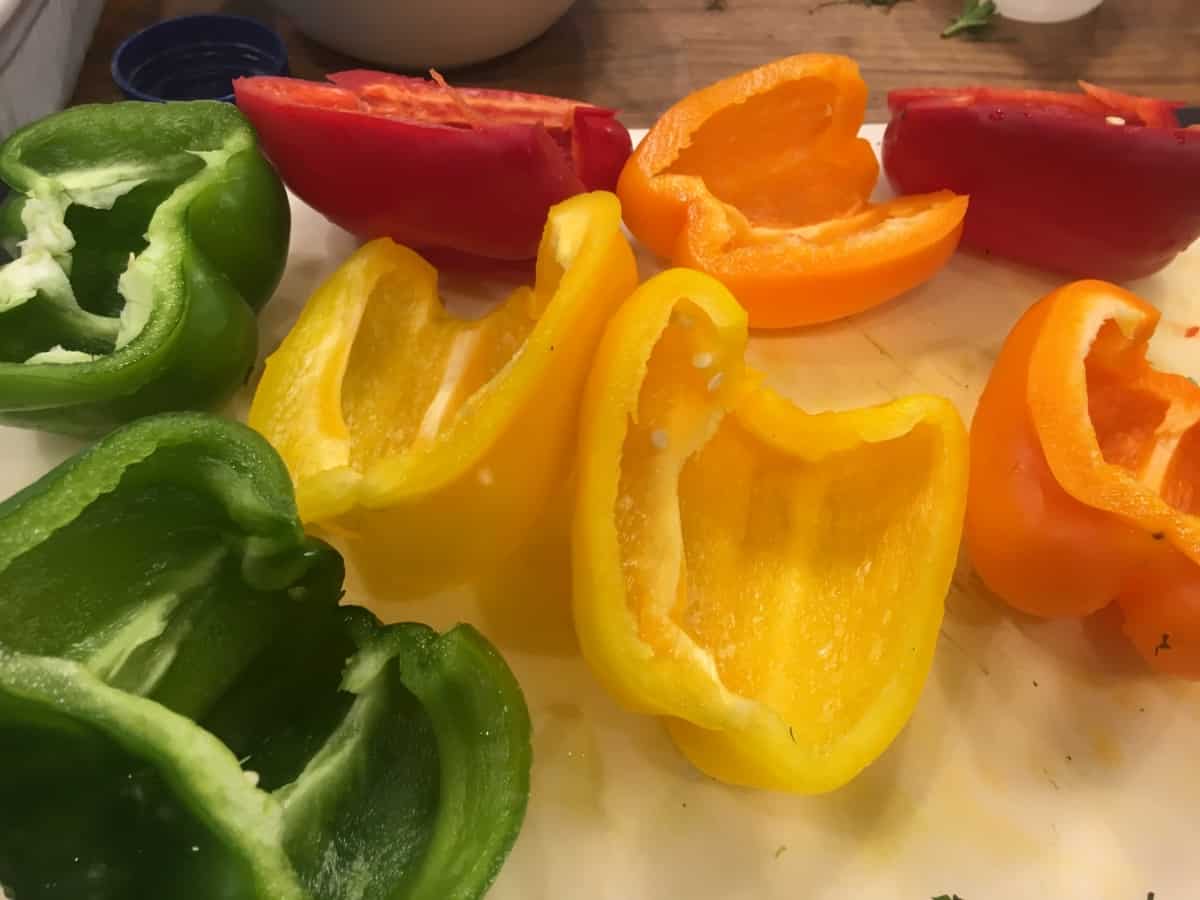 Next you pour some sauce in the bottom of a baking dish. Stuff your peppers with your meat mixture and place them in the baking dish.
Bake for about 45 minutes.  I then like to top with a bit of cheese and pop them under the broiler to crisp them up. Spoon the sauce over your peppers and dig in!
Stuffed peppers
Stuffed peppers are a delicious summer garden delight!
Ingredients
1

cup

cooked rice OR cauliflower rice for low carb

1

lb.

ground beef

¼

cup

onions

diced

1

tsp

sea salt

½

cup

FRESH herbs

oregano, thyme, basil, rosemary, parsley

1

clove

garlic

minced or pressed

½

cup

tomato sauce

strained tomatoes, or clean marinara sauce

4

large bell peppers

any color

**Sauce**

1

cup

tomato sauce

jarred strained tomatoes, or a clean marinara sauce

¼

cup

chopped FRESH herbs

oregano, thyme, rosemary, parsley

1

clove

garlic minced or pressed

salt to taste
Instructions
Preheat oven to 350 degrees.

For a milder onion flavor, saute onions in a little butter or olive oil for a few minutes until tender. This is an optional step.

Mix together rice, ground beef, onions, salt, herbs, 1 clove garlic, and ½ cup tomato sauce.

Fill peppers generously.

For the sauce, mix 1 cup of tomato sauce, ¼ cup chopped fresh herbs, 1 cloves minced garlic, and salt to taste.

Pour sauce in bottom of a 9x13 baking dish.

Place stuffed peppers on top.

Bake at 350 for approx. 40 mins. or until internal temperature has reached 160 degrees F.

Top with mozzarella cheese if desired and place under broiler until golden. When serving, pour sauce on top of peppers.