Looking for canned tuna recipes for that tuna in your pantry that you don't know what to do with? Say goodbye to boring tuna and crackers and hello to 16 canned tuna recipes to use this pantry staple.
Almost everyone has a can or two of canned tuna in their pantry. It's just so cheap and great for emergency protein. According to Seafood Health Facts,
Canned tuna is a good source of essential nutrients, such as omega-3 fatty acids, high quality protein, selenium and Vitamin D.
The problem is that we don't use the food in our pantries enough and we go out and buy more and more food every week, ignoring what we already have in our home. As part of our pantry recipe challenge, I'm featuring this underused pantry staple and giving you some fresh ideas for canned tuna recipes. Hopefully this will inspire you in the kitchen.
Classic Tuna Salad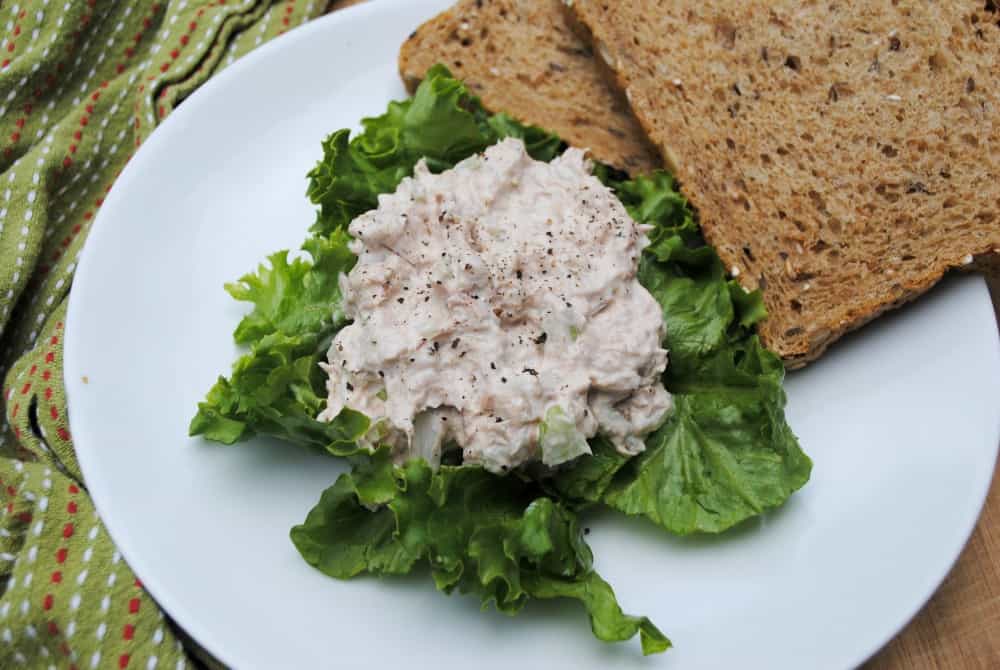 This tuna salad is a classic. Great served on bread as a sandwich, in lettuce cups, wraps, or in an avocado or tomato.
2. Easy Canned Tuna Pasta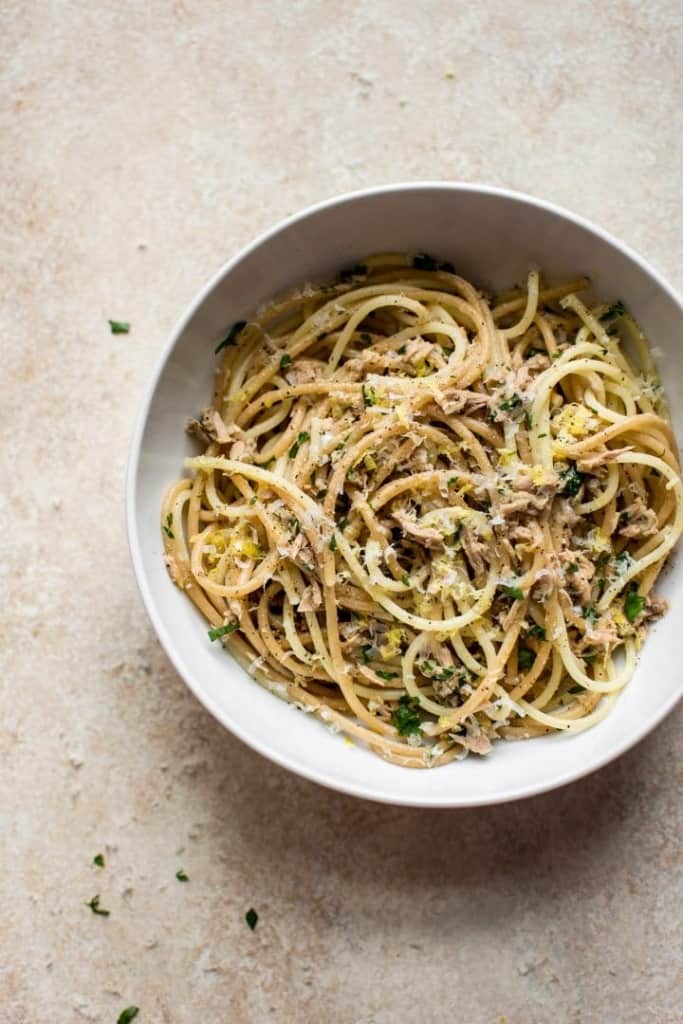 Easy canned tuna pasta has minimal yet fresh ingredients and the perfect dish when you need to clean out your pantry.
3. Tuna Melt
Tuna melts take the tuna sandwich up a whole other level. I like mine open faced style like this topped with cheese and tomato.
4. Quick and Healthy Salad with Tuna Fish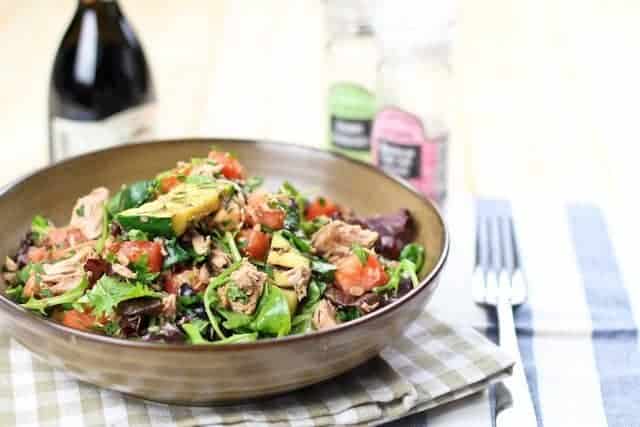 This quick and healthy salad with tuna fish looks so amazing and fresh. With grilled zucchini, tomatoes, and greens, it is perfect for a light summer meal.
5. Avocado Tuna Salad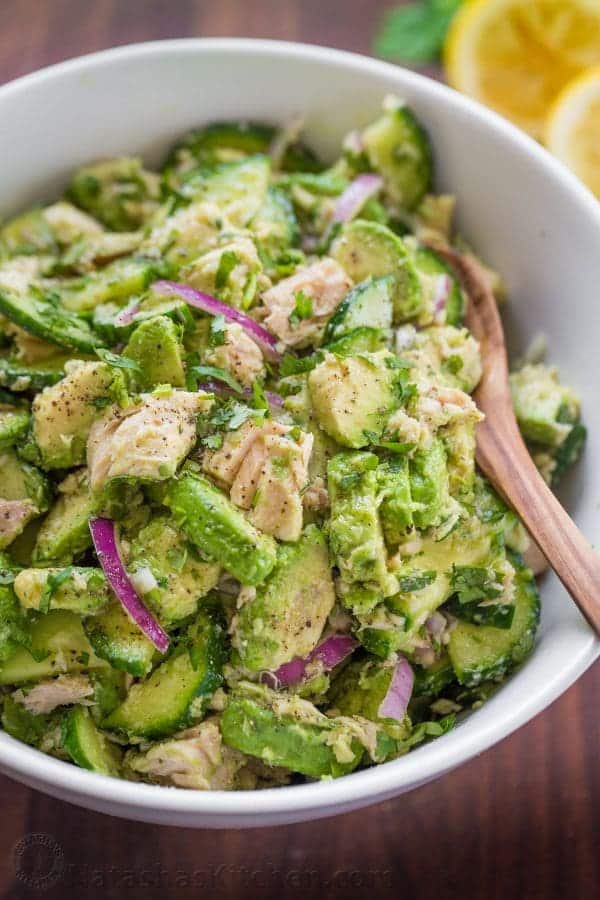 Avocado tuna salad is full of healthy fats and fiber with the avocados in this tasty salad. It's a delicious spin on tuna salad.
6. Chickpea Tuna Salad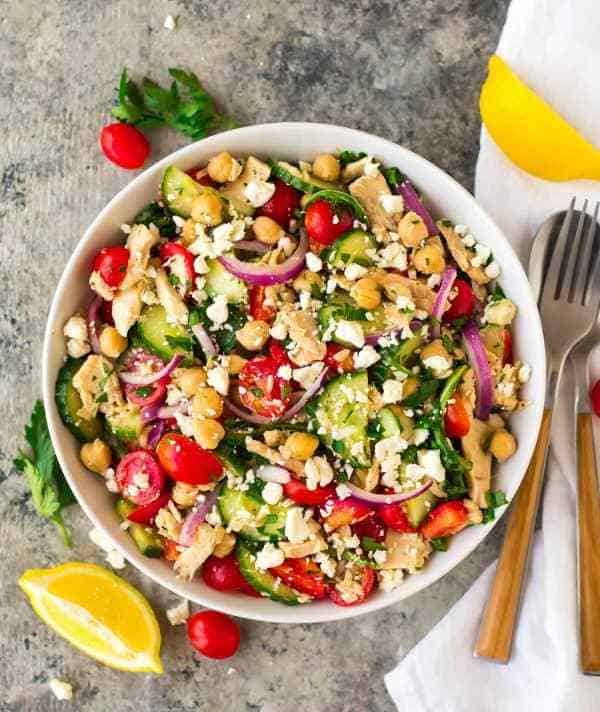 Chickpea tuna salad uses two pantry staples: canned tuna and chickpeas. The tomatoes, cucumbers, feta and lemon juice dressing brighten up this salad to make it a feast for the eyes and tastebuds.
7. Creamy Tuna Pasta with Peas and Parmesan
Kids will love the sauce in this creamy tuna pasta with peas and parmesan. Who doesn't love pasta? Plus, with canned tuna, peas, and pasta, it's a very budget-friendly meal.
8. Mediterranean Tuna Pasta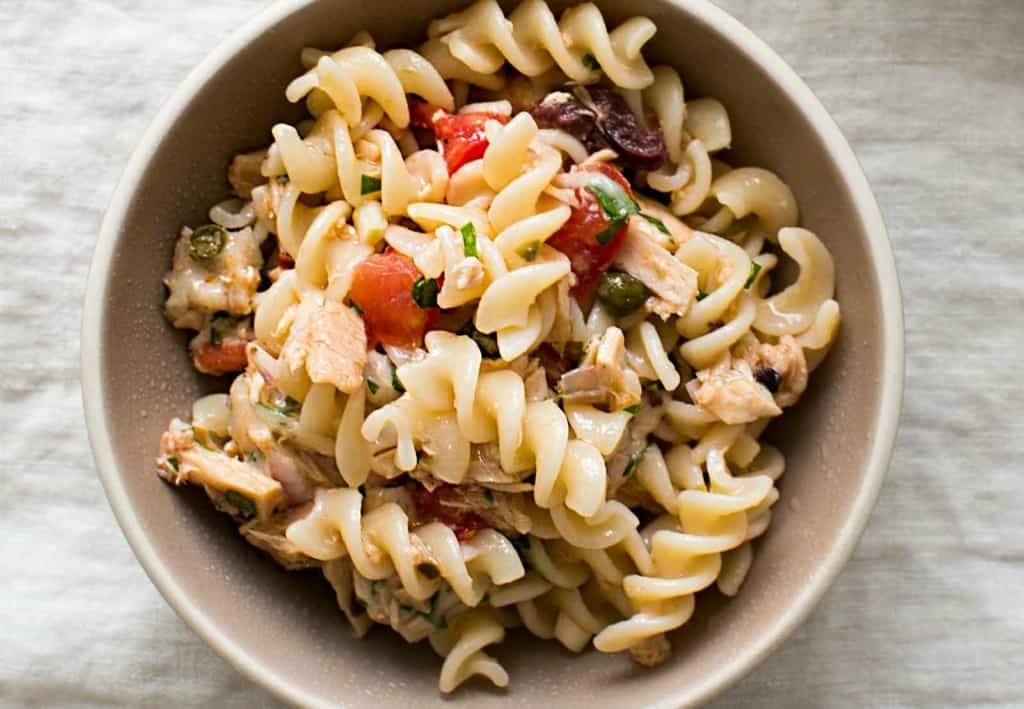 Loaded with tomatoes, olives, red onion, capers, and parsley, this Mediterranean tuna pasta is full of flavor and is another awesome pantry meal.
9. Tuna Patties
Tuna patties take me back to my childhood. My parents used canned salmon, but they taste equally delicious with canned tuna. They come together quickly and are kid-friendly.
10. Spicy Tuna Cakes
Nom Nom Paleo
We love the sweet and spicy combination of these spicy tuna cakes. They are paleo and inexpensive to make.
11. Curried Tuna Salad
Kick up the classic curry tuna salad and turn it into curried tuna salad by adding curry spices, golden raisins, and cilantro. 
12. Tuna Noodle Casserole
I absolutely love a classic tuna noodle casserole. This one is made without canned cream soups, which I really appreciate.
13. Ceviche de Atun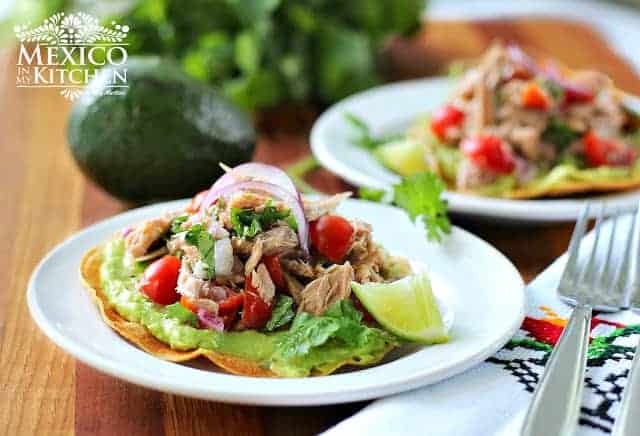 Ceviche de atun is a Mexican dish where raw tuna is cured with citrus. This ceviche with canned tuna is a play on that traditional recipe.  While it's not the exact same, it's full of flavor and tasty.
14. Spicy Tuna "Sushi" Bowl
This spicy tuna "sushi" bowl has all the flavors of a spicy tuna roll in a budget friendly bowl form. That siracha mayo definitely takes the canned tuna up a notch.
15. Asian Tuna Salad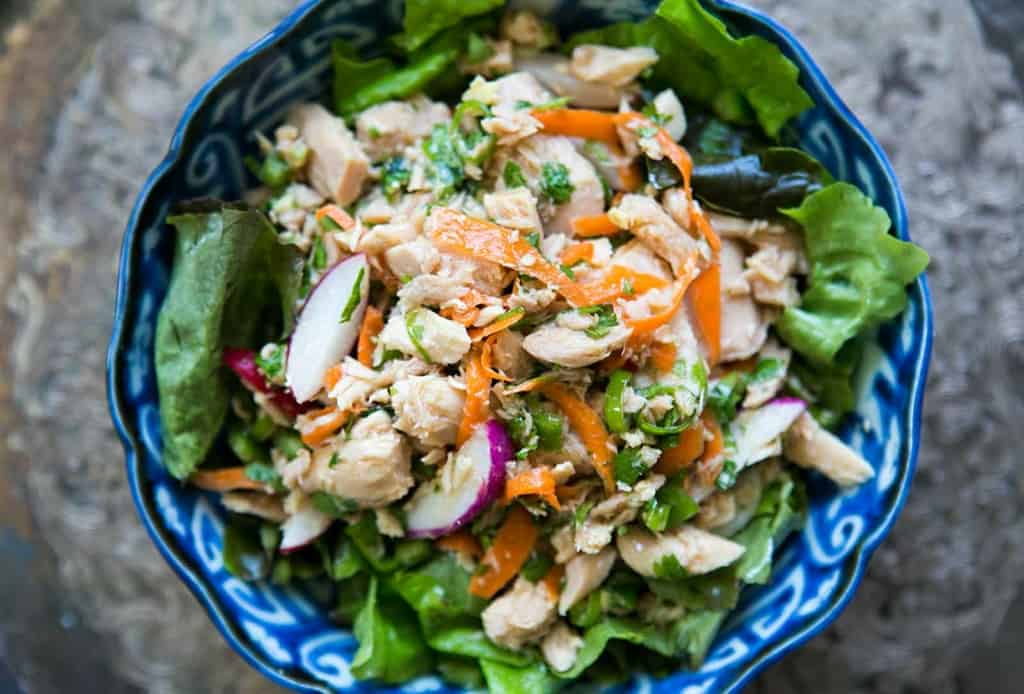 Asian tuna salad  can be served over lettuce or noodles. Lots of fresh flavors in this one.
16. Sicilian Tuna Salad
My mouth waters just looking at this Sicilian tuna salad. It looks way too tasty to be using pantry ingredients.
I hope this list gave you some fresh ideas for using canned tuna. What is your favorite canned tuna recipe? Let me know in the comments below.