Basic cheese sauce recipe that can be used in a variety of ways. Top a baked potato, use a dipping sauce, use in mac and cheese, or top vegetables. Never buy store-bought again.
It's one thing to know how to follow recipes, but it's another thing to know how to cook.  If you want to really start saving money on food, you have to start learning how to cook and acquire basic skills in the kitchen.
Many things fall into the category of must-know recipes when cooking from scratch, but one of the most delicious is a basic cheese sauce.
How do you make cheese sauce from scratch?
The easiest and most inexpensive way to make this is with a roux base.
Make a roux by cooking equal parts of butter and flour together in a saucepan over medium heat for a minute or two.
Then whisk in milk.
Cook until it begins to thicken, remove from heat, and slowly whisk in your cheese.
Season with salt and pepper and eat. It's as easy as that!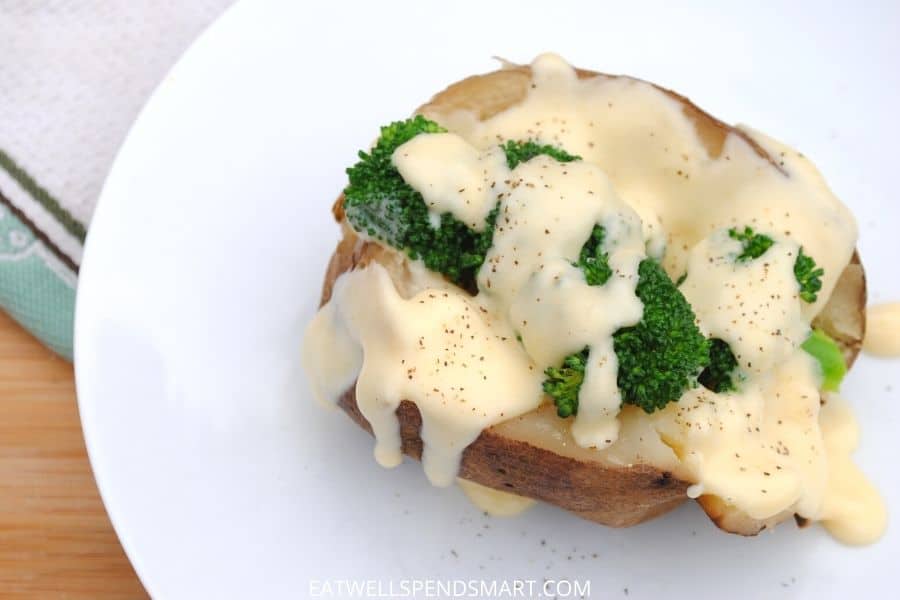 What can I put cheese sauce on?
Homemade cheese sauce is so versatile, so easy, and so delicious.  Here are some ideas for how to use it.
top vegetables for picky eaters
dipping sauce for oven fries
dipping sauce for soft pretzels
as a base for macaroni and cheese
nacho sauce
Flavor variations
This of course is a base recipe and can be customized for more flavor combinations.  You could add any of the following for different variations.
sauté peppers and onions in the butter for a southwest flair
bacon or sausage to kick up the flavor
add black beans
make it spicy with pickled jalapeño juice or Rotel.
add chili powder or cayenne for some kick
Basic Cheese Sauce
A versatile basic cheese sauce recipe that can be used for topping vegetables, a dipping sauce, nachos, or mac and cheese. Super simple.
Ingredients
2

tbsp

butter

2

tbsp

flour

1 ½

cup

milk

1

cup

sharp cheddar cheese

shredded from a block

½

tsp

salt

or to taste

pepper

to taste
Instructions
Shred cheddar cheese using a grater and set aside.

In a saucepan, melt butter over medium heat.         

Whisk in flour and cook for a minute or two.

Bring to a gentle simmer and whisk until thickened.

Remove from heat or turn heat down to lowest setting, and stir in cheese a little add a time. If your heat is too high, your sauce might "break" and take on a grainy texture.

Season with salt and pepper to taste.
Notes
A block of cheddar cheese will yield better results than pre-shredded cheese. Pre-shredded cheese contains additives that can create a grainy texture when melted into the sauce.
Troubleshooting
Add more cheese if you need it thicker or a cheesier flavor.
Add a bit more milk if it starts to get too thick.
Add more salt if it doesn't "pop" in flavor.
I hope you love this easy recipe. If you try it and love it, please leave a rating and comment below.
I love to hear about your wins in the kitchen!