Cobb salad is a recipe that everyone should know how to make. Made with simple everyday ingredients, but packed with flavor, this is a great salad recipe to have in your back pocket. It's a great way to use leftover or rotisserie chicken and has a killer homemade dressing.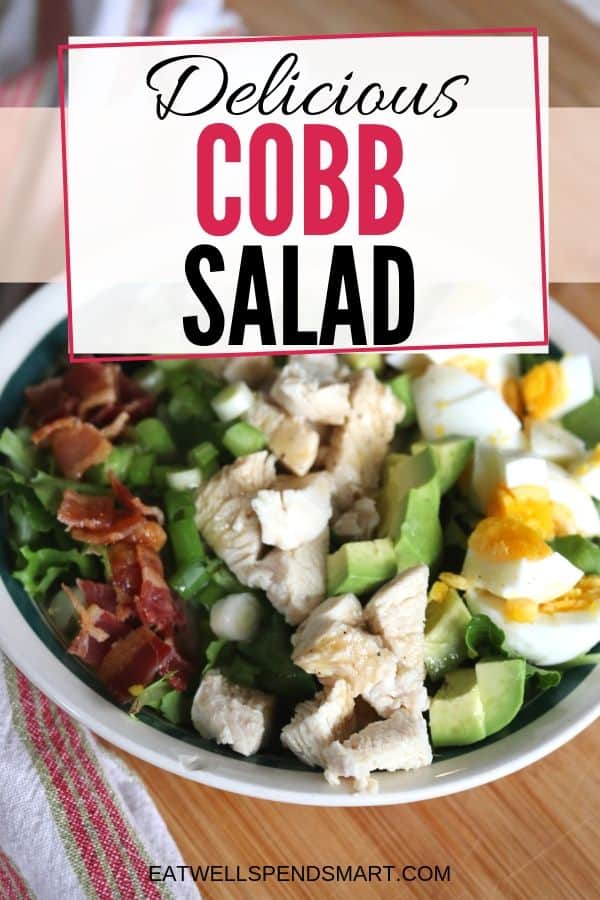 Who says salads have to be boring? Not me! I love a good salad, especially when it's loaded with yummy things like bacon, eggs, avocado, chicken, blue cheese, and green onions. This is exactly what comprises a classic cobb salad. Oh, and tomatoes make that list too, but in my opinion, only in the summer.  Don't even bother putting tasteless winter tomatoes on a cobb salad.  Save it for when they are ripe and in season in the summer.  You won't be sorry!
What is a cobb salad?
A cobb salad is a classic American salad made with mixed greens, chicken, bacon, avocado, tomatoes, blue cheese, and a red wine vinaigrette dressing. The story of the cobb salad is pretty fun, as it was invented on a whim. I just love accidental creations in the kitchen!
If you have never had a cobb salad before, it's a great statement salad. Usually the toppings are presented in a lined up fashion on top of the salad. It's a feast for the eyes before it even hits the tastebuds. And the dressing? Well it makes the salad. It is dressed with a simple homemade vinaigrette dressing that is the perfect addition of acid to cut through the fat that tops the salad.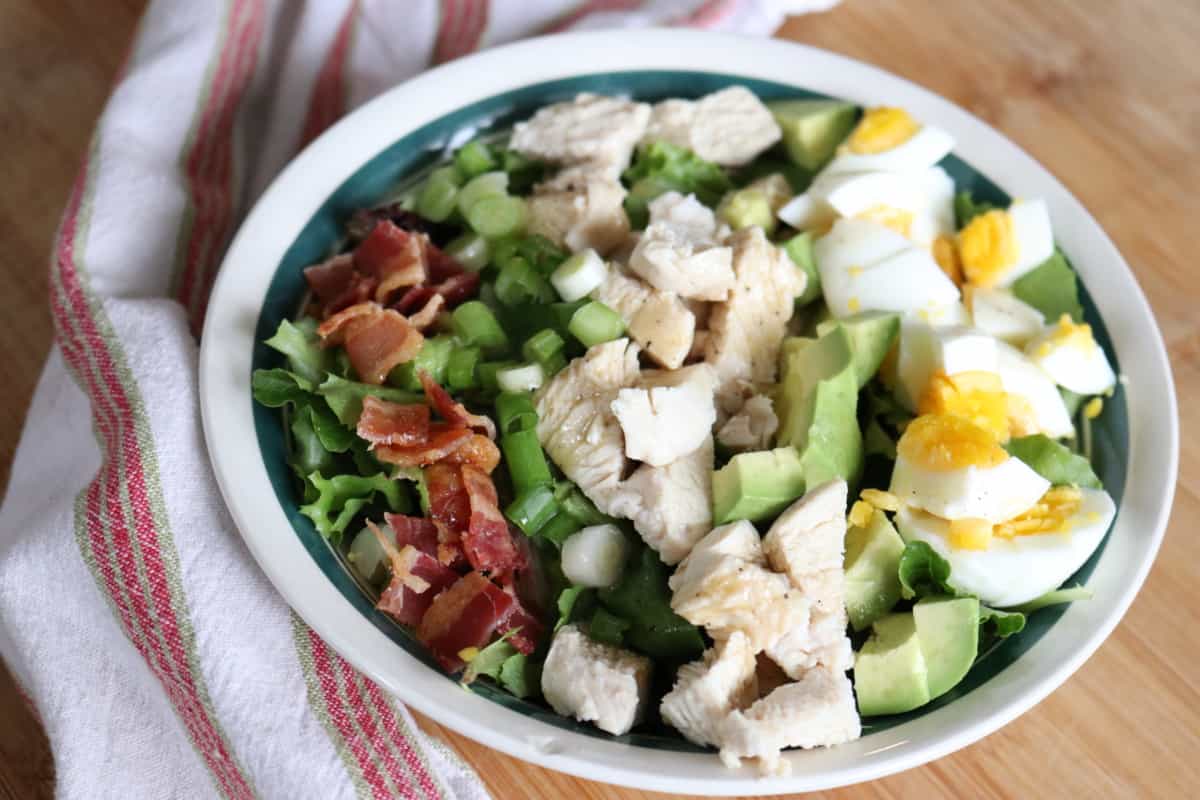 How can Cobb salad be frugal?
I almost always have eggs, bacon, and salad greens on hand so they are staples in my kitchen.
Cobb salad is also an awesome way to use up leftover chicken from roasting a whole chicken. You know I love to teach how to stretch your proteins to save some cash.
Green onions can be purchased for $1 or less.
Avocados can be pricey, but if you wait for them to be on sale, you can get them for a great price, often for .50 or less at Aldi.
The bleu cheese can be purchased on sale or omitted.  It's great with or without the cheese.
Cobb salad
A delicious cobb salad with mixed greens, chicken, boiled eggs, avocado, green onions, and bacon. Add tomato if it is in season where you live.
Ingredients
mixed greens

eggs

1 per person

bacon

1-2 slices per person

chopped leftover or rotisserie chicken

½ c. per person

avocado

¼ per person

1

tomato

green onions

1 per person

crumbled blue cheese

omit if dairy free

½

cup

olive oil

¼

cup

red wine vinegar

1

tbsp

dijon mustard

salt

big pinch or to taste

pepper

to taste
Instructions
Boil eggs in a saucepan for about 8 minutes. Place in ice water to cool for a few minutes before peeling. Chop after peeling and set aside.

Chop bacon and brown in a skillet until crisp. Set aside.

Make dressing by combining olive oil, red wine vinegar, dijon, salt, and pepper in a jar with a lid. Shake in a tightly lidded jar for a few seconds until emulsified. Alternatively you can whisk the ingredients in a bowl.

Chop remainder of ingredients into bite sized pieces and arrange them in lines on a bed of mixed greens. Toss with dressing a little at a time until you have enough to your liking.
Notes
Fresh tomatoes are a classic addition to cobb salad as well.  I only add them in the summer though when they are in season because in my opinion grocery store tomatoes in the cold months aren't worth eating.