As much as I love to cook, I don't always have the time, energy, or money to make a huge complicated meal seven nights a week. We're often on the go, making it tempting to run through a fast food drive through. I know fast food isn't the best option for us so instead I've started carefully planning meals so that I can cook one large piece of meat and use if for several different meals later in the week. I like to call this connected meal planning.
I have started buying pastured chickens, pork and grass fed beef which is much pricier than conventional grain fed meat. One whole chicken can typically cost anywhere from $15-$25 depending on the size of the bird. If I were to use that for only one meal, I would likely go broke! Instead, I cook a whole chicken about twice a month and try to stretch it out to 3-5 more meals. This saves me time in the kitchen and money in my pocket. If I had a very large family, I would cook two chickens and use this same method.
I do want to mention that just because you can get four meals out of one chicken doesn't mean you have to have chicken every night in the same week. I personally like a little more variety. Many things can be frozen like a casserole dish, soups, enchiladas, etc. This makes dinner even easier for later in the week. Just thaw and pop in the oven or heat on the stove.
So how do you make the most out of your whole chicken?
Meal one: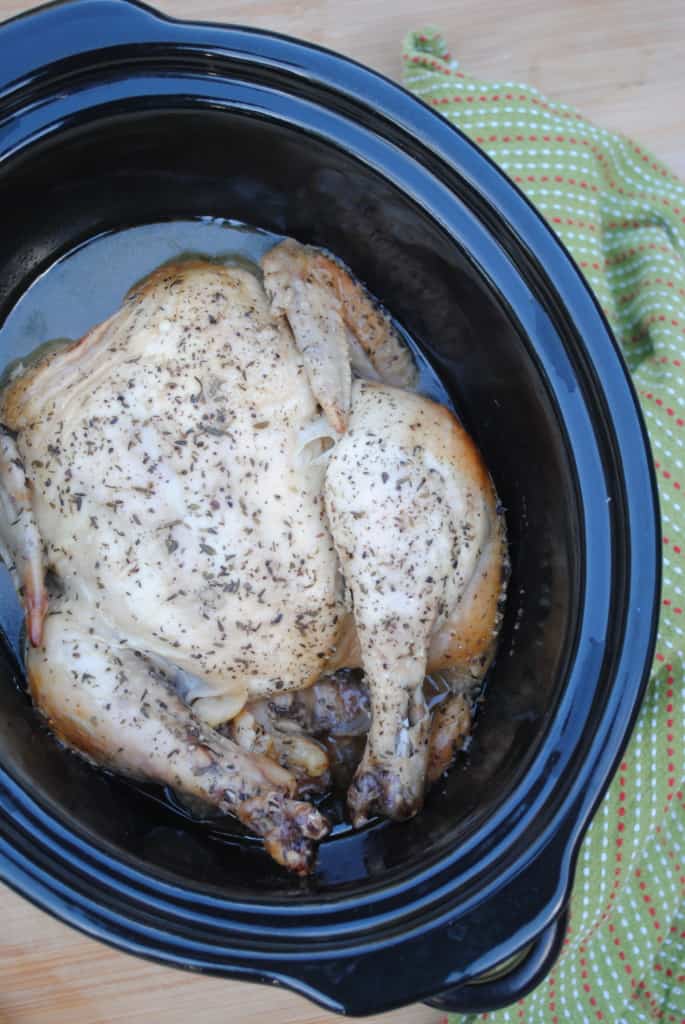 This is delicious with roasted veggies, mashed potatoes, and gravy. This is one of my favorite meals. If you make this, take out 2-4 cups of chicken for future meals or you will eat it all and won't have any left. 🙂
**Make sure to FREEZE the leftover chicken if you aren't going to use it within the next day or two. We don't want no funky chicken! 🙂 If you are freezing the leftover meat, pre-portion the leftover chicken and place into 1 or 2 bags depending on how much chicken you have left and what you will use it for.
***Immediately after you have de-boned your chicken, throw the bones in the crockpot or stock pot with some water, carrots, celery, and onion to make chicken stock!
Meal two:
Chicken salads. This one is super quick and easy. Use this for a night where you feel lazy or need something on the table quickly. I only use one chicken breast that I took off the chicken first. This gets chopped up for the two adults. My 3 year old eats some of the dark meat. If your kids say they don't like salad like mine does, don't stress. Serve them components of the salad like the chicken, hard boiled eggs, avocados, carrot sticks, etc and let them dip them in the salad dressing. I usually also have Bailey choose a fruit to add to it too or make her a quick smoothie.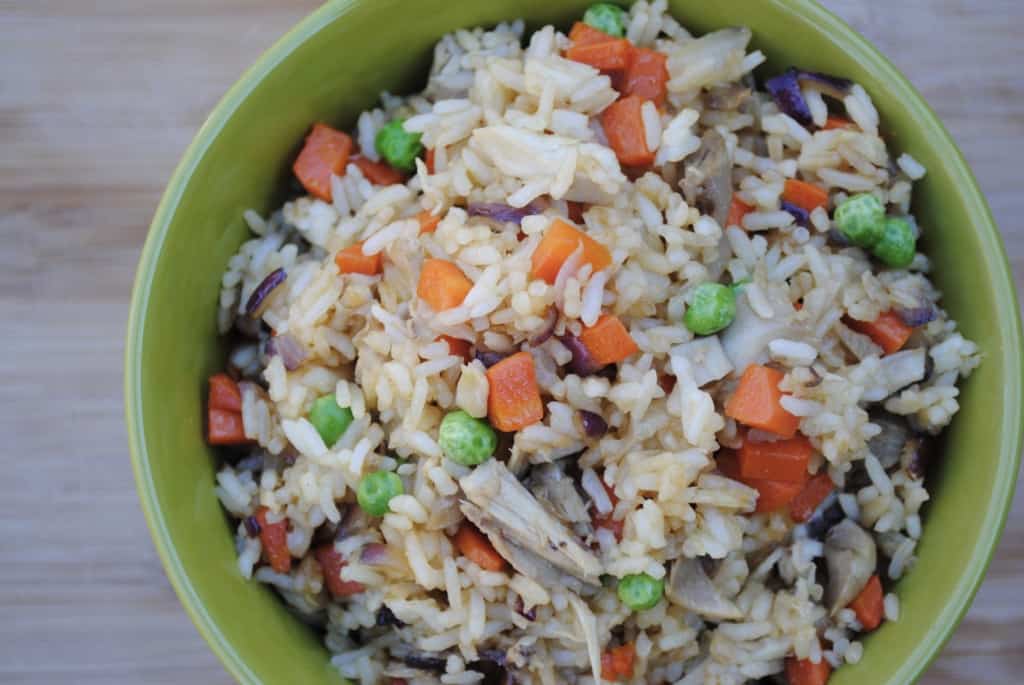 Other favorite leftover chicken dishes: Chicken enchiladas, chicken pot pie, chicken tacos, stir fry, quesadillas, paninis, cold sandwiches, chicken broccoli and rice casserole, stuffed in pitas, chicken fried rice, chicken curry, and chicken fajitas, chicken lettuce wraps, shredded bbq chicken, or chicken taco salads.
Meal three:
Soup. After you have de-boned your roasted chicken, use the bones to make chicken stock overnight. Reserve 8 cups of the chicken stock the next day, add 1-2 cups of shredded chicken, cut up veggies, salt, seasonings, and rice if you prefer. I usually don't add rice to mine. Bring to a boil and simmer for about 30 minutes until veggies are tender. Another quick and very healthy meal. It's particularly good if you have someone who is sick in the family or in the winter when you are trying to prevent illness. Chicken soup really is good for the soul and body. It's also great for getting rid of extra produce in your fridge. Just throw whatever you have on hand in the pot. You may come up with a combo that you love.
Even if you don't have leftover chicken, you can still use the broth to make a meatless soup. Fill your pot with any of the following: beans, greens, garlic and other spices, tomatoes, sweet potatoes, eggs, butternut squash, etc. You can even make blended soups or chunky soups. The possibilities are endless.
Favorite Ways to Use broth:
Don't waste the broth! Even if you don't like soups, you can still use the broth. You can use it in a casserole or in a soup that calls for broth such as this creamy tomato soup or kale and white bean soup. You can cook your rice, quinoa, and other grains in it. You can make gravies and sauces. The possibilities are endless.
So as you can see, homemade food doesn't have to take a long time and doesn't have to be expensive. To get the most bang for your buck and to save yourself time in the kitchen, it just takes a little advanced thought. I promise the more you do it, the easier it gets and you'll wonder why you never did it this way before.
ANY OTHER IDEAS FROM YOU? What are your favorite recipes that use shredded chicken or broth?