Learn how to use a whole chicken to make multiple meals. Stretch your chicken as far as possible without sacrificing nutrition. Turn one chicken into three or four meals.
I see you trying to feed your family well and stay in budget. You are trying to stretch your food dollars as far as possible without sacrificing nutrition. You are tired and you need strategies to make this seemingly impossible task easier. I see you because I feel the same way.
As much as I love to cook, I don't always have the time, energy, or money to make a huge complicated meal seven nights a week. We're often on the go, making it tempting to run through a fast food drive through. I know fast food isn't the best option for us so instead I've started carefully planning meals so that I can cook one large piece of meat and use if for several different meals later in the week. I like to call this connected meal planning.
Using a whole chicken to make multiple meals is one of my favorite money saving and time saving strategies that I use in my own kitchen every single month. I cook a whole chicken and stretch it out to 3-5 more meals. This saves me time in the kitchen and money in my pocket. If I had a very large family, I would cook two chickens and use this same method.
Cooking a Whole Chicken for Multiple Meals
You have a few options here on how you are going to cook your chicken initially. You can boil it on the stovetop like I show in the video below or you can roast the chicken in the oven or cook it in the slow cooker. In my opinion the roasted chicken is the most delicious, but you are likely to be able to stretch it further if you use the stovetop method because you are getting a meat stock while boiling the chicken, so essentially that means extra broth. Score! Also you are deboning and pre-portioning the chicken right away which I think makes it stretch further as well.
MEAL ONE: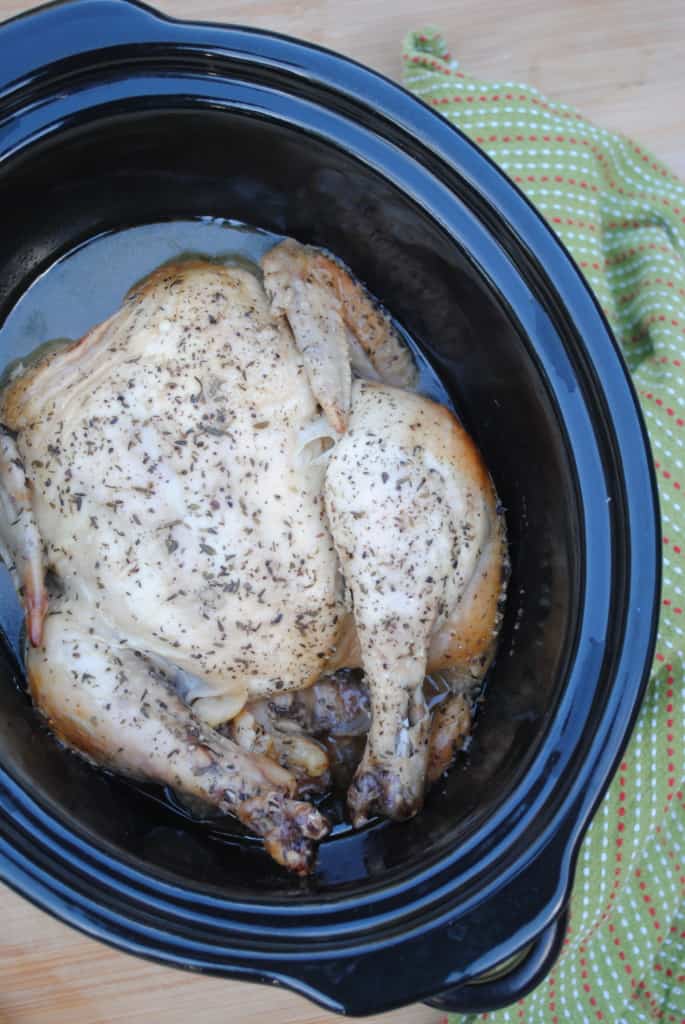 This is delicious with roasted veggies, mashed potatoes, and gravy. Don't forget the gravy! This is one of my favorite meals. If you make this, take out 2-4 cups of chicken for future meals or you will eat it all and won't have any left. 🙂 Do not put the entire chicken on the table without reserving some meat because I assure you it will likely be all gone. Serve with lots of heavy and tasty side dishes so it doesn't feel stingy.
**Make sure to FREEZE the leftover chicken if you aren't going to use it within the next day or two. We   don't want no funky chicken! If you are freezing the leftover meat, pre-portion the leftover chicken and place into 1 or 2 bags depending on how much chicken you have left and what you will use it for.
***Immediately after you have de-boned your chicken, throw the bones in the crockpot, stock pot, or Instant Pot with some water and a bay leaf to make chicken stock. You could also add carrots, onions, and  celery if you would like.
MEAL TWO:
I like to pair the leftover chicken in some kind of dish where the chicken is more of a condiment than the main star. Chicken fried rice is an excellent option because it uses whatever vegetables you have on hand and rice, a frugal grain.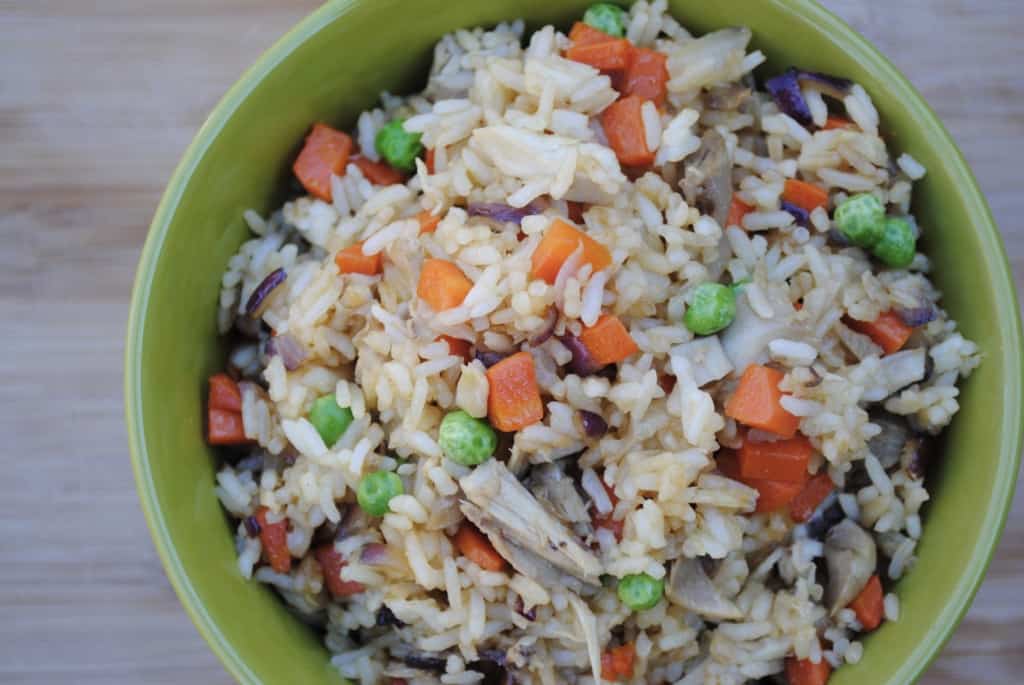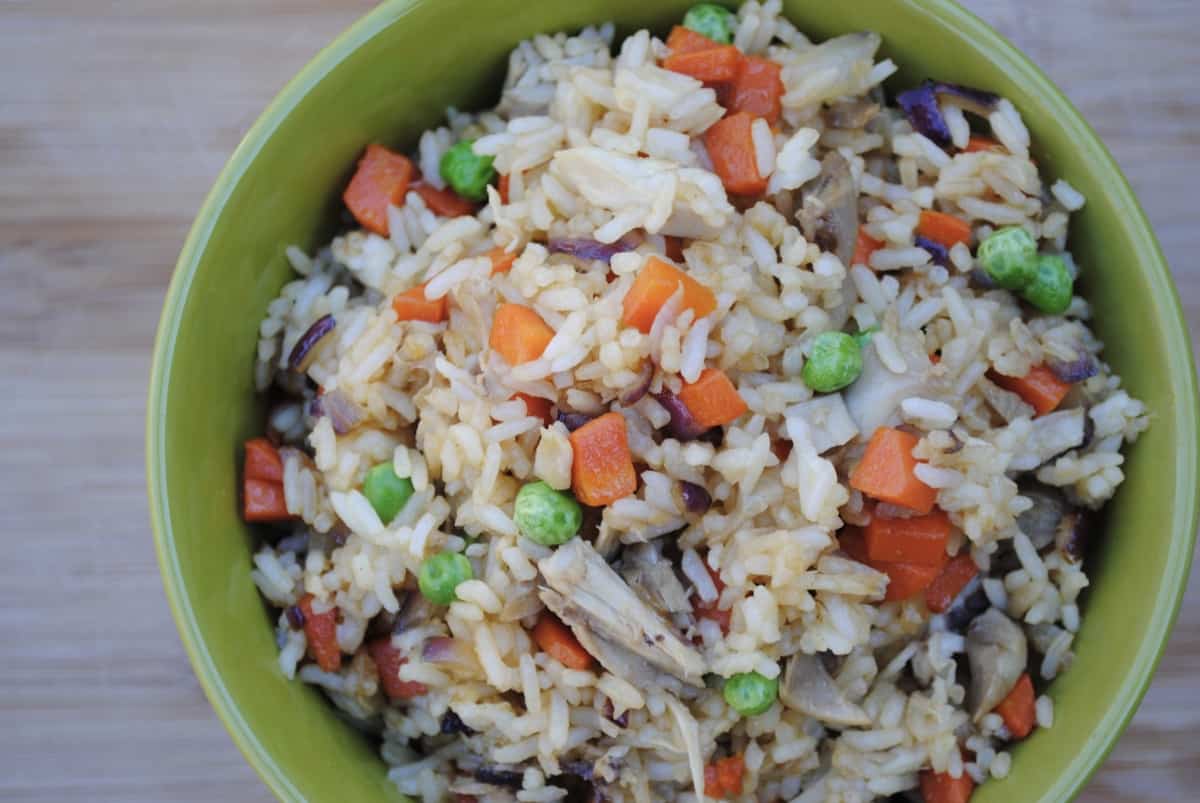 Other favorite leftover chicken dishes:
chicken tacos
stir fry (use chicken instead of shrimp)
quesadillas
paninis
cold sandwiches
chicken broccoli and rice (Cook rice and mix with cooked chicken, broccoli and carrots. Season with salt, pepper, and thyme.)
stuffed in pitas
chicken curry
chicken fajitas
shredded bbq chicken (mix chicken with your favorite bbq sauce)
chicken taco salads
MEAL THREE
Let's make a yummy soup from the bones. After you have de-boned your roasted chicken, use the bones to make chicken stock overnight. Place your bones in either a slow cooker, Instant Pot, or stock pot and cover with water. Add a bay leaf and cook. Slow cook for 12 hours on low. Use the Instant Pot on high pressure for 2 hours. Simmer on the stove for 12 hours.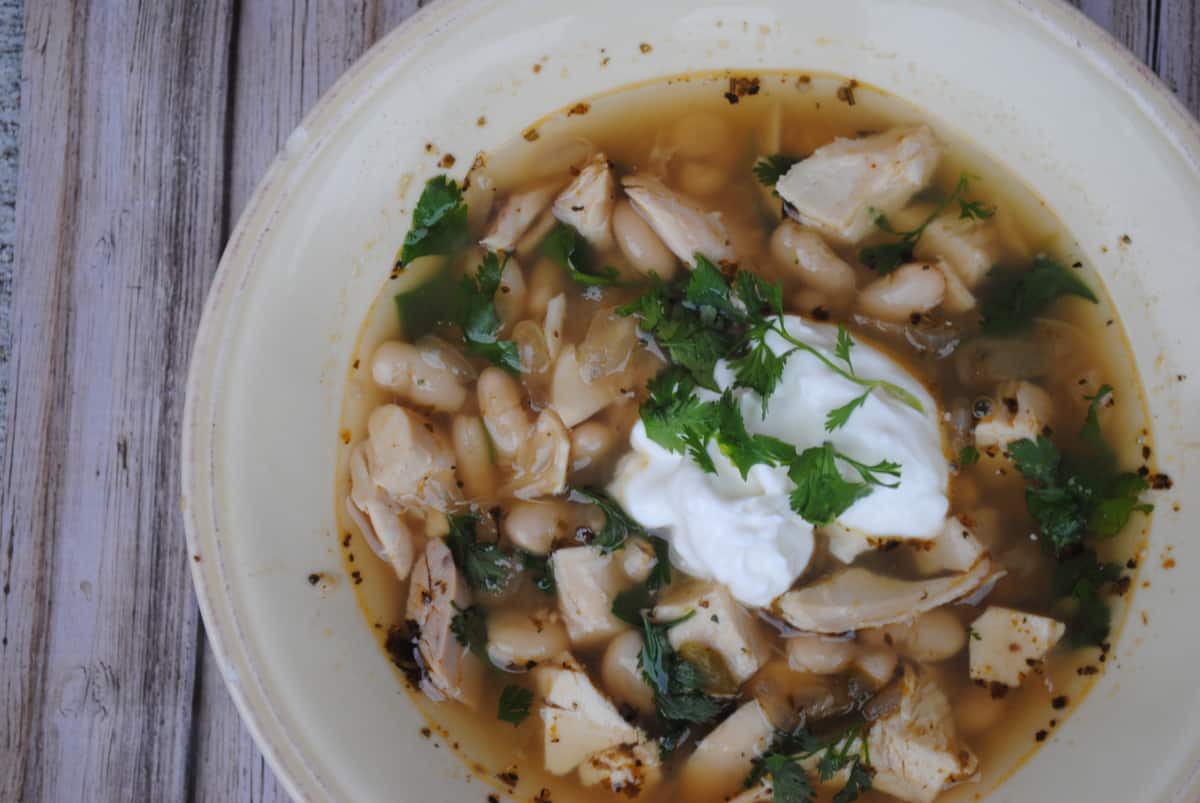 With the broth you can make a chicken based soup:
MEAL FOUR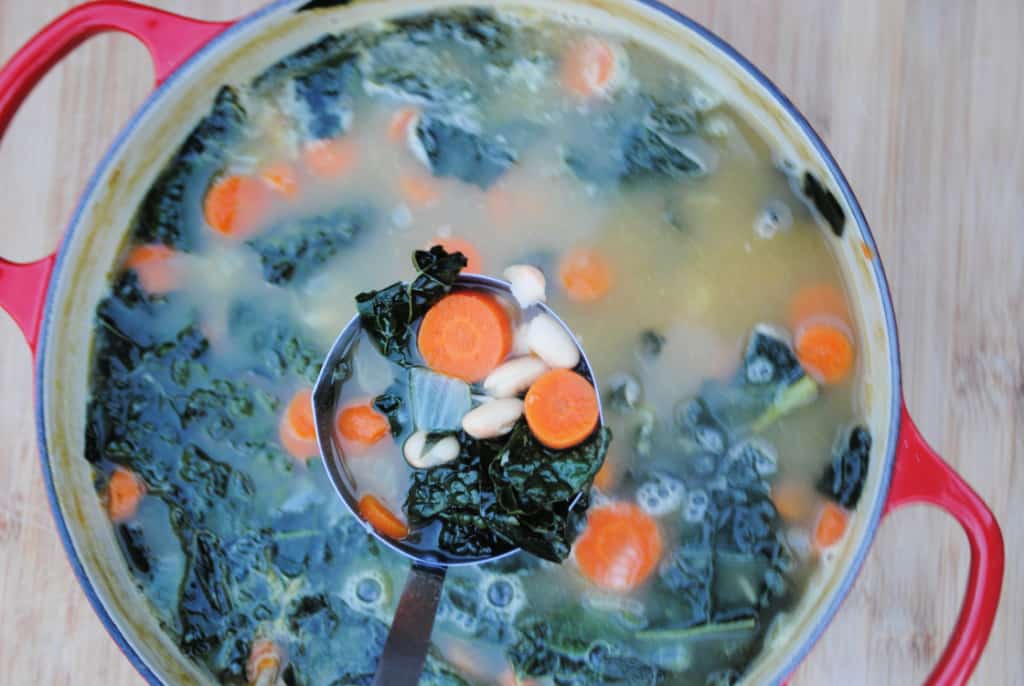 Lastly, I like to make a meatless soup like a creamy tomato soup , kale and white bean soup, broccoli cheddar, or lentil soup. You could always boil your bones again if you need more broth, but you may have broth still left.
Freezing Leftover Shredded Chicken
I do want to mention that just because you can get four meals out of one chicken doesn't mean you have to have chicken every night in the same week. I personally like a little more variety. Many things can be frozen like a casserole dish, soups, enchiladas, etc. This makes dinner even easier for later in the week. Just thaw and pop in the oven or heat on the stove. You could also freeze the pre-portioned bags for an easy meal starter for another week.
So as you can see, homemade food doesn't have to take a long time and doesn't have to be expensive. To get the most bang for your buck and to save yourself time in the kitchen, it just takes a little advanced thought. I promise the more you do it, the easier it gets and you'll wonder why you never did it this way before.
ANY OTHER IDEAS FROM YOU? What are your favorite recipes that use shredded chicken or broth?
PIN FOR LATER