Frugal meal planning takes practice but is doable if you have a system. Use my system and my free downloads to keep you on track with your food and financial goals.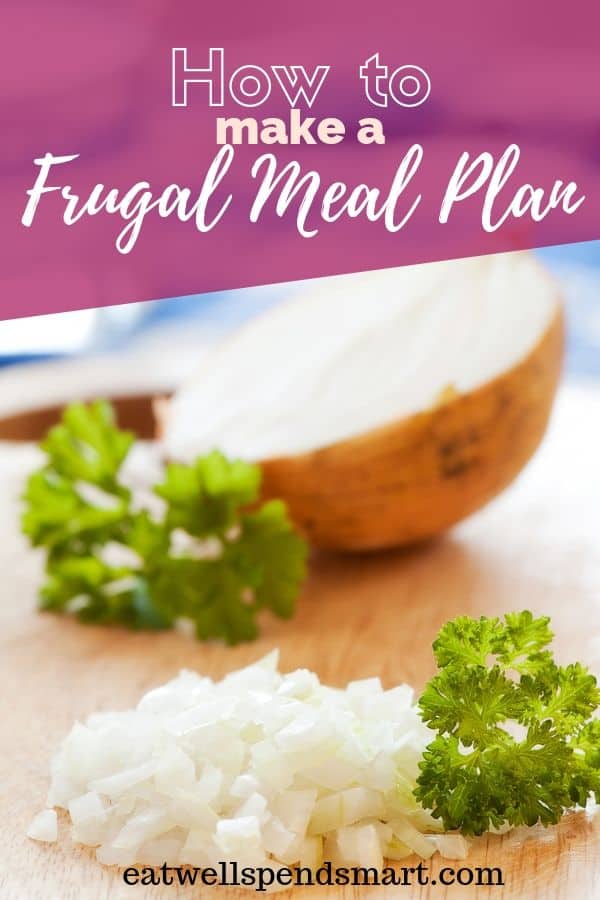 If you're anything like me, without a plan for meals for the week, life gets in the way and quickly you can find yourself frustrated and eating out way too often. Don't get me wrong, we like to eat out every once in a while, but eating out often isn't so great for my family's health or our pocket books. Panera Bread on Sundays after church was beginning to become our Sunday afternoon tradition, but I would almost croak every single time when that $30 tab rang up at the window. ARE YOU KIDDING ME? That's almost a third of our food budget for the week! It just wasn't worth it anymore. Time to have a plan for Sundays too. Now I either plan a crockpot meal on Sunday mornings or make extra from the weekend and eat leftovers.
Sticking to a meal plan is hands down my best tip for eating well on a budget, especially if you plan in a way that uses strategies to reduce your food budget. It can seem a bit complicated at first, but once you get used to it, a frugal meal plan can be made in under thirty minutes.
Steps for frugal meal planning
I only plan for a week at a time. I know some buy for two weeks or once a month, but weekly is what works for us. We buy a LOT of produce and I just can't fit more than one week in my fridge. Plus I'm not huge on freezer cooking for the month, so once a week is how I plan.
Make a family favorite list

First I make a master list of about 20-25 easy meals that my whole family likes. This is my staples list of family favorites. We know what we like the best. There's no reason to re-invent the wheel and try to come up with new meals every single week. Meals on this list include sautéd chicken tenders, breakfast for dinner, whole roasted chicken, sloppy Joes, broiled salmon, taco rice, salmon patties, skillet pork chops, and spaghetti, . This is going to be my master list, from which I choose most of my meals.
Variety tip: I like to make a new list with every season to increase variety and enjoy the season's bounty. For example, summer is full of meals full of zucchini, tomatoes, green beans, eggplant, berries, and peaches. Fall is heavy on winter squashes, greens, beets, and apples. Winter I rely on lots of slow cooker soups, stews and casseroles. Spring is full of tender lettuce and greens, peas, and strawberries.
2. Evaluate the week ahead
Next, I look at my week. What nights of the week do I need a super quick meal? What nights will we need something on the go? What nights do I need to plan a slow cooker meal? What nights can I spend a bit more time in the kitchen?
3. Shop your kitchen
Next I look in my pantry, freezer, and fridge. Is there anything that needs to be used that is on the brink of going bad? What protein is in the freezer? What staples do I have in my pantry that I can make meals from without having to buy a lot of extra ingredients? For example, if I have some leftover random produce in the fridge and some rice in the pantry, I know early in the week will be a great night for a stir fry over rice.
4. Shop the sales
This next step is something that you can do two ways. You can look in the local grocery ads for sales or you can wait until you get to the store and look for markdowns and sales. If an item is listed for a good sale price, I will use that item in my weekly meal plan and may even buy extra for future weeks or stockpile. It's even better if you can stack the sale with a coupon for more savings.
For example, if whole chickens are on sale, I will may plan a roasted chicken, soup made from the bones, and a leftover chicken dish. If beef is super high that week, I know I'm not having beef. If avocados are on sale for $.29, it's a great week for Mexican. If pasta is on sale for a rock bottom price, I will make pasta that week and will buy multiple boxes of pasta for future weeks. Learning to be flexible based upon sales is a big key to meal planning on a budget.
5. Double duty ingredients
Another thing to consider is what I like to call "connected meal planning." It's when one item can be used for two meals or turned into another meal. Examples of this are with a whole chicken I can roast it one night and serve it with mashed potatoes, green beans, and gravy. With the leftover chicken, I could us them in quesadillas or soup later in the week. I might even use a large vegetable for multiple meals. Half of a cabbage can be made into a side dish. The other half I could use in a soup, stir fry, or casserole. This eliminates waste and saves money.
6. Create a meal plan formula
Lastly some type of "formula" for my meals works well for me. Let me explain. Your formula could be something like Mexican night, Italian night, Crockpot night, soup/casserole casserole night, breakfast for dinner night, etc. You could also base it off of proteins: 1 chicken, 1 leftover chicken, 1-2 meatless, 1 seafood, 1 beef or pork, breakfast or leftovers. Really you can make your formula anything you want, but "themes" make meal planning so much easier for me. Just plug in and you're done.
I mostly use meals from my master tried and true list from above, but often will have one new recipe that I want to try from Pinterest or somewhere else from the web. Without these themes, it sometimes takes me forever to come up with something.
So keeping all of these things in mind, I just plug in a voilá, my meals are planned. The week is much less stressful with a week of healthy easy meals planned for the week, instead of scrambling around trying to figure it out at the last minute.
Meal planning frugal breakfasts and lunches
Breakfast
I keep breakfast pretty simple. We generally eat the same things every week. Eggs, bacon, toast, breakfast burritos, smoothies, fruit, oatmeal, pancakes, muffins, french toast. This is what my family likes so I try not to rock the boat too much. Most days, we have eggs. I will throw in one other batch item of one of the above and they eat that a couple of days of the week. For example, I might make a large batch of muffins over the weekend, and we alternate eggs and toast and muffins all week.
Lunch
Lunches are very simple as well. They are almost always leftovers unless there aren't any. In that case, I will keep vegetables, fruit, hummus, cheese, applesauce, smoothie ingredients, lunch meat, or PB&J on hand as a backup to meal prep for lunch the easy way.
Snacks
Snacks are very similar. I choose just a few cheap healthy snacks to keep on hand throughout the week. Usually one homemade and the rest single ingredient fruit, veggies, popcorn, etc. I've got a big list of 50 cheap healthy snacks for ideas.
I hope you found that helpful. Start meal planning and you will be well on your way to meeting your health goals, eating together as a family, and reducing your food bill.
Pin for later