Slow cooker pot roast with potatoes and carrots is a one dish meal that makes comfort food possible even on a weeknight. The roast beef is cooked slowly in the crockpot, leaving it tender and delicious. Save a few minutes at the end to make an easy gravy to slather on top. Your family will love this easy home cooked pot roast.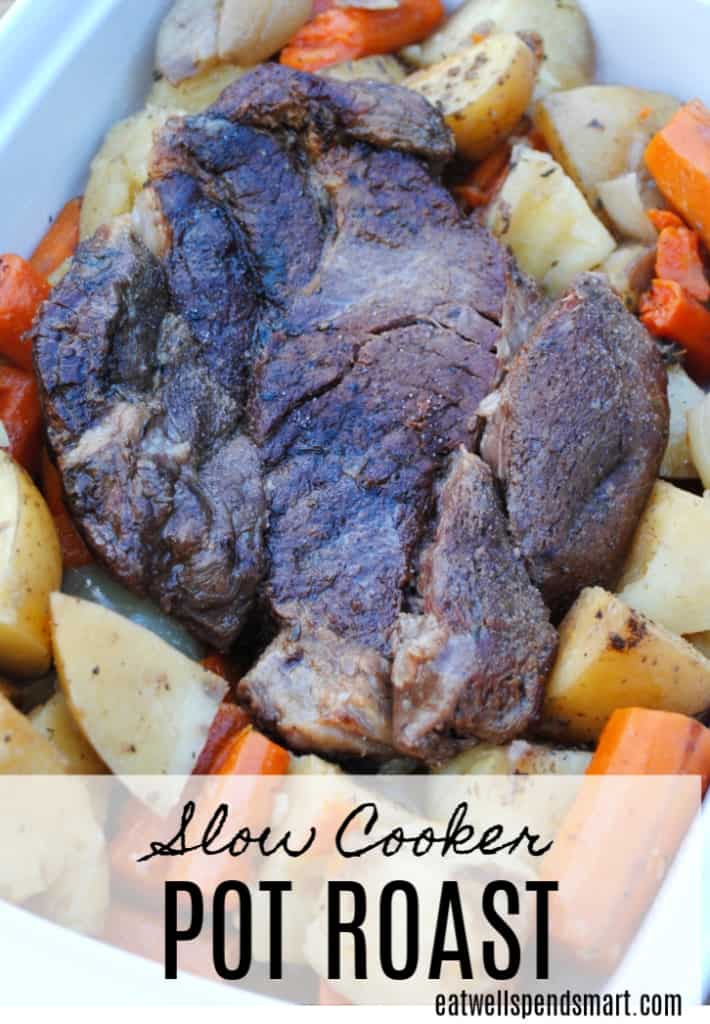 It's no secret that I love my slow cooker.  It's just so convenient to help me get dinner on the table in a timely manner on a busy day.  If you own one, I'm sure you can relate.
Pot roast is one of my husband's favorite meals, so I try to make it for him fairly often. My mom made her pot roast in the oven and it was one of my favorites growing up. I have always made my pot roast in the slow cooker because of the convenience factor and the tender meat that the slow cooker produces.  I can get it going in the morning and then I don't have to think about it anymore until dinner.
This slow cooker pot roast is a super easy recipe, but it does require you to chop the vegetables and sear the meat. To me it has a big pay off for the amount of work.
Slow cooker pot roast step by step
1. First season the meat well with salt and pepper.
2. In a hot skillet, add a little oil of choice and sear your roast until well browned.  Then flip it over and brown on the other side.  You are looking for a deep golden crust.
3. Wash your vegetables, chop them in large chunks, and place them in the bottom of the slow cooker along with the water.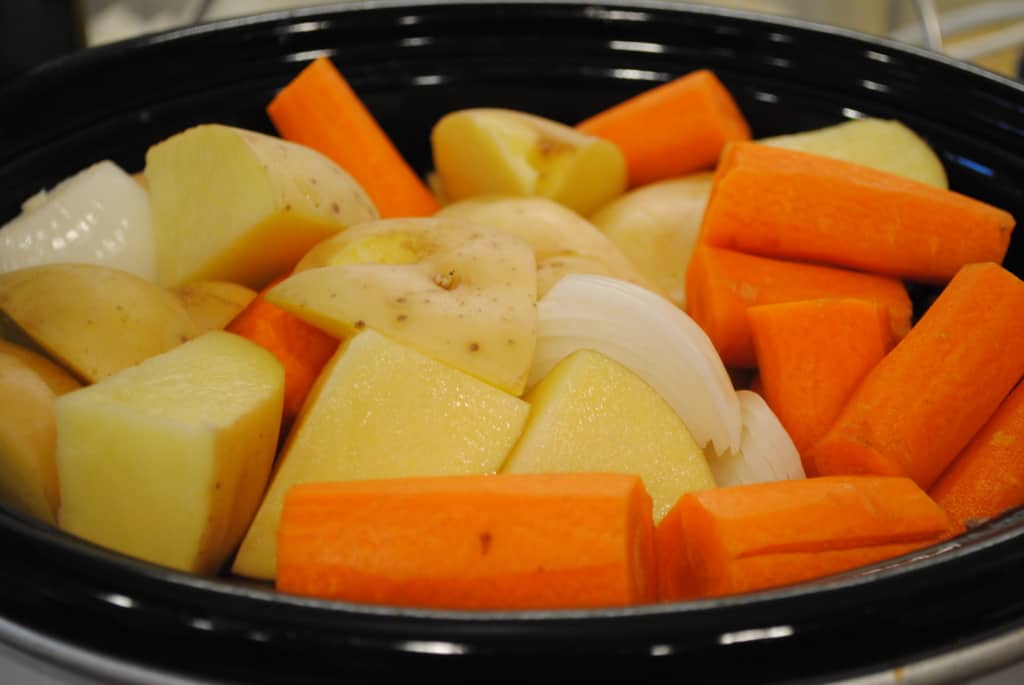 4. Next, add your seared roast on top and the remainder of the seasonings. 
5. Then you let the slow cooker work its magic for 6-8 hours.  If you want a gravy with it, and you of course will, you will need about five more minutes at the end to make the gravy to slather all over the top of your roast and potatoes. Instructions for gravy are the in the recipe below.
Tips for slow cooker pot roast
Don't be afraid to season that beef well.  Beef can handle a lot of salt, and the lack of salt will leave your pot roast bland.
If possible sear the roast so that you develop that crust. Browning equals flavor! If you are really short on time and can't brown the meat, you can still proceed with the recipe as is, but you won't achieve the same flavor results.
This recipe yields vegetables that are very tender.  I personally like the convenience of cooking the vegetables with the roast, and I don't mind a very tender vegetable, but if you don't enjoy that texture, you may want to just cook the roast with the onions and leave out the vegetables. You could always serve the roast with mashed potatoes and salad instead.
If possible take the few extra minutes to make the gravy.  It's totally worth it! You can either use the roux method with flour and butter or you can use the slurry method for a gluten-free version.  Options for thickeners include cornstarch, potato starch, arrowroot, and tapioca flour. See this post for more information on the roux vs slurry method for thickening gravies.
If you have leftovers, use them for a leftover makeover! Shred the meat and use it in a totally different way tomorrow.
Slow cooker pot roast
A classic one dish roast beef dinner simplified by the slow cooker.
Ingredients
1 4-5

lb

beef roast

any kind will work although I prefer chuck roast

2

tsp

sea salt

½

tsp

pepper

4-5

red or yellow skinned potatoes

scrubbed and quartered

1

onion

skin removed and quartered

3-4

carrots

peeled and chopped into 2 inch pieces

2

cloves

garlic

crushed or minced

1-½

tsp

oregano

½

tsp

thyme

1

cup

beef stock or water

2

T.

butter

2

T.

flour

gluten free flour, non-GMO cornstarch or arrowroot powder

salt and pepper to taste
Instructions
Season meat thoroughly with salt and pepper.

In a hot large skillet, sear meat on both sides in a little oil until a nice brown crust has formed.

Add chopped onion quarters, carrots and potatoes in the slow cooker along with the water or broth.

Place seared roast in crockpot.

Then add garlic, oregano, and thyme evenly over the meat.

Place on lid and cook on low for 6-8 hours or on high for 4-5 hours.

After time has elapsed, remove roast, potatoes and carrots from crockpot and place on a platter to cool. You may need to add more salt and pepper at this point to the vegetables.

To make a gravy, strain your liquid still in the crockpot with a fine mesh strainer. Set strained liquid aside.

In a small saucepan, melt 2 T. butter over medium heat.

Add 2 T. flour of choice and whisk to create a roux. Cook for 1-2 minutes. (See Note below for gluten free version)

Add reserved strained liquid to roux, whisking to prevent lumps.

Simmer until thickened. Taste test and adjust seasonings if needed.

Slice your roast and serve with hot gravy and vegetables on the side.
Notes
For gluten free gravy, add strained gravy to a small saucepan. Heat until beginning to bubble. Make a slurry with cornstarch or arrowroot powder and a small amount of water. Pour into hot liquid and whisk until thickened. Season with salt and pepper. Arrowroot does best when added right at the end. It can lose thickening power the longer it cooks.
Looking for more slow cooker recipes?