It's no secret that I love my slow cooker. It's just so stinkin' convenient to help me get dinner on the table in a timely manner on a busy day. If you own one, I'm sure you can relate. What's that you say? You don't own a slow cooker?
Oh honey, sit down and let me tell you about my good friend the slow cooker. You will love her! Let her do the work for you, friend, so you don't have to. I know you've got other things to worry about or just don't feel super comfortable in the kitchen. Take the night off! She takes care of so many kitchen duties for me. Let me count the ways.
She tenderizes inexpensive tougher cuts of meat.
She simplifies meal preparation.
She cooks for me.
She makes my house smell divine.
She keeps my kitchen clean.
She saves me time.
She even simmers bones into chicken broth while I sleep.
Yeah she pretty much rocks!
This slow cooker roast, potatoes, and carrots is a super easy recipe that requires a few chops and dumping action. First season and sear the meat on both sides and place in the slow cooker. Pour your water and your seasonings in here too.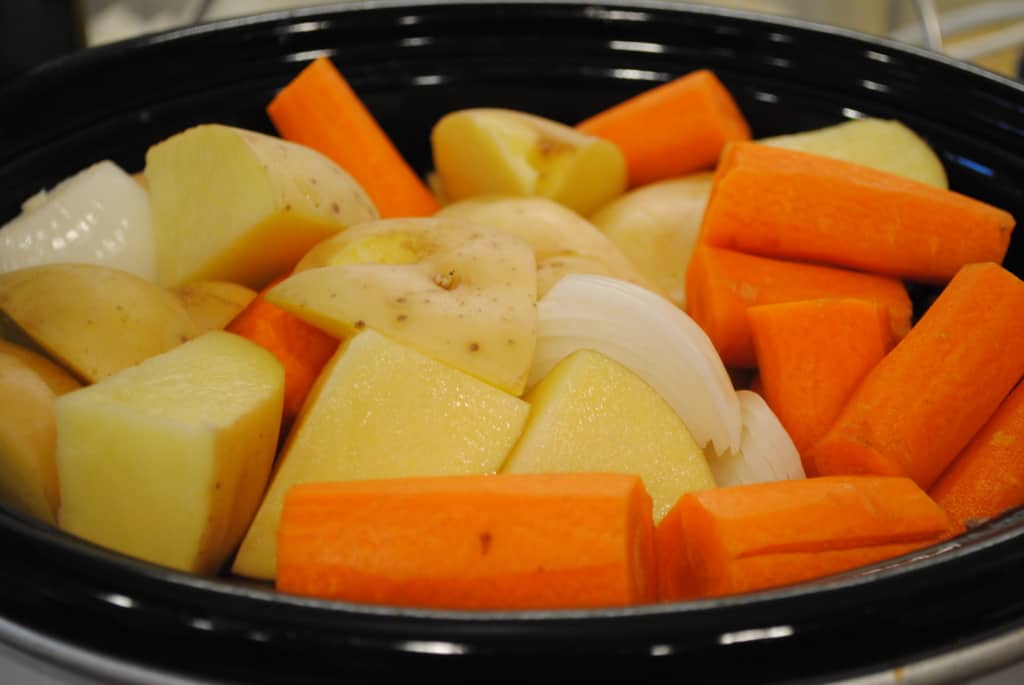 Next, cut up large chunks of potatoes, carrots and onion and lay them on top of the meat.
Then you let the slow cooker work its magic. If you want a gravy with it, and you of course will, you will need about five more minutes at the end to make the gravy to slather all over the top of your roast and potatoes.
Slow cooker roast, potatoes, and onions
2016-11-18 16:06:58
Serves 4
A classic one dish roast dinner simplified by the slow cooker.
Nutrition Facts
Amount Per Serving
* Percent Daily Values are based on a 2,000 calorie diet. Your Daily Values may be higher or lower depending on your calorie needs.
Ingredients
1 4-5 lb beef roast (any kind will work although I prefer chuck roast)
4-5 red or yellow skinned potatoes, scrubbed and quartered
1 onion, skin removed and quartered
3-4 carrots, peeled and chopped into 2 inch pieces
2 cloves garlic, crushed or minced
2 tsp sea salt
1/2 tsp pepper
1-1/2 tsp oregano
1/2 tsp thyme
1/2 cup beef stock or water
2 T. butter
2 T. flour, gluten free flour, non-GMO cornstarch or arrowroot powder
salt and pepper to taste
Instructions
Season meat thoroughly with salt and pepper.
In a hot large skillet, sear meat on both sides until a nice brown crust has formed.
Place roast in crockpot.
Then add garlic, oregano, and thyme evenly over the meat as well as 1/2 cup of beef stock or water..
Tuck the onion quarters, carrots and potatoes around and on top of the roast.
Cook on low for 6-8 hours or on high for 4-5 hours.
After time has elapsed, remove roast, potatoes and carrots from crockpot and place on a platter to cool. You may need to add more salt and pepper at this point.
To make a gravy, strain your liquid still in the crockpot with a fine mesh strainer. Set strained liquid aside.
In a small saucepan, melt 2 T. butter over medium heat.
Add 2 T. flour of choice and whisk to create a roux. Cook for 1-2 minutes. (See Note below for gluten free version)
Add reserved strained liquid to roux, whisking to prevent lumps.
Simmer until thickened. Taste test and adjust seasonings if needed.
Slice your roast and serve with hot gravy and vegetables on the side.
Notes
For gluten free gravy, add strained gravy to a small saucepan. Heat until beginning to bubble. Make a slurry with cornstarch or arrowroot powder and a small amount of water. Pour into hot liquid and whisk until thickened. Season with salt and pepper. Arrowroot does best when added right at the end. It can lose thickening power the longer it cooks.
Eat Well Spend Smart https://eatwellspendsmart.com/