Mujaddara is a comforting and inexpensive Middle Eastern lentil and rice dish topped with caramelized onions.  It's a great vegan meal when you are on a budget and craving something warm and satisfying.
Ingredients needed: oil, onions, cumin, salt, rice, and brown lentils.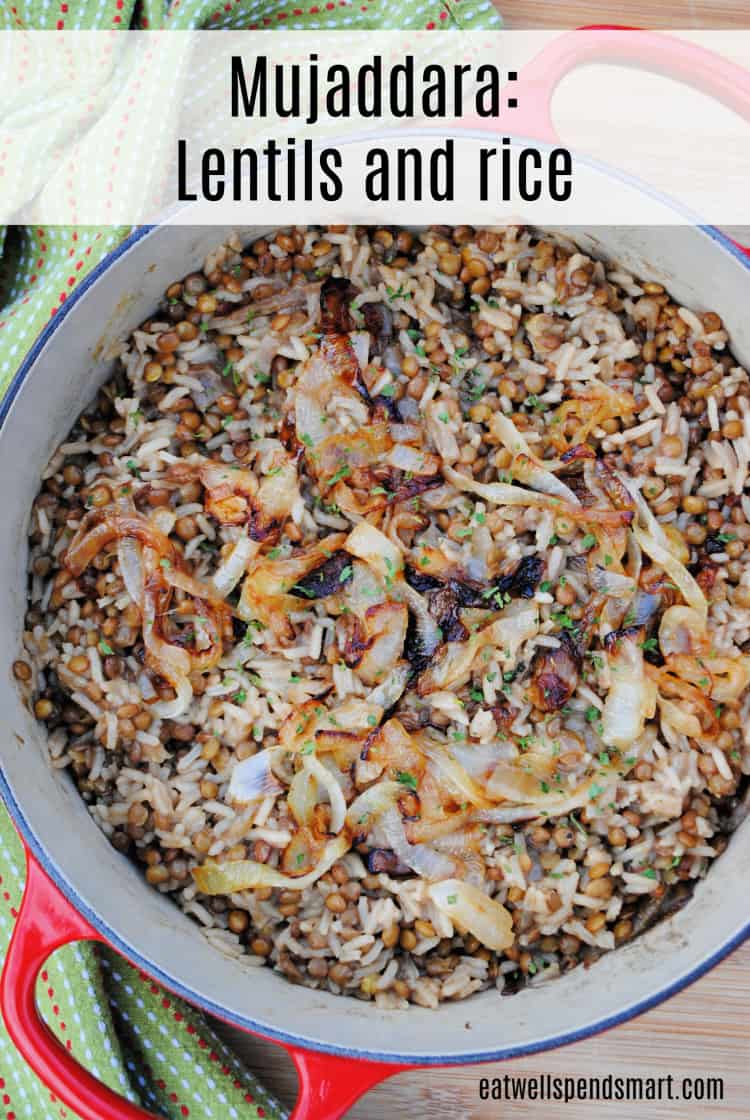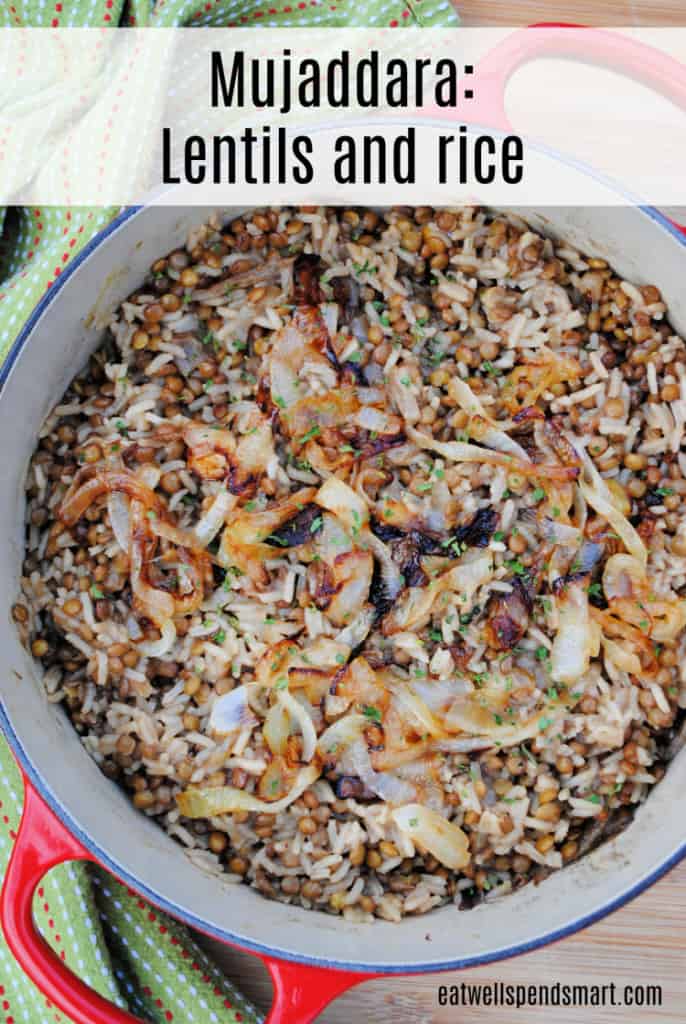 Most of us have been there at some point.  More month than money.  If you are looking for a super cheap filling meal at the end of the month, try this simple Middle Eastern comfort food, Mujaddara, lentils and rice.
With only a few ingredients, you may already have these in your home and can whip it up right now.  Rice, brown lentils, cumin, salt, pepper, onions, and olive oil are all that it takes to make this inexpensive comfort food.
I personally love lentils, but my husband is not so fond of them.  He was super excited when he came in and smelled the aroma of onions releasing their sugary goodness, but when he saw the bag of lentils, he said in a reluctant tone, "Lentils?   I'll try them."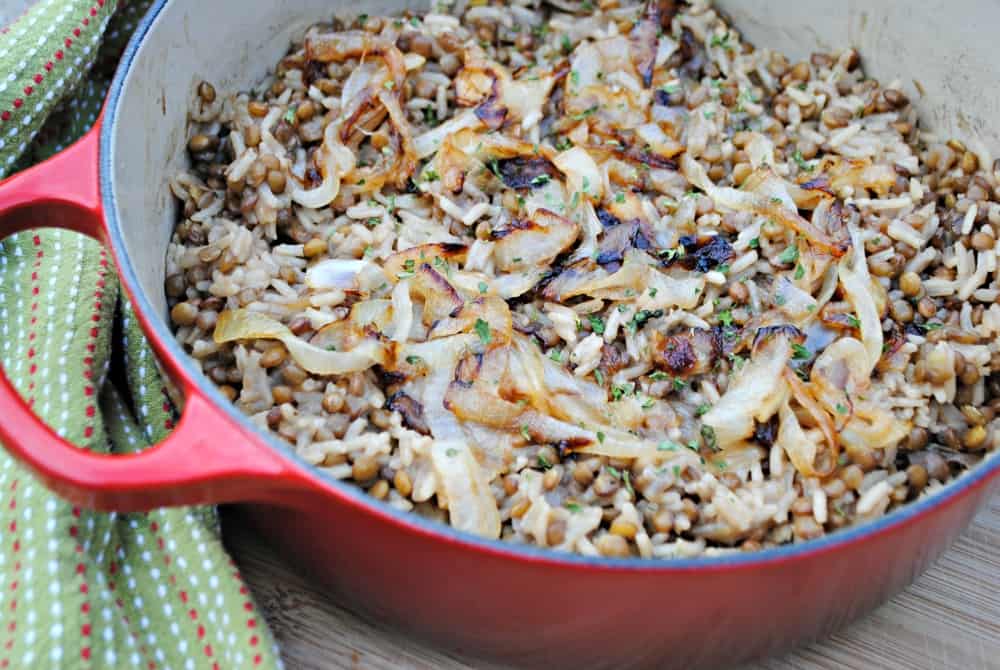 Poor guy.  He was expecting the worst.  I didn't say anything to him but watched him quickly eat one bowl and even went back for a second.  He claimed the onions on top made the dish, and I would agree.  Who can resist tasty dark onions?  They add a depth of flavor that stand out against the neutral lentils and rice.
I will be making this again when money is tight or I just need a good pantry meal.
Mujaddara tips
Caramelized onions take time. If you have the time, by all means take the time to truly caramelize them.  It may take 45 minutes.  If you don't have the time, you can quickly darken them on a higher heat and then turn them down to soften them.
Make sure you are using the common brown lentil.  Red will cook too fast and turn to mush.  Green take too long and will be hard.
Take care to cook the lentils first before adding the rice.  I used to add them at the same time, but the lentils take longer to cook. If you don't want hard lentils and mushy rice, try adding the rice after about ten minutes.
**If you try this dish and enjoy it, leave me a review. Also feel free to share your picture on Instagram and tag me @eatwellspendsmart.
Mujaddara
Lentils, rice, and onions. Middle Eastern comfort food with dirt cheap ingredients.
Ingredients
3

T.

olive oil

1

large onion

sliced thinly

1

cup

brown lentils

4

cups

water

1

cup

rice

white or Jasmine

1.5

tsp

salt

1

tsp

cumin
Instructions
Heat olive oil in a pot.

Brown sliced onions slowly over medium low heat. It can take anywhere from 10-30 minutes.

Remove half of the onions and set aside.

Add salt and cumin to the remaining onions and cook for a minute.

Add lentils and 2 cups water. Bring to a boil, reduce to a simmer and cook covered for 10 minutes.

Add 2 more cups of water and rice. Bring back to a boil, reduce to a simmer, cover and cook for 20 more minutes or until liquid is absorbed and rice and lentils are tender.

Remove from heat, fluff with fork and reserved onions to the top.
Looking for more budget-friendly meatless recipes? Try one of these.