Baked bbq chicken drumsticks is an easy recipe that the whole family will love. Using just a few simple ingredients, this bbq chicken recipe will become one of your family favorites. No grill required.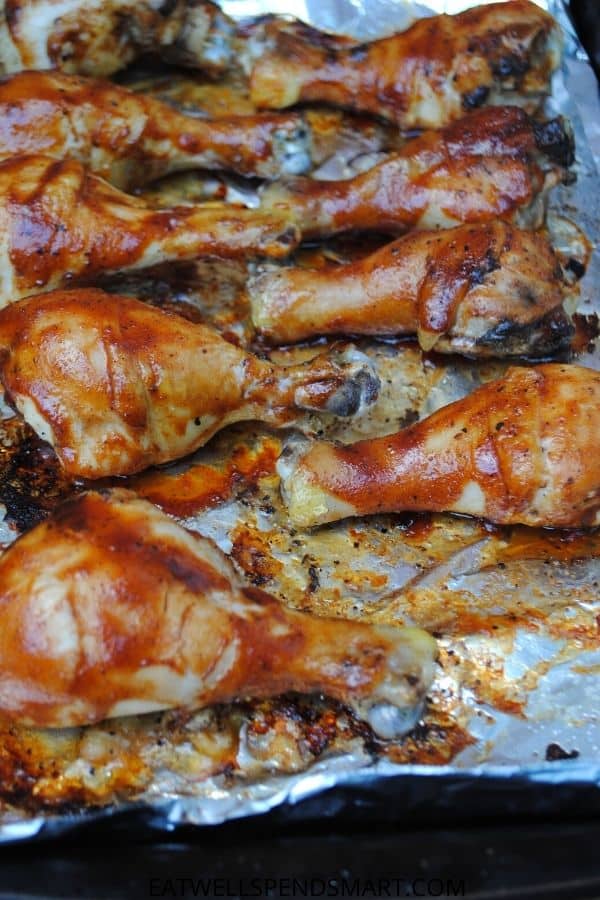 There's nothing like barbecue chicken in the summer. Sweet salty smoky chicken alongside fresh garden produce just screams summer to me.
Typically we enjoy bbq chicken drumsticks on the grill, but some people don't have a grill. Even though we do have a grill sometimes I just don't want to mess with heating up the grill and cleaning the grates. Yes, I can be a bit lazy.
We can still enjoy delicious bbq chicken legs made in the oven that will impart similar flavor to the grill. It will still be a family crowd pleaser and still give those yummy summer vibes.
Ingredients needed
The ingredients could not be more simple. I use my essential master trio (salt, pepper, garlic) to season the meat and then just add my sauce. Easy, yet still so much flavor!
chicken legs
salt
black pepper
garlic powder
favorite bbq sauce: I like to use my own homemade bbq sauce, but feel free to use your favorite barbecue sauce from the grocery store. Homemade sauce is quick and easy to make though, so don't be intimidated to try it. Move over Sweet Baby Ray.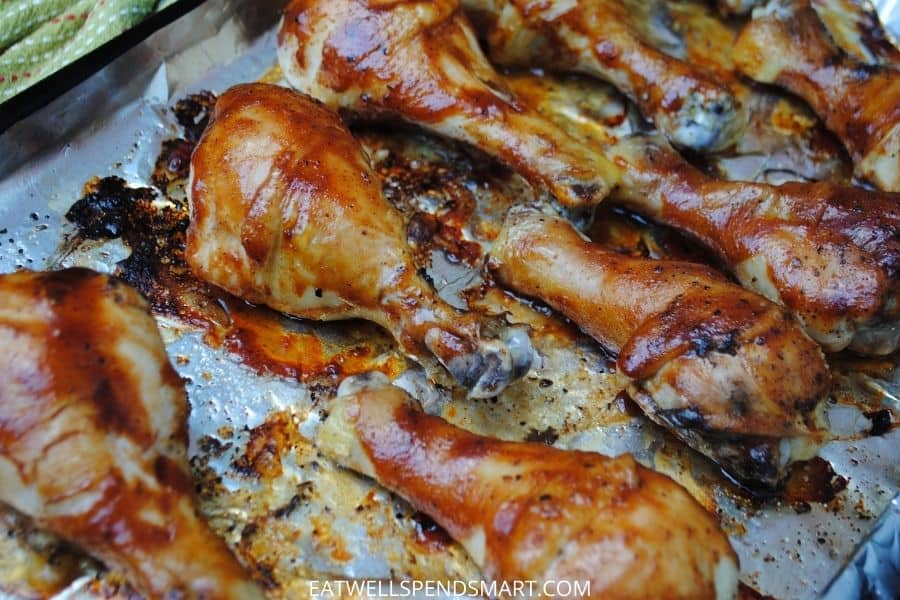 How to bake bbq drumsticks
The method requires only a few simple steps.
First thing, pat dry chicken legs with a paper towel. This helps the chicken skin brown.
Season generously with salt, pepper, and garlic powder.
Place chicken leg pieces on a parchment or aluminum foil lined sheet pan. This makes for easy clean up.
Bake at 400 degrees for 20 min. Flip chicken and bake some more.
Baste with plenty of sauce and continue to bake.
Flip and baste with more sauce and bake for a final time.
How long to bake bbq chicken legs at 400 degrees?
Chicken legs are a dark meat and they take some significant time to cook. Typically it will take about 40 minutes for the chicken to reach an internal temperature of 165-175 degrees F. Use a meat thermometer for an accurate reading as cooking time will vary from oven to oven.
The good part about dark meat is that the higher fat content helps keep it juicy and can withstand some overcooking. This is good news for novice cooks and those that are nervous about under cooking poultry.
Chicken is safe to eat at 165 degrees F but drumsticks can cook even longer and still yield juicy chicken.
This leaves plenty of extra time to baste with the sauce at the end.
Tips for not burning bbq chicken legs
We are desiring browned crispy skin and caramelized sauce, but not burned.
To achieve browned legs, use a shallow rimmed baking sheet as opposed to a casserole dish.
Give plenty of space around each drumstick. Do not overcrowd.
Sauce your drumsticks towards the end of the cooking process instead of at the beginning. Sauce has a high sugar content and will burn if you try to bake the drumsticks with sauce on from the beginning.
Increase the heat a little more a the end if you find your legs aren't getting as browned as you like. Every oven is a little different. Don't be afraid to put it on broil at the end for a minute or two. Just keep a close eye on them to prevent burning.
What to serve with bbq chicken legs?
I love to serve fresh summer produce and classic bbq sides alongside the bbq chicken drumsticks. Here are a few of my favorites.
corn on the cob
fresh summer fruit (watermelon, cantaloupe, peaches)
potato salad
baked beans
Easy Oven Baked BBQ Chicken Legs
Chicken legs roasted in the oven and slathered in a homemade bbq sauce.
Equipment
Sheet pan

Aluminum foil or parchment paper
Ingredients
salt

pepper

garlic powder

8 chicken legs

1

cup

bbq sauce

store-bought or homemade
Instructions
Pat legs dry with a paper towel.

Season both sides liberally with salt, pepper, and garlic powder.

Place chicken legs on a foil or parchment lined baking sheet.

Bake at 400 degrees F. for 20 minutes.

Flip and bake another 20 minutes.

Increase heat to 450 degrees. Liberally brush sauce on one side and bake an additional 5-7 minutes.

Flip and generously brush more sauce on second side and bake another 5-7 minutes until chicken reaches an internal temperature of 165 degrees F and sauce is browned.
Pin for later