A recipe for making oatmeal on the stovetop. Skip the packets and learn the simple method of cooking nutritious rolled oats in a pot on your stove. They are creamy, budget-friendly, and a great way to warm up on a cold day.
Simple Budget Breakfast
When it comes to an inexpensive breakfast that stretches a long way, few things beat a good bowl of oatmeal. I'm more of an eggs and toast kind of gal, but when the budget gets tight, oats are my best friend. They are a good source of soluble fiber and can be used in many different ways. I use oats for muffins, baked oatmeal, energy bites, and meatloaf binder, but the most economical way to cook oats is just a simple pot of warm oatmeal cooked on the stovetop. No need for fancy equipment like an instant pot or slow cooker. Just a simple pot will do.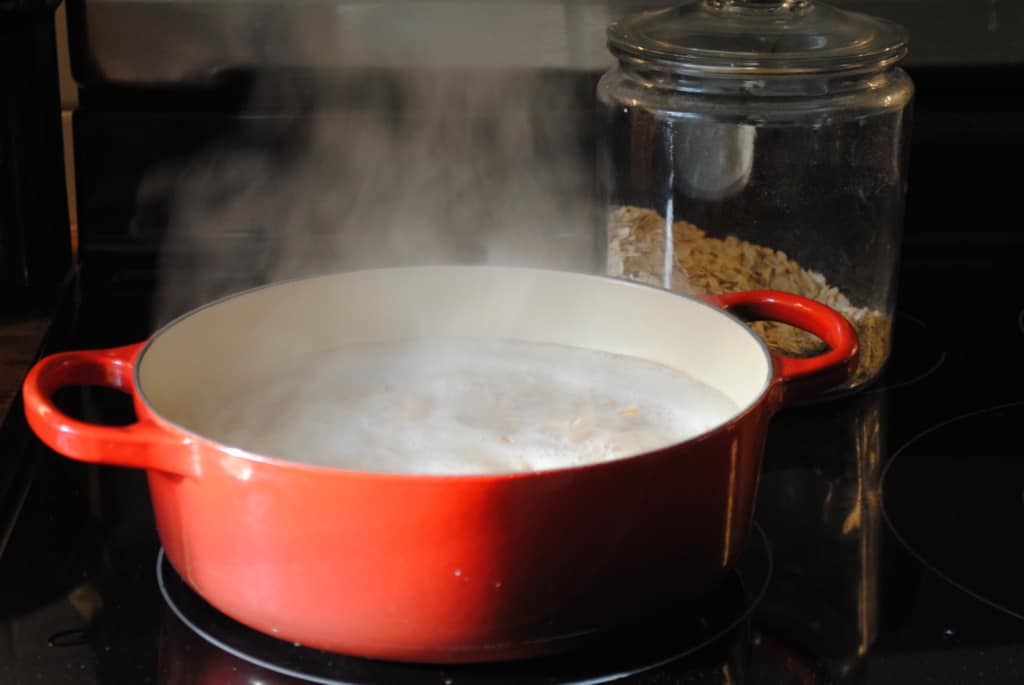 If you are still using the microwavable instant oatmeal packs, stop.  It's loaded with sugar, really doesn't save that much time, and it is more expensive than cooking bulk oats.  Plus it doesn't taste as good as when you make it on the stove top.
What type of oat to use?
There are many different types of oatmeal. According to the Whole Grains Council, there are six different types of oats that are considered whole grain and suitable for eating.
whole oat groats: oats in their whole form with the hulls removed
steel-cut oats: oat groats cut in a few pieces with a steel blade; chewy texture when cooked
Scottish oatmeal: oat groats stone ground; texture in between steel cut and rolled
old fashioned oats (rolled oats): groats steamed and rolled into flakes
quick or instant oats: similar to rolled, but steamed longer and rolled thinner
oat flour: finely ground oats to make a flour
For this recipe, we are using old fashioned rolled oats. They result in a creamy consistency but more texture than quick oats. They also cook much faster than steel cut.
How to make stovetop oatmeal
This is a basic recipe, but one that everyone home cook should know. Here is the process:
To make a yummy pot of oatmeal, combine 4 cups of water with 2 cups of old fashioned oats and a pinch of salt. The salt is an important thing because it adds a lot of needed flavor, so don't skip it.
For creamier oatmeal, you could also use half milk half water.
Next, bring it to a boil, reduce to a simmer and then let cook slowly for 5-7 minutes, stirring occasionally until the oats are tender. Cook time may vary depending on the thickness of your oats.
Lastly, when oats have reached your desired consistency, take it off the heat and add toppings.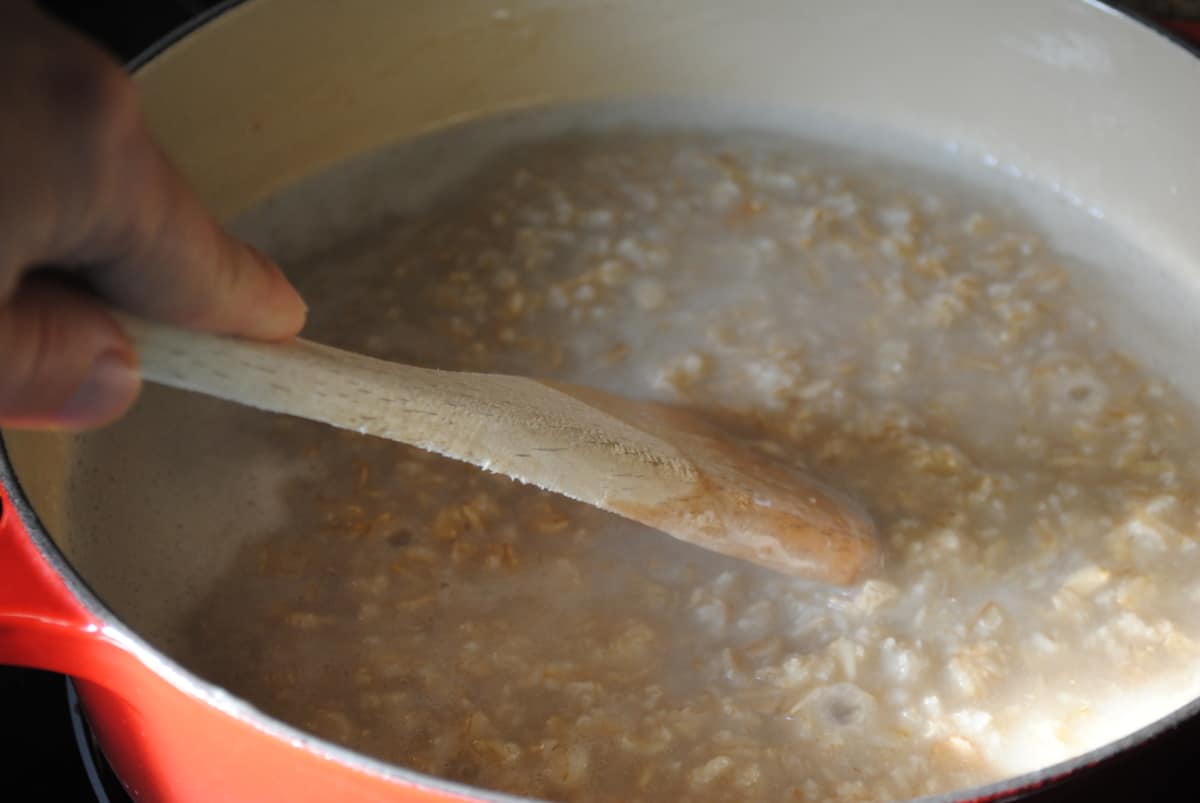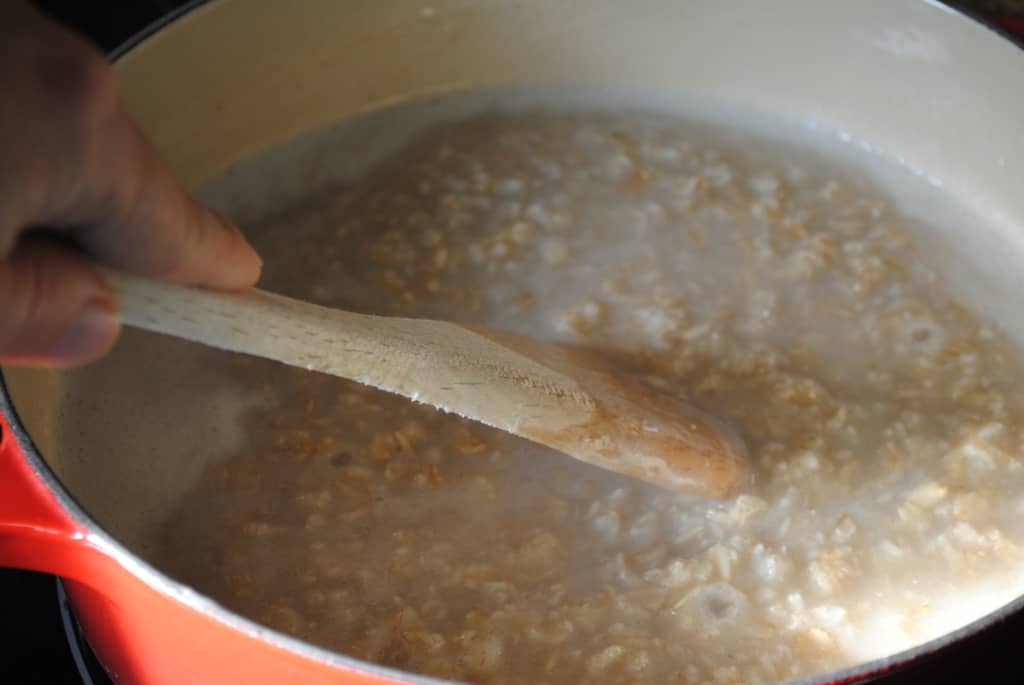 Recommended oatmeal toppings
In my opinion the best part of the oatmeal is the toppings. Now it's time to take that bowl of oats and dress it up a little. Not only do they add delicious flavor, they also add extra nutrition. Here are some  of my favorite toppings:
milk, almond milk, or coconut milk
butter
peanut butter, almond butter or sunflower butter
seeds (chias seeds, flax, sunflower, or hemp)
sweetener: maple syrup, honey, brown sugar, or alternative sweetener
fresh fruit (blueberries, peaches, cooked apples, strawberries, bananas, etc.)
cinnamon
nuts
coconut
dried fruit
collagen: stirred in for a high protein dish
More breakfast recipes using oats
If you enjoy this classic stovetop oatmeal, try another one of these healthy oatmeal recipes.
Stovetop oatmeal
Ingredients
2

cups

old fashioned rolled oats

4

cups

water

pinch

of salt

desired toppings: real maple syrup

honey, coconut, apples, cinnamon, peanut butter, etc.
Instructions
In a saucepan, combine oats, water, and a pinch of salt.

Bring to a boil, turn down heat to simmer and let gently cook about 5-7 minutes, stirring occasionally until oatmeal has thickened and reached the desired texture. Cook time may vary depending on the thickness of your oats.

Add sweetener, coconut oil or butter, and other desired toppings.

Serve warm.
Notes
For creamier oatmeal, you could substitute half of the water for milk. 
Stovetop oatmeal is such a warm comforting healthy breakfast option, and one that I highly recommend. There's nothing like a warm bowl of oatmeal to get the day started.