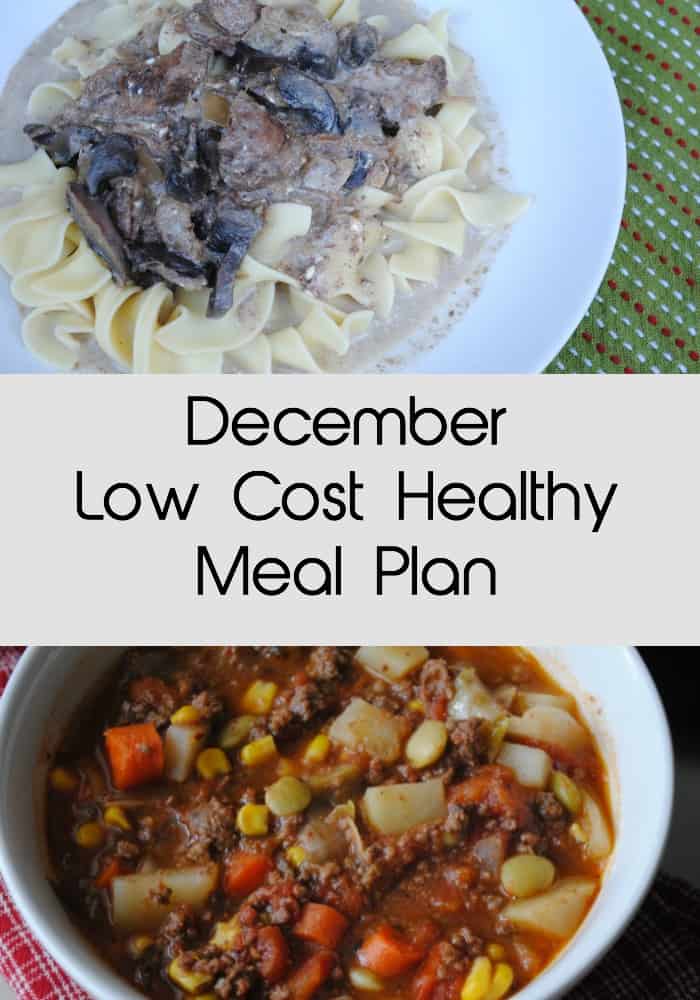 The end of the year has arrived!  How is that possible?
December is a great month to save on groceries since there is always extra spending happening with Christmas and holiday presents, parties, extra giving, etc.
I purposely kept weeks 4 and 5 to only four meals because with the holidays, I assumed people would be out and about.
Ways to save more on your grocery bill
Drink only water instead of sodas, juices, etc.
Don't be afraid to adjust the plan and substitute a different cut of meat if you find a good sale.
Watch sales for baked goods this month.
Shop your kitchen first before you buy something new.
Keep breakfast simple and cheap like eggs, fruit, and oatmeal.
Limit snacks or at least stick to cheap healthy snacks instead of packaged items.
Don't forget to check Ibotta for cash back offers and scan your receipt in the Fetch app for rewards. Use my Fetch code AJ3YQ and you will get 2,000 points on your first receipt.
If fresh vegetables are too expensive, try frozen.
December real food frugal meal plan

Week 1
Beef stroganoff (Use half of a large beef chuck roast for this meal and the other half for the beef stew.)
Chicken legs with roasted root vegetables
6-8 chicken legs
1 bunch of beets
4 parsnips
4-5 carrots
1 onion
olive oil
salt and pepper
2-3 cloves garlic, chopped
dried herbs (rosemary, thyme)
honey for drizzling
Peel and cut vegetables into 1 ½ inch pieces. Drizzle with olive oil and toss to coat.
Place on a large rimmed sheet pan or roasting pan in a single layer. If crowded, divide into two pans. Season with salt and pepper.
Pat chicken legs dry and nestle in with vegetables.
Roast at 425 degrees for 45 min-1 hour, tossing vegetables if needed, and turning chicken halfway through.
The last 15 minutes, add garlic, herbs, and drizzle of honey.
Beef stew
2 lb. chuck roast, cut into cubes, large chunks of fat removed
4-5 large carrots, cut until chunks
3-4 potatoes, peeled and cut into chunks
1 onion, cut into chunks
2 bay leaves
3 cloves garlic, minced or pressed
2 cups water
1 tsp salt
1 T. organic Worcestershire sauce
½ cup flour
salt and pepper to taste
½ tsp thyme
1 tsp oregano
In a bowl stir together roast, salt, and flour.
Add all ingredients to the slow cooker and cook on low for 7-8 hours or high for 4-5 hours.
Hash browns, eggs, fruit
Israeli couscous or quinoa with leftover roasted root vegetables
leftover roasted vegetables (make more if needed)
Israeli couscous or quinoa (2 cups cooked to yield double the amount)
basic vinaigrette salad dressing if desired
Toss leftover vegetables from the chicken dish together with cooked quinoa or Israeli couscous. If you need more vegetables, roast more according to directions above. Toss with a basic salad dressing if needed.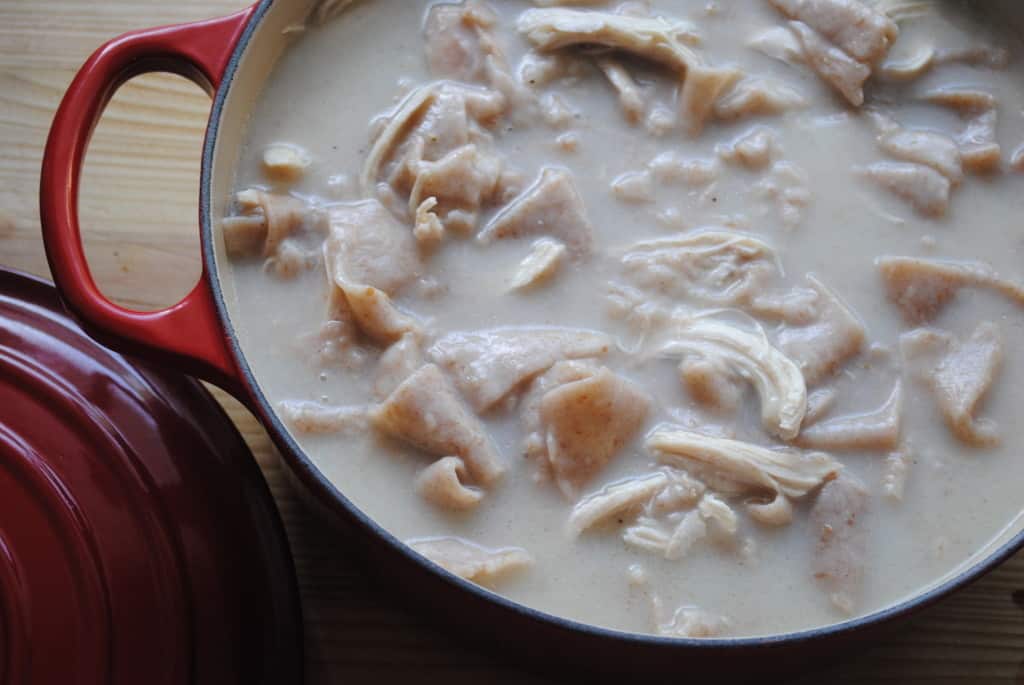 Week 2
Chicken and dumplings, green beans  (Cook your whole chicken and divide the meat into three portions. Use ⅓ for this dish, ⅓ for the chimichangas, and ⅓ for the stir fry.)
Note: For broth needed later in the week, watch my video on getting multiple meals out of one whole chicken.
Cheeseburger macaroni, roasted broccoli
Chicken chimichangas
FILLING
2 c. leftover chicken, shredded
½ tsp salt
½ tsp cumin
1 tsp chili powder
¼ tsp garlic powder
3 T salsa
CHEESE SAUCE
2 T butter
2 T flour
1 ½ c. milk
1 ½ c. cheddar cheese, shredded
¼ tsp salt
2 T. salsa
4-6 organic tortilla shells
olive oil
Mix all filling ingredients together in a bowl and set aside.
In a saucepan, melt butter. Add flour and whisk to make a roux. Whisk in milk. Bring to a light bubble and reduce heat to simmer. Simmer until slightly thickened. Stir in cheese, salt, and salsa.
In a separate skillet, heat olive oil over medium high heat. Warm tortillas to make pliable and place a small portion of chicken in each tortilla. Fold in sides and then roll up. Cook on eat side until golden brown and top with sauce when serving.
Chicken stir fry, rice
2 T. olive oil
1 ½ cups leftover chicken
6-8 cups vegetables (carrots, sliced on the diagonal, onion, broccoli, leftover green beans)
3 T. soy sauce
1 T. fish sauce or oyster sauce
¼ cup water
3 cloves garlic, minced or pressed
3 tsp. cornstarch or arrowroot
Stir fry the vegetables in a pan over medium high heat until crisp tender. Add in chicken. Make a slurry with soy sauce, fish sauce, water, garlic, and cornstarch. Add stir fry and cook until thickened. Serve over hot rice.
Chickpea and tomato soup
28 oz. diced tomatoes
1 small onion, diced
2 large carrots, diced
4 cups chicken broth
2 cups water
1 ½ tsp sea salt
2 cups dried chickpeas
bay leaf
6 cloves garlic, minced or pressed
3 cups greens, chopped
½ tsp thyme
1 tsp basil
Place all ingredients in the slow cooker. Cook on low for 6-8 hours or until chickpeas are tender. Discard bay leaf and serve.
Flex night:  leftovers, breakfast for dinner, out
Week 3
Twice baked potatoes, sautéed cabbage
3-4 baking potatoes
1 cup sour cream
2 T. butter
2-4 T. milk (start with the smaller amount)
1 ½ cups cheddar cheese, shredded
salt, pepper to taste
chives
3-4 slices bacon
green onion for garnish
Pierce potatoes with a fork and bake in 400 degree oven for one hour or until potatoes are tender.
The last 15 minutes, place bacon on a sheet pan and bake in oven until crisp. Crumble and set aside.
Cut potatoes in half lengthwise, scoop out the flesh, and place it in a bowl. Mix together potatoes, butter, milk, sour cream, cheese, and salt and pepper to taste.
Fill back evenly into potatoes and place back in oven in a baking dish for 15 minutes. Top with cheese and green onions.
Spinach and bacon quesadillas
4-6 tortillas
6 slices of bacon, cooked and crumbled
1 cup fresh spinach, cooked just until wilted
1 cup shredded cheese
olive oil
Mix together bacon, spinach, and cheese. Spoon a small amount on half of the tortilla and fold over. Brown each side in olive oil until golden. Cut into wedges and serve.
Fettuccine alfredo, salad
½ cup butter
1 ½ cups cream
1 ½ cups grated parmesan cheese
salt and pepper to taste
1 lb. fettuccine noodles
Cook noodles according to package directions. Make sure water is liberally salted.
Melt butter and cream on medium high heat. Bring to a boil. Reduce heat to simmer and cook until slightly thickened.
Whisk in cheese and add salt and pepper to taste. Toss in hot pasta noodles.
Tortilla pizzas
tortillas
mozzarella cheese
tomato sauce
pizza toppings
Top tortillas with sauce, cheese, and desired toppings. Bake in toaster oven or oven at 400 degrees until hot and bubbly.
Flex night:  leftovers, breakfast for dinner, out
Week 4
Chicken cutlets, baked sweet potatoes, frozen veg (left from vegetable soup)
2 chicken breasts, sliced lengthwise to make four flat chicken cutlets
2 eggs, beaten
1 cup flour or breadcrumbs
½ cup parmesan cheese
1 tsp salt
pepper
olive oil
Pound cutlets thin, pat dry, and set aside.
Mix together flour, cheese, salt and pepper.
Dredge cutlets in egg, then flour, and drop into hot olive oil.
Cook until brown and flip to other side.
Calzones
Use my pizza dough and sauce recipes.  Divide the dough into 5-6 portions and let rise for 30-45 minutes.  Press out each ball into a 6 inch circle.  Fill with cheese, sauce and desired toppings.  Fold over and crimp edges together.  Brush with olive oil and bake at 500 degrees for 8-10 minutes.
Breakfast for dinner
Note:  I only have four meals this week since it's Christmas and I assumed most people will be eating a Christmas meal or going to parties.
Week 5
Scalloped potatoes with ham
Chicken tenders, sweet potato fries, frozen veg of choice
Sole Meuniere, frozen veg of choice, rice
4 sole fillets
4-6 T. butter
½ cup flour
5-6 T. freshly squeeze lemon juice (2-3 lemons)
parsley
1 tsp salt
½ tsp pepper
Heat 2-3 T. of butter in a pan over medium-low heat.
Season flour with salt and pepper. Dredge fillets in flour and place them in pan.
Cook for two minutes on each side. Transfer to a warm oven to keep warm.
Add remaining butter and lemon juice. Whisk and pour over fish.
Taco salads
Ground beef or beans with taco seasoning (2 T chili powder, ½ t garlic powder, 2 t ground cumin, 2 t sea salt, ½ t black pepper)
lettuce
toppings of choice (cheese, sour cream, peppers, salsa, etc)
Cook beef or beans and spice with seasoning. Layer on salads and top with your choice of toppings.
There ya have it!  I hope this is a blessing to you and your family.  Please email me and let me know if you find these helpful or if you have any feedback to help me improve them.  I love hearing success stories from you!