Aldi meal plan for $60/week by shopping at Aldi. Includes breakfast, lunch, dinner, and snacks for a family of four (one with allergies).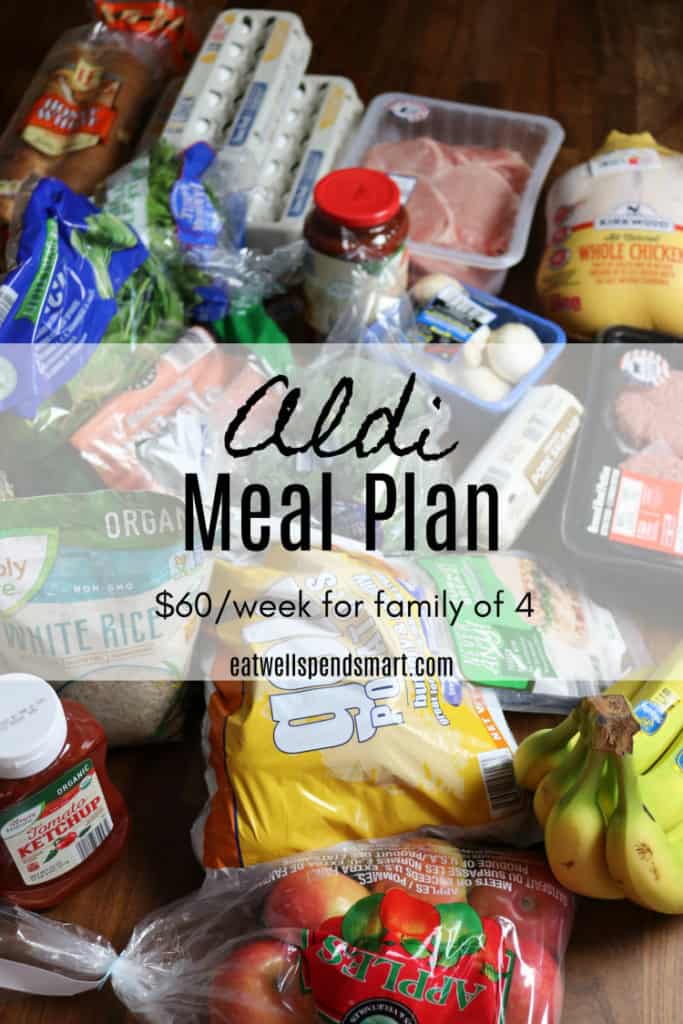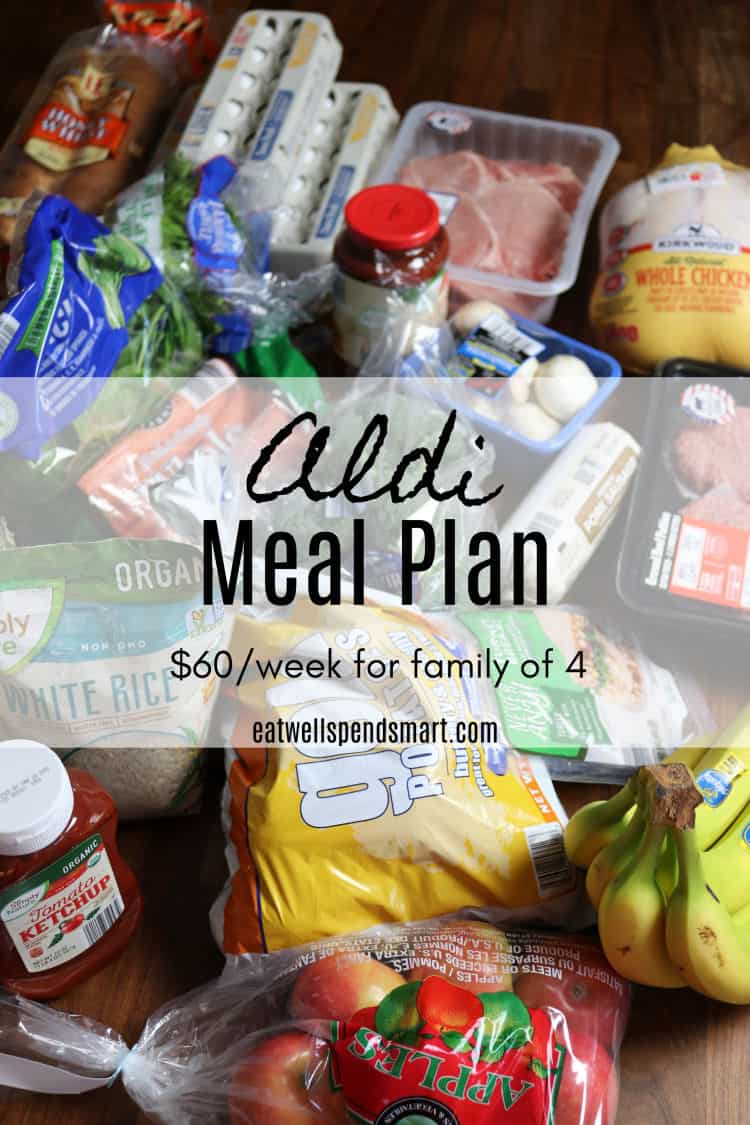 My husband and I are practicing our gazelle intensity Dave Ramsey style to reach some big financial goals. We challenged ourselves to stick to a $60/week grocery budget for the month of March, and I thought it might be helpful and interesting to see our Aldi meal plan, what we bought, spent, and ate for the week.
I'm no stranger to saving money on food, so thankfully I have had lots of practice. If I was brand new it would have been a lot more difficult.  Also I have a few advantages that I am aware others may not have. I had a few things already on hand in my pantry, I have access to a car, I have an Aldi close by, and I have a large refrigerator to store my food for the week.
A challenge to my $60 grocery budget challenge is that I have a daughter with several food allergies, which makes eating on a budget a little more difficult.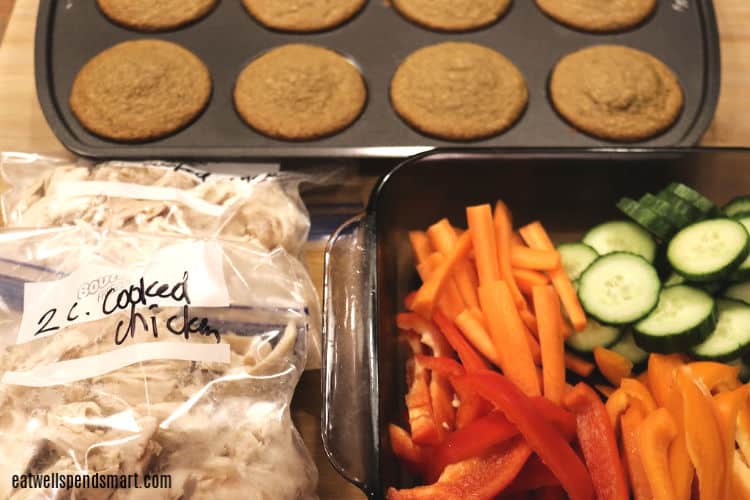 Preparing for the week
The first thing I did, and what I recommend others to do, is to assess what is already on hand and use it. We almost always have something lurking in our fridges, pantries, and freezers that we can use.
Things I already had on hand:
oats, butter, gluten-free noodles, bbq sauce, gluten-free flour, baking supplies (baking powder, vanilla, sugar), popcorn, produce left from last week (cabbage, peppers, cucumber, cuties, celery, onion), vinegar, olive oil, 2 cans tuna, spices, frozen fruit
2. What can I make on Sunday that I can use for lunches early in the week?
3. How can I possibly stretch a large piece of protein for several meals?  For this week it was a chicken.  I made 2 meals + broth + extra chicken for the freezer with the single chicken.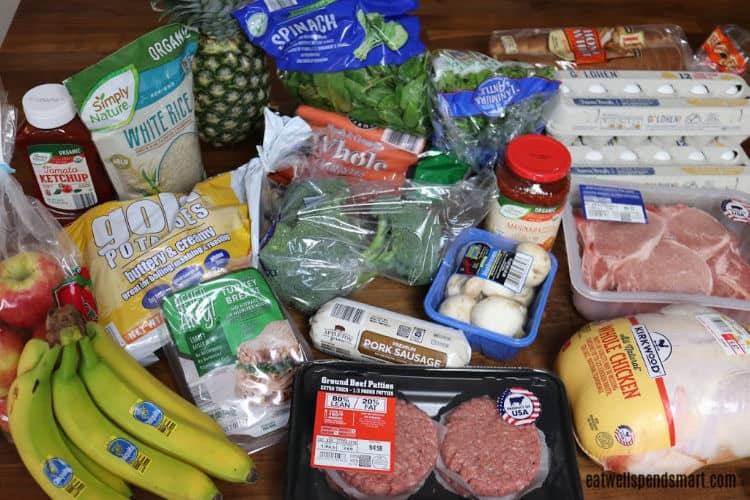 Aldi grocery list
With all of the above in mind and my meal plan in place, it's now time to shop. I like shopping at Aldi because it's close, saves me money, and I can get in and out of the store quickly.
Most of these items were used this week, but the rice for example, was just bought for pantry stock.
bananas                      $1.06
spinach                       $1.19
carrots                        $.99
pineapple                    $1.69
broccoli                       $1.79
yellow potatoes         $1.19
green leaf lettuce      $1.19
honeycrisp apples     $3.99
mushrooms                $.89
organic rice                 $2.59
organic pasta sauce $2.19
organic ketchup        $1.69
honey wheat bread  $.89
sausage                        $1.89
eggs (3 dozen)           $2.67
pork chops                 $6.13
ground beef patties  $4.98
whole chicken           $6.67
"never any" turkey   $3.29
Total with tax: $50. 83
*Note: I also buy local milk from a farmer every two weeks for $9, so my total is right at $60.
Aldi meal plan
Breakfasts
We don't have a set plan for breakfast. Since we are homeschoolers and don't have to be out the door early, we just make and eat what sounds good to us that morning.  I do make a big batch of oatmeal for my husband to eat for breakfast on the mornings he goes to work at 7:30 though and he eats that for 3 days. The kids and I ate the following throughout the week:
eggs
sausage
sautéd mushrooms and spinach
banana oat muffins
smoothies
oatmeal
leftover pancakes
Lunches
Again, I don't have a detailed plan here.  My husband takes a sandwich, veggies, and fruit most days. He also took a jar of chicken noodle soup that he ate/drank at his desk. The kids and I ate the following:
leftovers from the night before
turkey sandwiches
peanut butter sandwiches
tuna salad
smoothies
apples and sunbutter
cut up veggies
Snacks
bananas
apples
banana oat muffins (homemade)
popcorn
cut up vegetables
sunflower butter oat balls
smoothies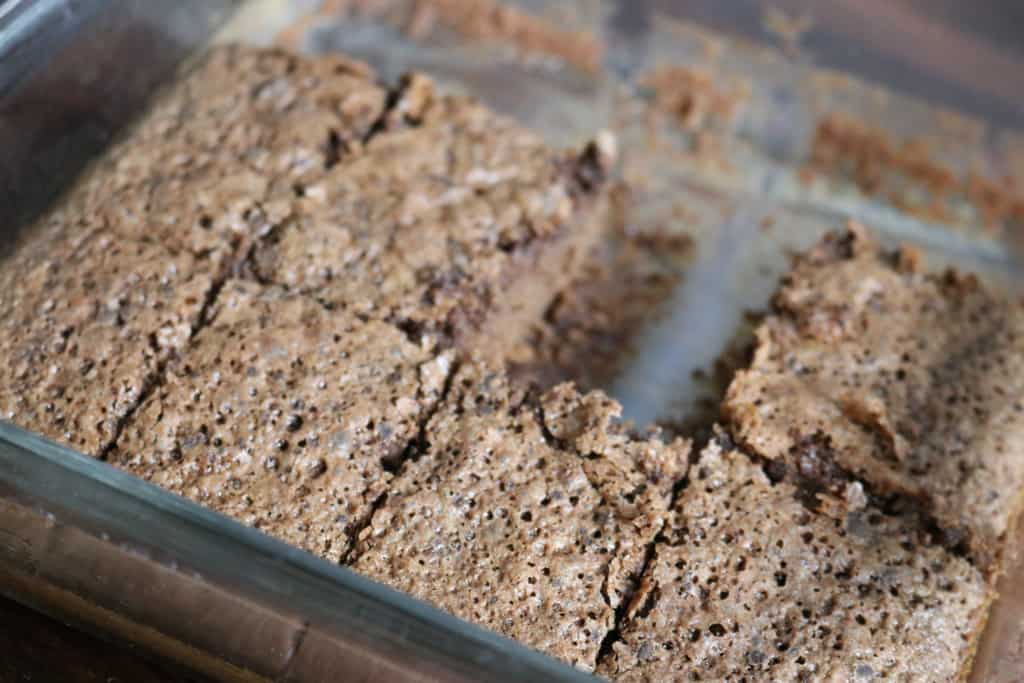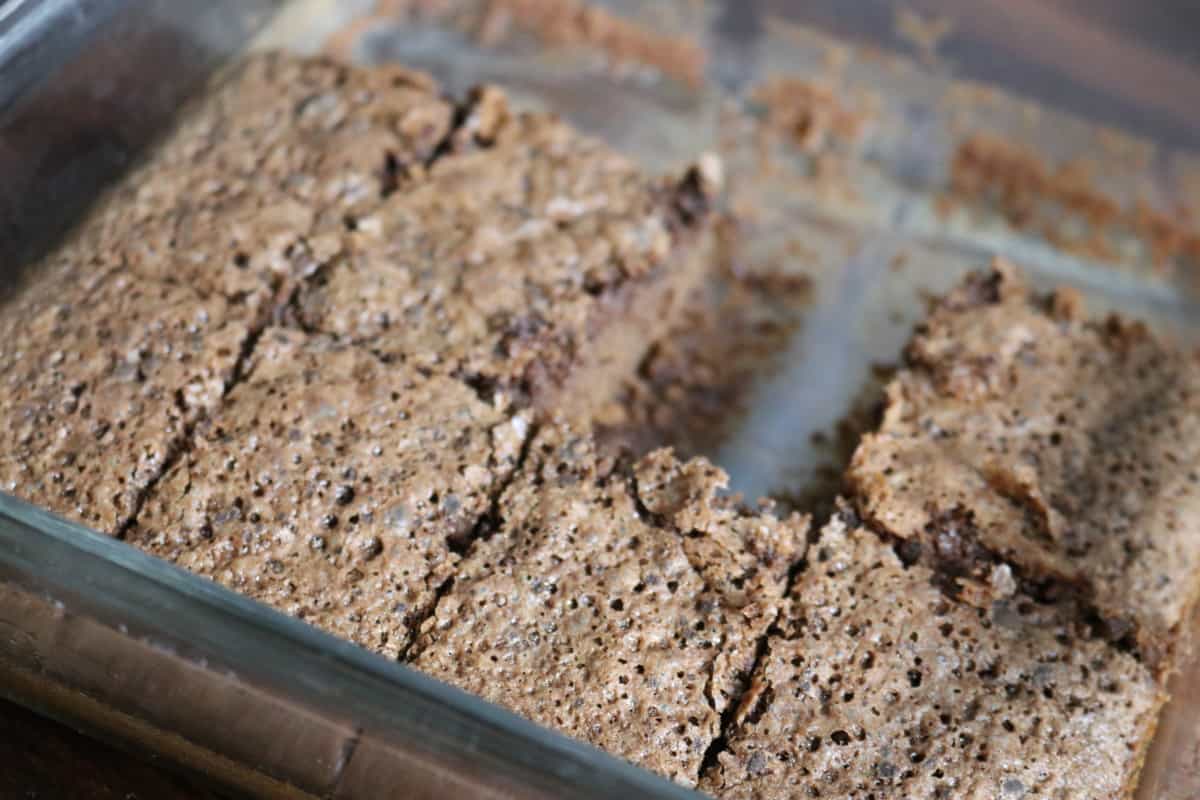 Dessert
gluten free brownies
Dinners
I plan my dinners very carefully, but I leave room for flexibility as reflected on Thursday night. Below are pictures of what we ate with explanations.
Sunday
We usually host a small group of teenagers at our house on Sunday night, but there were conflicting schedules and my daughter wasn't feeling well, so we canceled.
I started out the week with making chicken noodle soup. Making a soup on Sunday is a strategy I like to use so we will have leftovers for lunch throughout the week. After boiling the chicken to make the base for the soup, I removed all of the chicken from the bones and split it into thirds.  One-third went into the soup, ⅓ was reserved for bbq chicken, and ⅓ went into the freezer for later.
Then I immediately put the bones in my Instant Pot covered with water and a bay leaf to make broth. I made 2 quarts of broth that I saved for week 2.
Along with the broth and shredded chicken, I also prepped a few things for the rest of the week to make meals easier for the week. I made a batch of banana oat muffins, cut up veggies for lunches, made broth, and separated the chicken into bagged 2 cup portions.
Monday
BBQ chicken: I put the leftover chicken in a skillet with bbq sauce and extra seasonings (salt, pepper, garlic powder, chili powder) and simmered until it was heated through and shreddable.
Then I roasted a tray of broccoli in the oven and served it with baked potatoes.  My daughter with allergies ate her bbq chicken with no bun while my husband and son ate their bbq on bread.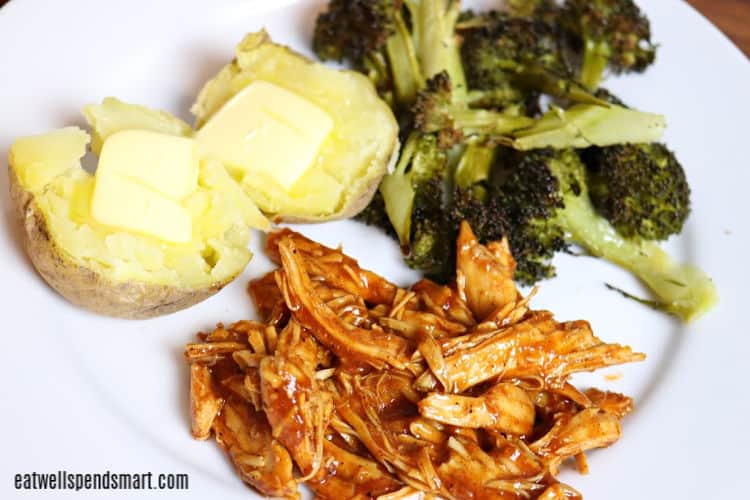 Tuesday
Skillet pork chops were served with sautéd cabbage and cut up pineapple. Simple and delicious.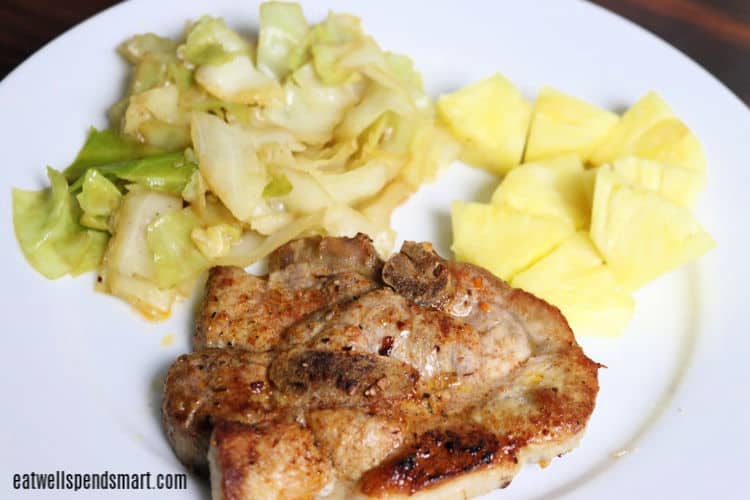 Wednesday
I had about ¼ of the sausage roll left, so I browned it and used it in my spaghetti sauce. The noodles are gluten-free brown rice noodles that I had on hand and I served it with a salad with a homemade vinaigrette dressing.
We were very hungry this night so I also made some quick gluten-free brownies. It's rare that I make a dessert, but it's what I had on hand and I thought the kids might like a treat.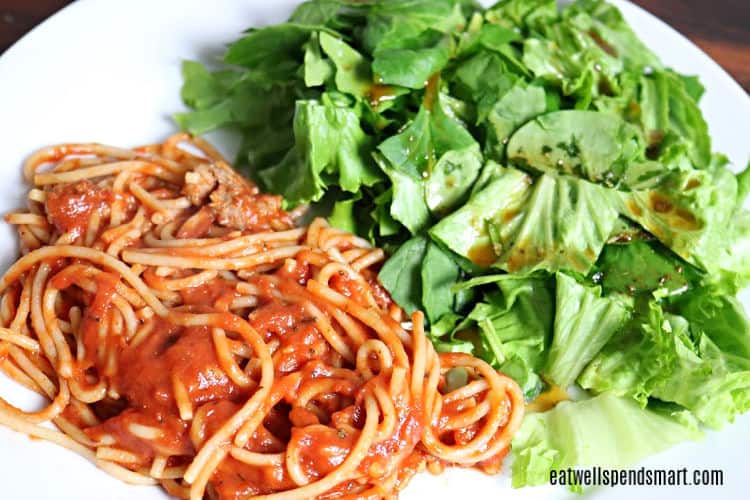 Thursday
I had planned on broiled salmon with veggies and rice for dinner, but no one in my family wanted it (including me) so I adjusted my plan and make pancakes and scrambled eggs instead.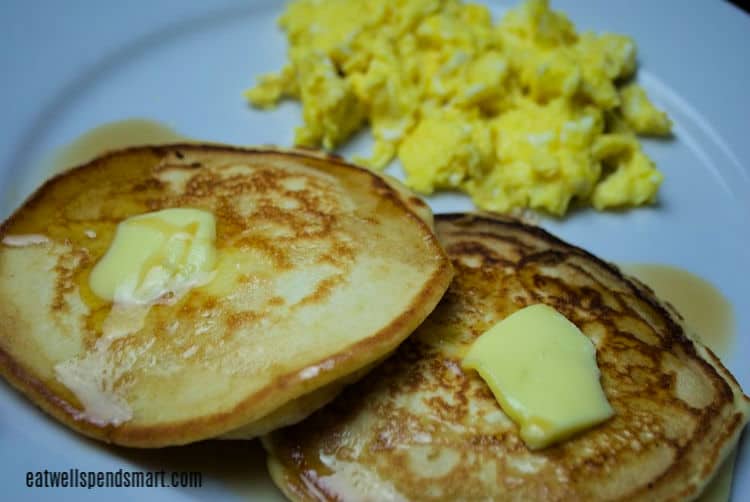 Friday
My husband and I went out on a date this night (different budget line item), so I made burgers and oven fries for the kids and the babysitter. The babysitter and my son had their burgers on a bun while my daughter had her burger with no bun. The picture below was reheated leftovers for my daughter the next day, so it looks a little sad, but I assure you they loved it the night before.  I just forgot to take a fresh picture.
My husband also made a big bowl of popcorn that they could snack on too while we were away.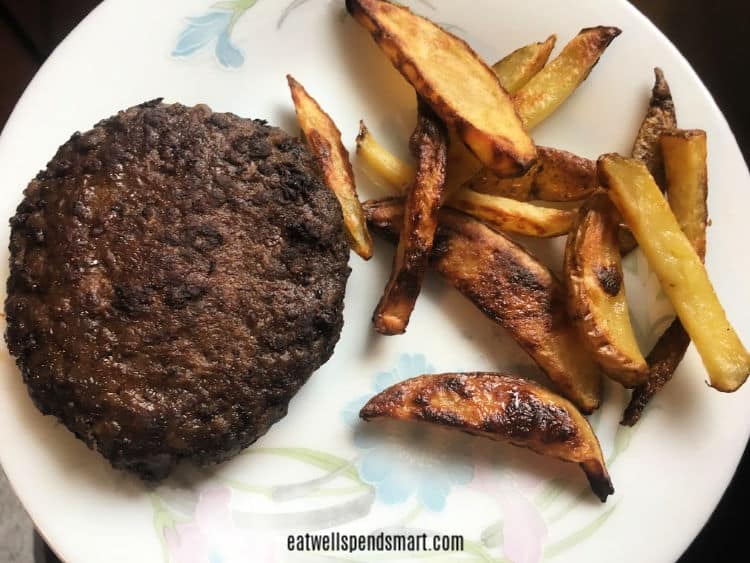 Saturday
We had dinner at my brother-in-law's house, so this wasn't included in my grocery budget, but he made us pork roast, salad, mashed potatoes and fruit. I appreciated a night off from cooking and a fun time with family!
Thoughts from the week
This is about $40 less than my usual grocery budget, so it was definitely a challenge but doable. No one went hungry that's for sure, but my pantry stock is getting a little low, so I'm sure it will be a struggle next week to keep this $60 grocery budget.
This also made me realize again how much money I spend on convenience treats and snacks like chips, jerky, gluten-free packaged snacks, etc. I like having those convenience items there for backups, but taking an hour to prep a few things is absolutely doable for me.
It was also a great reminder of how much eating out really does cost.  My husband and I used a Groupon on our date, went to a moderately priced Asian restaurant, and still spent $30. This is on the lower end of most of our date nights, but when it's half of our grocery budget for the week, it is glaringly obvious that it does pay to eat at home.  Of course we will continue to go on date nights, and our family will probably eat out a couple times a month, but we will budget for it accordingly.
More $60/week challenge posts in this series: