Meal planning on a budget is a challenge but doable.  Here is a one week sample of how we ate for $65 for a family of four.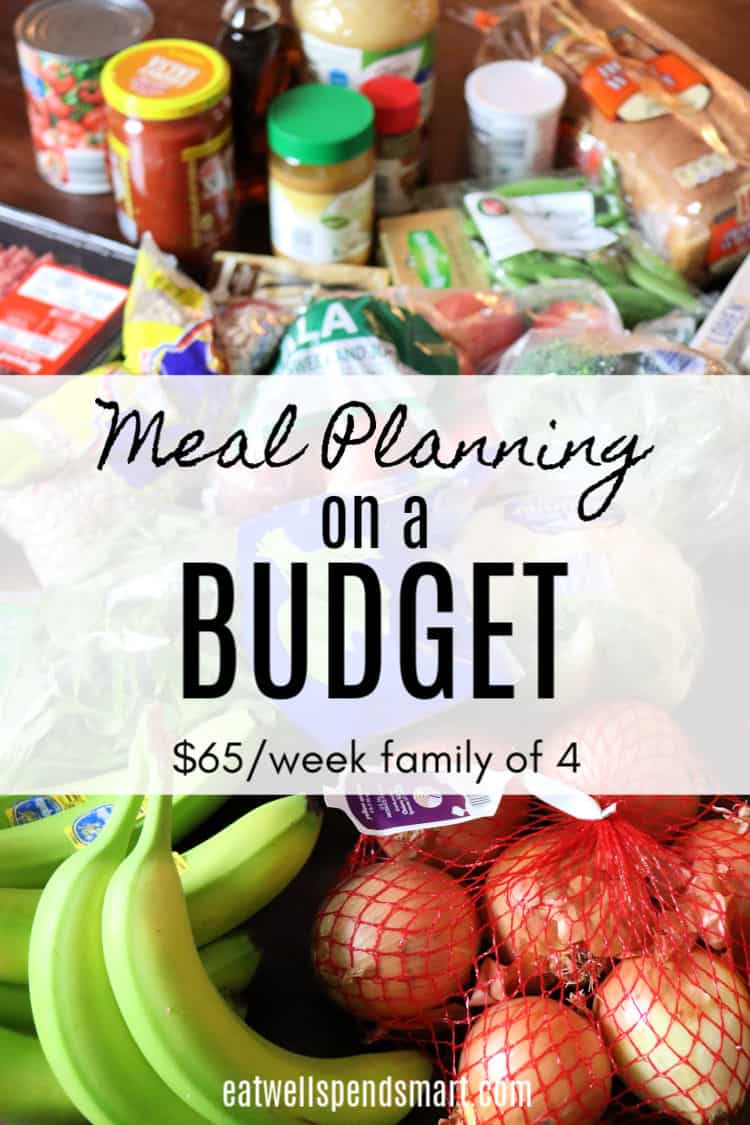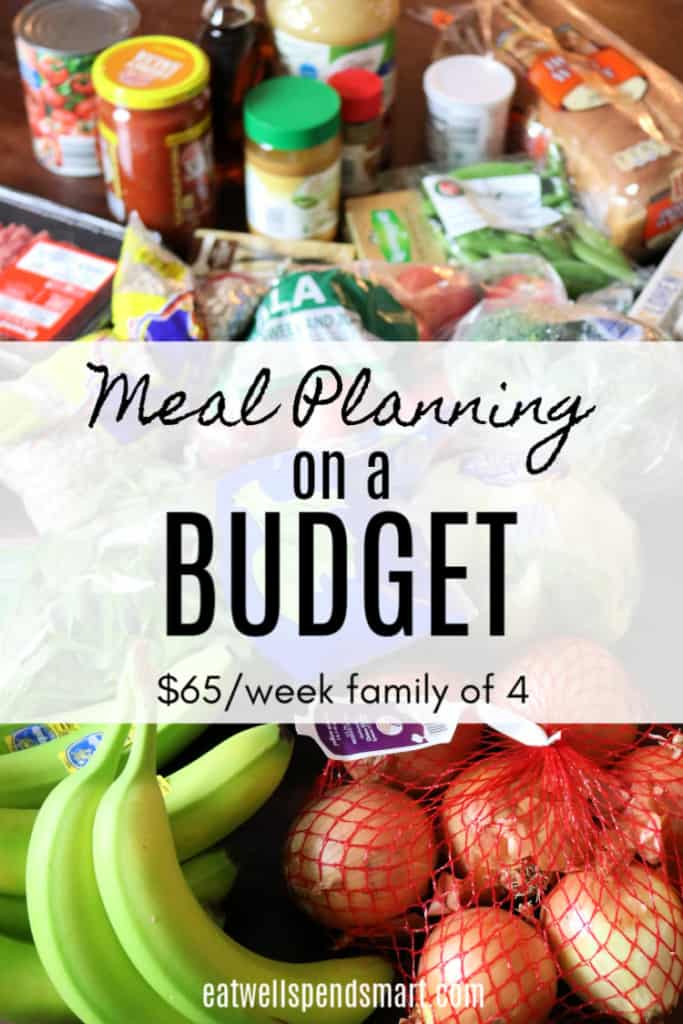 Last week I shared with you that I am challenging myself to a $60/week grocery budget in the month of March for our family of four (one with food allergies). I will say last week's meal planning on a budget was much easier since I am starting to really run low on my staples, but we are prevailing! I'm having to get creative with what I have which is somewhat fun but also very challenging.
Principles I use when meal planning on a budget
You have to be organized with a plan to stick to a small budget and have nutritious meals.  Here are some of the strategies I use.
What can I make from scratch?
Make a soup on Sunday to use for lunches early in the week.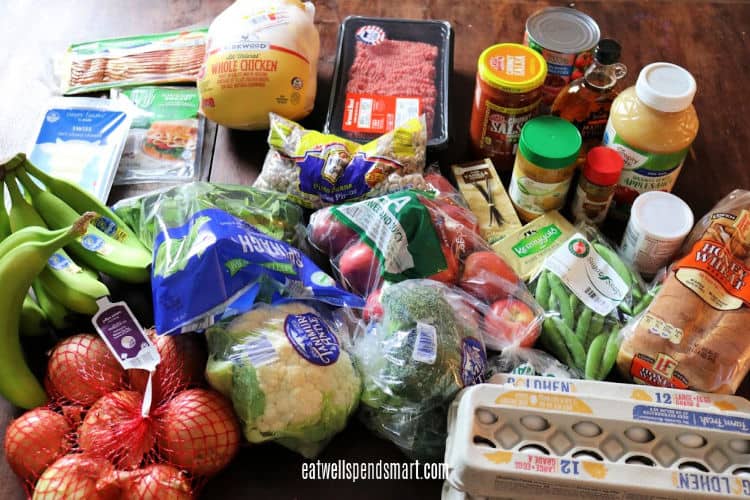 Grocery list
I shopped at Aldi this week.  Below you will find a list of what I bought along with prices.
bacon                                   $4.99
2 lb ground beef                $6.52
whole chicken                    $6.04
"Never Any" chicken deli meat  $3.29
3 dozen eggs                       $2.54
Kerrygold butter                $2.35
spinach                                 $1.19
cauliflower                           $1.59
bananas (3.48 lb)               $1.50
broccoli                                 $1.59
yellow onions                      $1.59
sugar snap peas                 $2.29
Gala apples (3 lb bag)       $2.99
salsa                                      $1.19
crushed tomatoes (28 oz) $.65
cumin                                    $.95
org creamy peanut butter $3.39
unsweetened applesauce     $1.89
baking powder                      $.99
2 lb dried pinto beans         $1.49
honey wheat bread              $.89
pure vanilla                           $3.65
pure maple syrup                 $5.99
Total with tax: $64.97
Note: I went over budget by almost $5.00. I did not figure my tax well enough when I was walking through the store with my calculator, and I went over. Buying vanilla could have been put off for another week, which would have knocked it down to almost right on the money. I also could have bought cheaper butter instead of Kerrygold. Bacon was a big expense this week, but I have to buy bacon every couple of weeks to reserve bacon fat for my daughter.  I can't cook her eggs in butter because of food allergies, so instead I use bacon fat.
Things I had on hand
I always recommend using what you already have every single week to reduce food waste. Here are things I used in this week's plan that I already had.
celery
potatoes
carrots
cornmeal
spices
gluten free flours (rice, oat, potato starch)
1 Japanese sweet potato
wheat macaroni & gf lasagna noodles
frozen green beans
frozen fruit
4 buns from last week
lettuce from last week
brown lentils
lard from a pasture raised pig we had processed last year
lemons
poppy seeds
olive oil
vinegar
coconut aminos
fish sauce
frozen pumpkin purée (from the garden last summer)
chicken breast in the freezer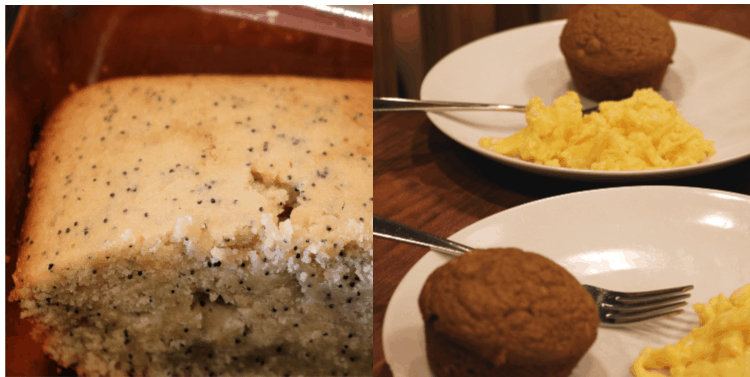 Breakfasts
We eat whatever sounds good to us in the morning. Nothing is planned ahead in detail, except I made a batch of oat muffins and gluten-free lemon poppy seed bread to have as an option. I also make a batch of oatmeal for my husband to reheat for breakfasts 3 days a week because he leaves for work early and needs something fast. The two other days he eats what we are eating, which is usually eggs and bacon. I save the bacon for when he is around to eat it with us.
eggs
bacon
pumpkin oat muffins  (I subbed olive oil, water for milk, and regular sugar)
lemon poppyseed bread (experimental recipe)
smoothies
fruit (bananas, apples)
oatmeal
sautéd spinach
Lunches
Again, we ate what was available for the day.  Leftovers were our first option.  If there weren't any, I scrounged up something that we had on hand or we made "snack plates". My husband packed a sandwich, vegetables and fruit 3-4 days and the other two days he packed.
leftovers
chicken lunch meat sandwiches
cut up carrots, celery, pea pods
salad
chicken tenders (made with a lone chicken breast I had in the freezer)
peanut butter sandwich
hard boiled eggs
applesauce
fruit (apples, bananas, cuties)
smoothies
egg drop soup (I made a single serving for myself since there were not enough leftovers one day. I seasoned a little leftover broth (I made it after roasting the whole chicken) with coconut aminos and fish sauce and poured two whisked eggs in the boiling broth. I also added spinach.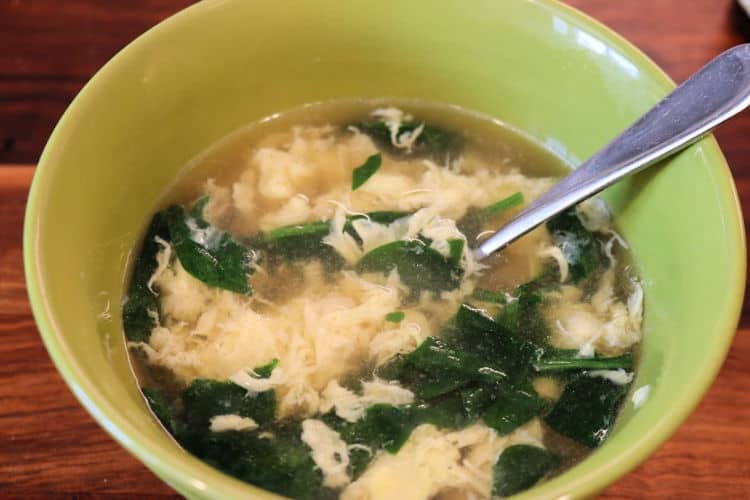 Snacks
popcorn
applesauce
lemon poppyseed bread
fruit
cornbread
rice krispies (They have been in my pantry for a while and the kids polished them off.)
Dinners
Sunday
We had a snow/ice day and church was canceled. I made two pantry meals and used them for lunches the first half of the week.
First I made a lentil soup using brown lentils, celery, 1 Japanese sweet potato, 2 small yellow potatoes, carrots, spices, and little of the tomato purée for some acidity.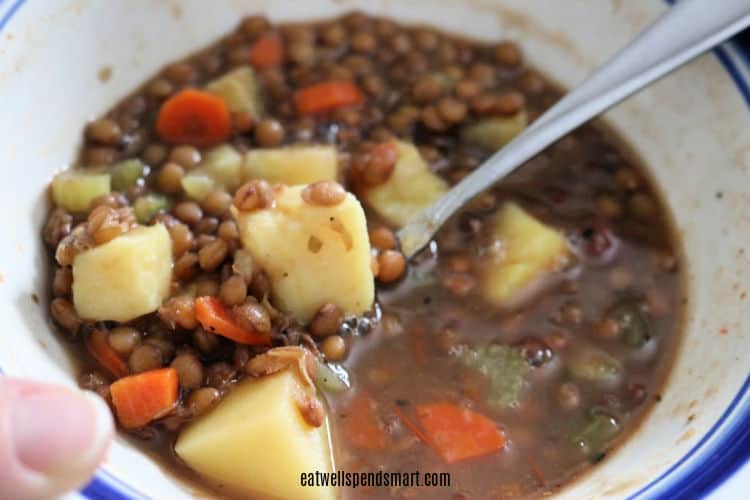 Sunday night I browned two pieces of bacon with some leftover chicken that was in the freezer. I made a bechamel cream sauce and mixed it with a box of pasta and served the chicken and bacon on top.  My daughter can't do wheat or dairy so I boiled a few gluten free lasagna noodles from a partial box I had in my pantry and mixed it with some tomato purée, salt, garlic, and Italian seasoning for a mock lasagna. I served them both with salad and fruit.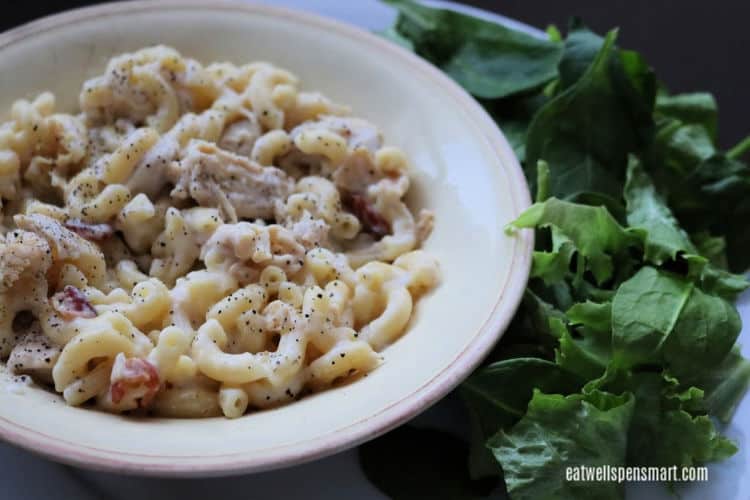 Monday
This is one of my all-time favorite meals.  It's just so comforting and delicious! I roasted a simple whole chicken and served it with mashed potatoes, roasted broccoli, and gravy. The gravy was made with drippings from the chicken and thickened with rice flour.
The chicken was divided into thirds. One-third we ate for dinner this night, one-third I used for the chicken pot pie, and ⅓ I froze for Spanish rice later in the week.
After the meat was removed from the bones, I put the bones in a slow cooker to make broth which was used for the chicken pot pie and Spanish rice.
Tuesday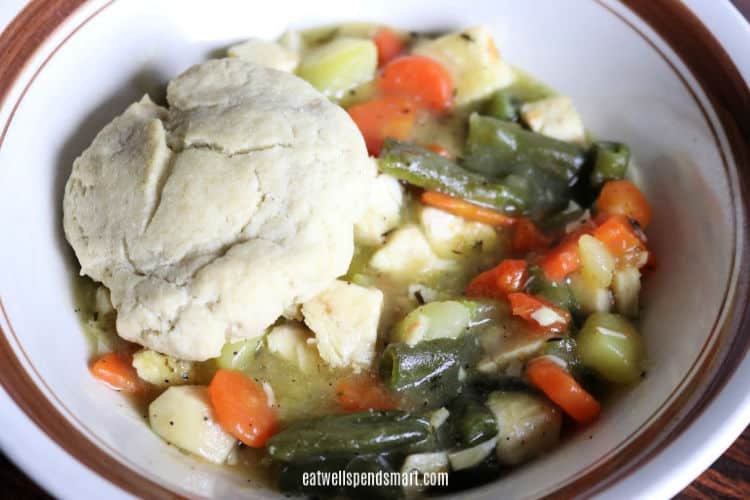 Skillet chicken pot pie with biscuits. I substituted frozen green beans for the peas since that's what I had on hand. Milk was omitted, and I used more broth instead.  To thicken, I used rice flour instead of wheat flour.  For the biscuits, I used gluten free flour and lard instead of butter.
Wednesday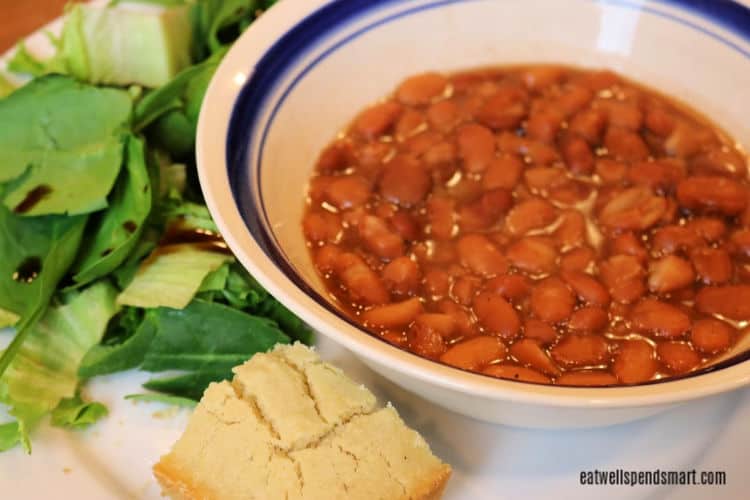 Slow cooker pinto beans, salad, homemade cornbread (experimental recipe), apple slices
Thursday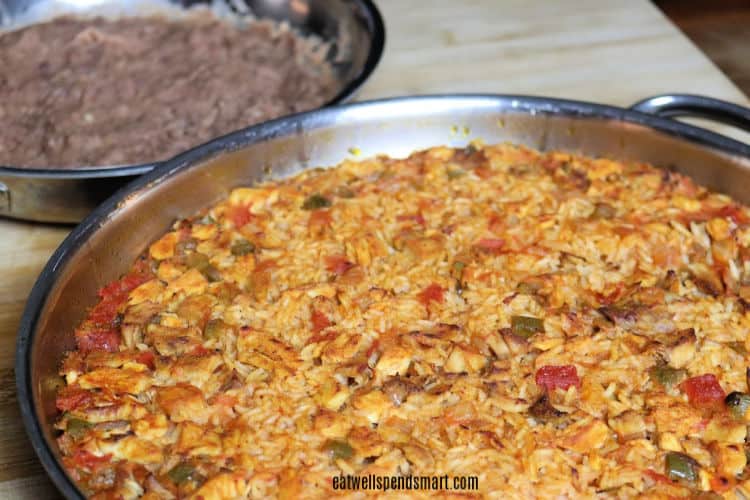 Spanish rice with chicken and refried beans. I do not have a recipe for this one because I just made it up on the fly, but I will work on getting one on the blog soon.  It was SO GOOD!
Here's the rough recipe: 2 cups rice, 1 ½ c. salsa, 4 c. chicken broth, salt, garlic, chili powder, to taste, olive oil, leftover chopped chicken. In a large skillet, sauté chicken in olive oil with spices.  Add rice and toast for a couple of minutes.  Add salsa and broth. Bring to a boil, reduce heat to a simmer, cover and simmer for 15 minutes. Then I took off the lid and popped it under the broiler to crisp the top.
For the refried beans, I mashed leftover pinto beans in a skillet and heated through.  I added a little more water and seasoned with a little more salt to taste.
Friday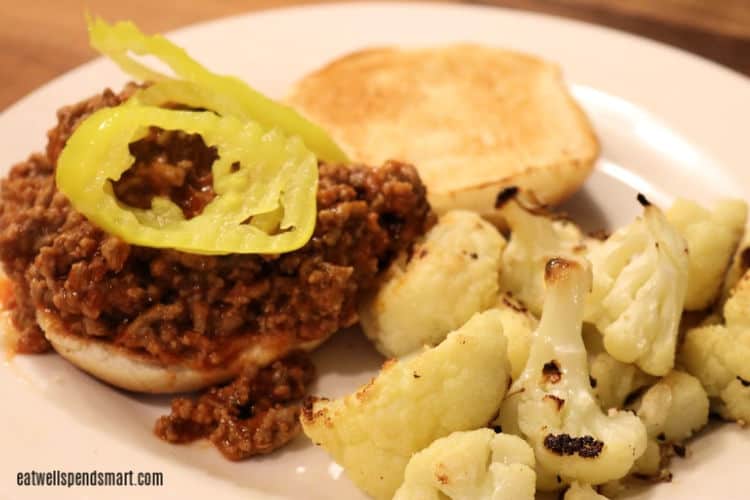 On Friday nights we try to eat something a little fun that the kids will look forward to.  Sloppy Joes hit the spot! I did not use bell peppers like the recipe calls for because I didn't have any.  I also served it with roasted cauliflower and apple slices. My husband and son had theirs on buns and my daughter and I had ours without a bun.
Saturday
Dinner was out at a Mexican restaurant.  The kids spent the night with their cousins so we were on our own. We use a different budget line item for eating out and date nights.
Thoughts on this week
Guys, my fridge looks so bare! We have had plenty to eat for breakfast/lunch/dinner, but my kids are ready for snacks! They think we have nothing to eat in the house, which to be fair, if you look in our refrigerator it indeed appears that way.
My husband brought home an unopened bag of tortilla chips that we bought a couple of weeks ago for a church function that didn't get eaten.  Someone had left it in a bag for us with his name on it. We devoured it with the rest of the salsa. My husband described it as finding money in a pocket that you forgot about!
This exercise is definitely making me sensitive to families that every week have to stick to a low budget every single week. I am re-committed more than ever to teach families how to use their resources well, as well as pouring into our local food banks, food pantries, and homeless ministries.
Lastly, we are also tired of chicken after two weeks of chicken heavy dishes, so next week I am not going to be using a whole chicken. Stay tuned for two more weeks of our $60 food budget.