Cheap healthy meal plan for March. Made with simple whole foods and designed to be inexpensive and family friendly. Included is four weeks of cheap healthy meals for families.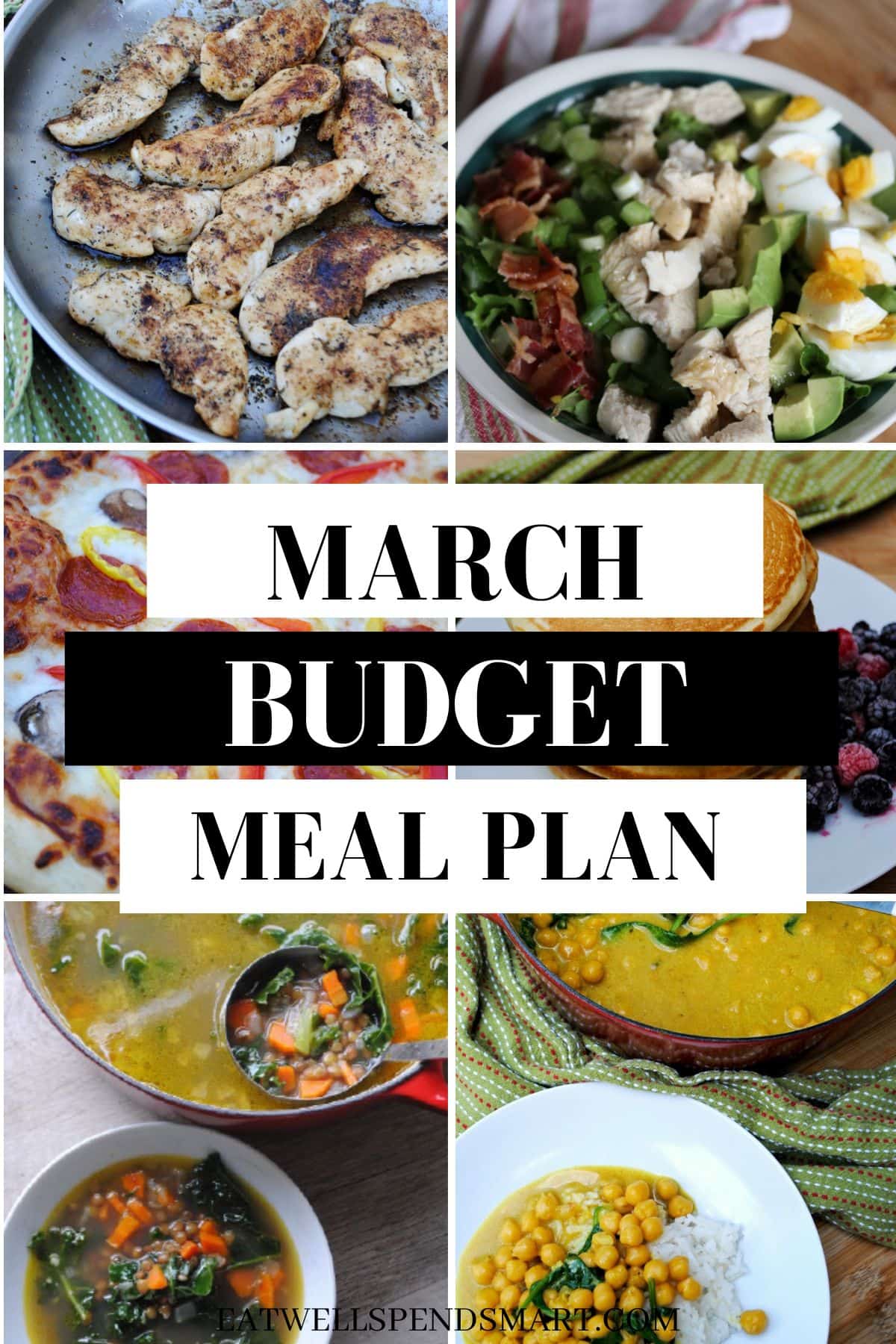 Are you wanting to eat well, but reduce your grocery bill? You've come to the right place! I have monthly cheap healthy meal plans designed to feed your family well on a budget. This is the March meal plan and I think you will love it.
Cold weather is coming to an end.  This will likely be the last month heavy on the soups, stews, and casseroles that winter brings.  As spring arrives, it will lend itself to lighter dishes heavy on delicate and beautiful bright spring vegetables.  I, for one, can't wait.
By using the meal plan below, you will likely see the cost savings, but I have a few more tips for you to lower your grocery bill further.
Ways to lower grocery bill
Consider shopping at discount grocers like Aldi for cheaper produce.
Check out the app, Ibotta, and look for any cash back offers for items that may on the list.
Drink mostly water. Say no to sodas, juices, and packaged drinks.
Limit snacks to fruit and veggies, homemade muffins, stovetop popcorn, and peanut butter oat balls.
Shop what you have at home first before buying new.
Substitute ingredients: If a recipe calls for diced tomatoes and you have puréed tomatoes, it's likely fine to substitute.
For lunches, use leftovers, pb&j sandwiches, fruit, and veggies.
For breakfast, rotate oatmeal and eggs and toast, or another inexpensive breakfast.
March Cheap Healthy Meal Plan
Below you will find dinner recipes for four weeks of meals.  See above for ideas for breakfasts, lunches, and snacks.
Week 1 Dinner Plan
Boil the chicken as indicated in the recipe above. Debone the cooked chicken and divide it into three portions. ⅓ for the chicken noodle soup, ⅓ for horseshoe sandwiches, and ⅓ for the chicken salads.
Horseshoe sandwiches
bread (1-2 slices per person)
leftover chicken
2 large russet potatoes, peeled and cut into thin fries
olive oil
cheese sauce
Make a batch of oven fries.
When fries are almost done, make cheese sauce.
In a skillet melt butter and whisk in flour. Cook for a couple of minutes.
Whisk in milk and bring to a soft bubble to thicken sauce.
When sauce is slightly thickened remove from heat and stir in cheese. Taste and add salt and pepper to taste.
Toast bread. Add meat and top with fries and cheese sauce.
Chicken salads
Use part of the chicken boiled for the chicken soup for this salad.
lettuce
hard boiled eggs
salad toppings
any homemade salad dressing
Spaghetti, salad with homemade dressing:Use a jarred sauce if it is cheaper than homemade.
Crispy black bean tacos, fruit
Flex night: leftovers, breakfast for dinner, get creative with what you have left
Week 2 Dinner Plan
Slow cooker tomato soup, grilled cheese
Chickpea curry, rice
Make a batch of chickpeas in the slow cooker in the morning or for a weekend prep and proceed with recipe above the night of. Use leftover chickpeas in the Greek chickpea bowls later in the week.
Greek chickpea bowl
chickpeas (leftover from making in slow cooker for soup)
cooked grain of choice (rice, quinoa, etc)
lettuce
toppings of choice (cucumber, tomato, olives, feta, artichoke hearts, avocado)
Greek dressing
• ½ cup olive oil
• ¼ cup apple cider vinegar (Bragg's is my favorite brand)
• 1 tsp minced garlic
• 1 tsp maple syrup
• 1 tsp sea salt
• ¼ tsp fresh cracked pepper
• ¼ tsp dried basil
• ¼ tsp dried oregano
In a bowl, combine all desired ingredients layered and top with dressing.
Chicken tenders, Potato skins, salad
potato skins
(8) 3-4 inch russet potatoes
4-6 slices of bacon
sour cream
cheddar cheese, shredded
green onion, diced
salt
Scrub potatoes, pierce with a fork and bake at 350 degrees for about an hour.
When tender, cut in half lengthwise and scoop out the flesh leaving a small amount of potato behind. Reserve insides for potato hash for breakfast or on flex night.
While potatoes are cooking, cook bacon, and crumble.
Place on baking sheet and brush insides with olive oil and sprinkle with salt.
Broil for a couple of minutes until brown.
Top with cheddar cheese, bacon, and green onion and put back under broiler to melt cheese.
Remove from oven and top with sour cream.
Flex night: leftovers, breakfast for dinner, get creative with what you have left
Week 3 Dinner Plan
Slow cooker Italian beef, oven fries, apple slices
Hoppin John, rice, collard greens
Spaghetti squash with pesto, fruit
1 large spaghetti squash
PESTO
• 3 cups packed fresh basil leaves (more if needed)
• 1-2 cloves garlic, start with 2 and add a 3rd if desired
• ½ cup fresh grated Parmesan cheese
• ½ tsp sea salt
• pepper to taste
• ½ cup good olive oil (start with less and work your way up until desired texture is achieved)
Cut spaghetti squash in half and scoop out seeds.
Brush flesh with olive oil and bake on a baking sheet for 35-40 minutes or until tender or cook in Instant Pot under high pressure for 11 minutes. Remove insides with a fork.
Prepare pesto.
Pulse all dry ingredients in a food processor until well combined.
Slowly drizzle in olive oil until desired consistency.
Taste and adjust salt and garlic if desired.
Toss spaghetti squash with pesto and serve.
Chicken cacciatore, spaghetti
4-6 chicken thighs, boneless skinless
1 can diced tomatoes
3 cloves garlic, minced or pressed
1 cup onion, sliced
1 cup bell pepper, sliced
1 jar organic marinara sauce
salt, pepper, and oregano to taste
1 lb. pasta of choice
Place all ingredients in a slow cooker. Cook on low for 6-8 hours. Serve over hot pasta.
Pancakes (gluten free oat or regular), eggs, fruit
Flex night: leftovers, breakfast for dinner, get creative with what you have left
Week 4 Dinner Plan
Cabbage soup, bread and butter, fruit
½ head cabbage, chopped
3 cloves garlic, minced or pressed
2 carrots, chopped
1 can diced tomatoes
8 cups broth or water, or a combination
salt and pepper to taste
seasonings of choice to taste(thyme, oregano, rosemary, basil)
Add all ingredients to a stock pot and simmer until vegetables are tender. Taste and adjust seasonings as needed.
BBQ meatballs, green beans, oven fries
1 lb ground beef
1 egg
¼ c. breadcrumbs or oats
½ tsp salt
½ tsp pepper
¼ tsp rosemary
½ tsp oregano
¼ tsp garlic powder
Mix together beef, egg, breadcrumbs, spices, and garlic together. Form into golfball sized balls.
In a large skillet, brown meatballs turning to brown all sides. Remove meatballs and set aside when browned.
In another saucepan, combine all sauce ingredients and bring to a simmer. Add meatballs and cook together until sauce is thickened and meatballs are cooked through.
Lemon broccoli pasta
1 lb. pasta of choice
2 lemons
olive oil
3 cups broccoli florets
3 cloves garlic
parmesean cheese
fresh herbs of choice
salt and pepper
Cook pasta according to package directions. Do not forget to salt water when cooking.
In a large skillet, heat olive oil and cook broccoli florets until tender (about 10 minutes).
Add garlic and cook for a couple of minutes.
Toss with cooked hot pasta, and squeeze both lemons on top.
Add any fresh herbs available, the zest of one of the lemons, salt and pepper, and freshly grated parmesan cheese.
Crispy chicken thighs, southern boiled cabbage, mashed potatoes
6-8 chicken thighs, bone in skin on
olive oil
salt, pepper, oregano, thyme, garlic powder
Lightly oil a baking dish with olive oil. Place thighs skin side up in baking dish and pat dry.
Sprinkle with spices and bake uncovered at 350 for about an hour until chicken is no longer pink and skin is crispy.
Lentil soup, bread
1 ¼ cup green lentils
1 T. fat or oil of choice
½ large onion
2 carrots, diced
1-2 stalks celery, diced
2 cloves garlic
6 cups water or broth
2 bay leaves
salt and pepper to taste
fresh herbs if desired
Heat oil over medium heat. Add diced onion and garlic. Cook until soft but not brown. Add liquid, bay
leaves, and salt. Bring to a boil and reduce to a simmer. Cook for 15-20 minutes until tender but not
mushy.
Flex night
More meal plans
If you loved this plan, check out my other meal plans on the site.
Happy eating, friends!