Four years ago I challenged myself to a $60 weekly grocery budget for five weeks. Read through those if you have time. It was tough and I learned a lot of important lessons about myself and my habits.
This year with food prices higher than ever and my grocery bill reflective of that, I wanted to try the experiment again. Could it be done? Would my family revolt? I didn't know. What follows is documentation of my experiment attempting to spend only $50 this time on food for the week.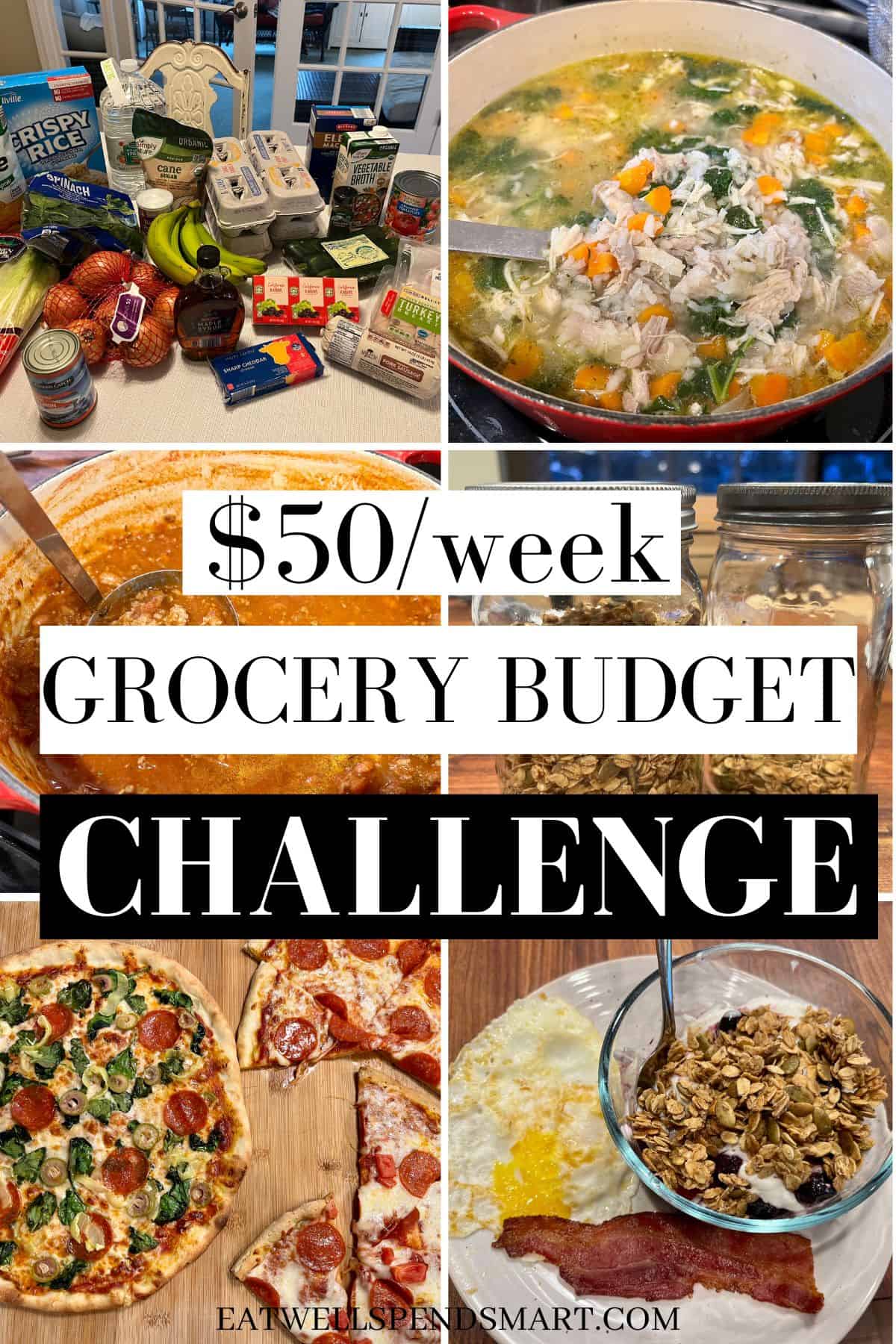 The Problem
Hello. I'm a budget food blogger and I have been spending DOUBLE what I used to spend on food. Yes, my kids have hit the pre-teen and teen years which means buying more food. Yes, food prices are high right now with inflation. Yes, we have special diets in our house that we have to accommodate.
With all of that said though, I would like to reel it in. We have financial goals that we are trying to hit and are also currently saving for new furniture for our home. This is one area where I know what to do and I want to see if I can push back a little and get back to my moderate spending.
This is the basis behind my $50 grocery budget challenge. I wanted to know if it was still possible or should I just face reality that this is how it is right now.
Take Inventory
The very first thing I did was take inventory of what I already had. I cleaned my fridge and threw away anything inedible so I would have a fresh start.
Then I asked myself these questions:
How many meals can I make without relying on buying anything new? I brainstormed a huge list!
What needs to be used right away?
How can I get creative with what I already have in my pantry, fridge, and freezer?
On shopping day in my fridge I had a little egg whites, ½ container Greek yogurt, partial block of mozzarella, bacon grease, applesauce, and a little milk.
In my produce drawers I had a partial bag of grapes, 3 apples, 3 lemons, 1 cutie, 4 mushrooms, carrots, and kale. The lettuce and cilantro pictured I thought were good, but I had to throw them out on further inspection.
I also had various condiments.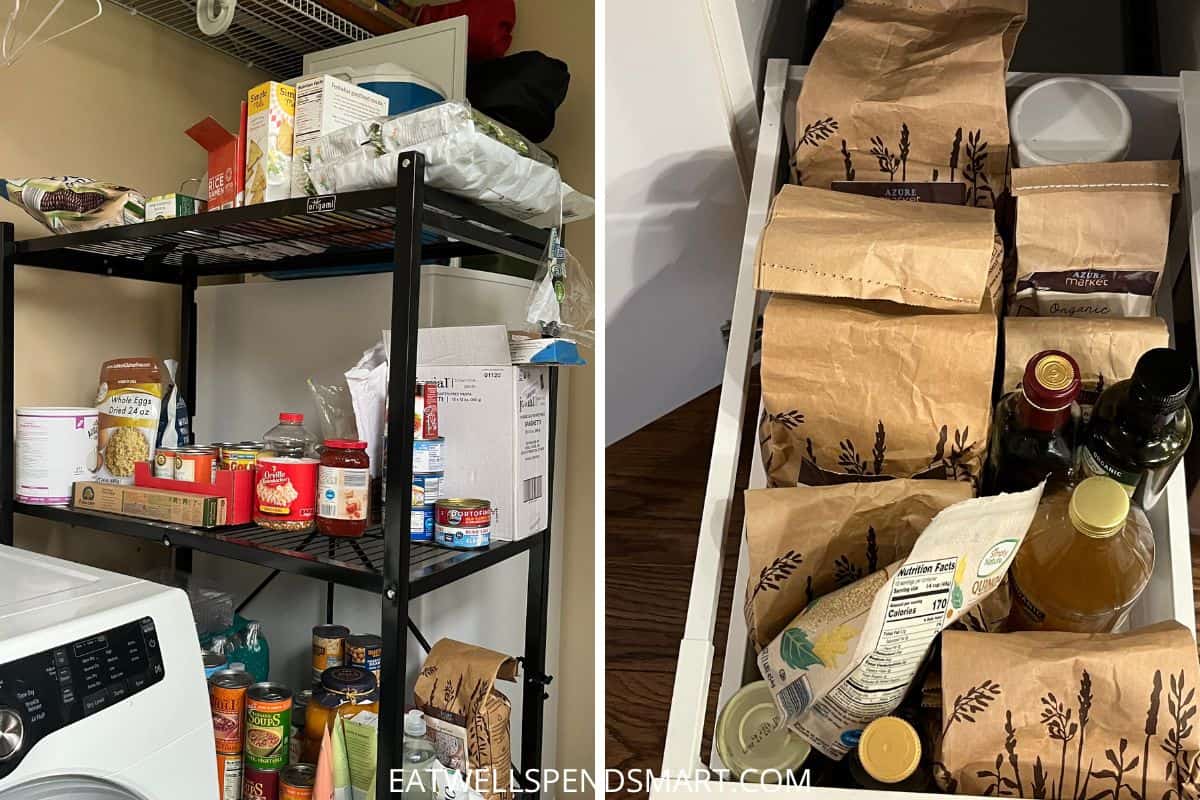 In my pantry I had canned goods, pasta, various beans and grains, rices, canned meats, 2 packages of rice ramen, popcorn, flours, olive oil and vinegars.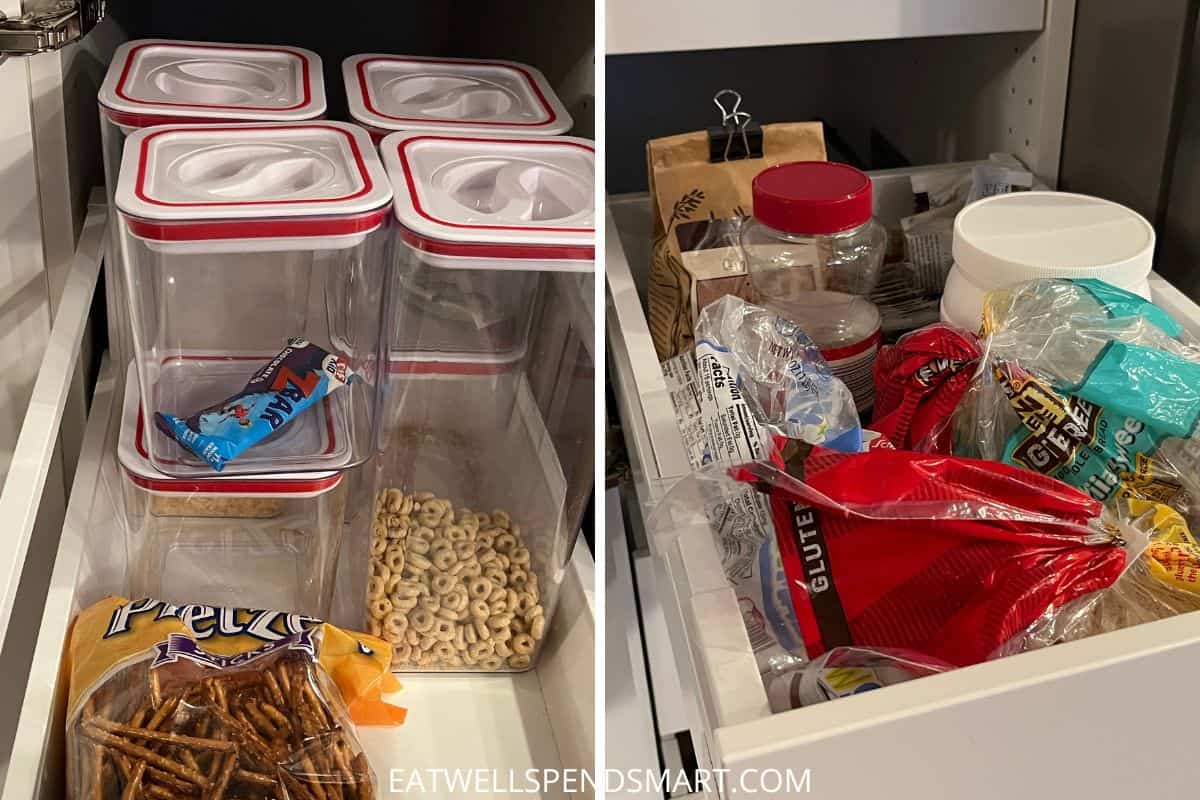 For snacks and convenience items, I already had a partial bag of pretzels, gluten free bread, some peanuts, a few marshmallows, a little cereal, a bag of tortilla chips, seaweed chips, and veggie crackers.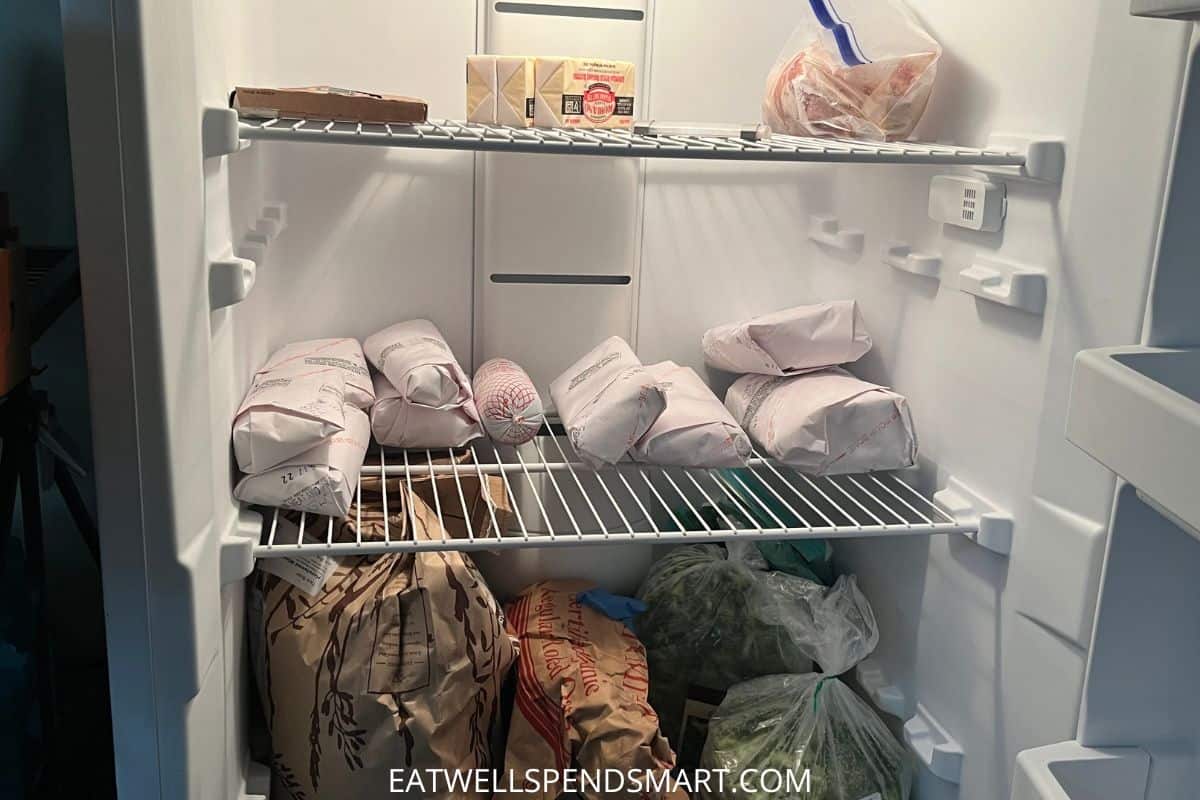 In my freezer I had a package of nitrate free bacon that I had bought on sale, butter, bone in chicken thighs, 1 lb of ground beef, frozen shrimp and a few steaks (that the kids don't like) left from our ¼ beef, soup bones, oats, flour, and frozen vegetables and fruit.
Re-thinking convenience items
Then I thought through what I normally buy in a week.
Can I make any of those convenience items from scratch or do without?
What snacks can I make that can replace store-bought snacks?
I usually buy beef sticks, lots of fruit, and a few snack items. I have also been buying convenience lunch items like bread, extra deli meat, tortillas, gluten free chicken strips or nuggets, frozen gluten free burritos, bagels, and organic tomato soup. I quickly realized that snacks and lunches are where I spend the biggest amount of my grocery money and I was going to need a plan for this.
I decided to prep a few item for the week instead of buying them:
granola
gluten free pumpkin muffins
Meal planning
Next I made a detailed plan for breakfast, lunch, dinner, and snacks. Typically I do not get this detailed with my meal planning. I usually just write down the dinners I plan to make and then the morning of I decide what we are eating. With a more careful budget this week, I did not want anything to go to waste and wanted to assign everything bought for a use.
I also wanted to make sure I had enough food to make it through the week comfortably for my family, so I  brainstormed a list of potential food I could make in case we needed more as the week went on.
I have a ton of beans, split peas, and lentils in my pantry, and I could have potentially made a lot more than what I actually made. My family enjoys to eat meat though, so I mostly kept the meatless options for back up purposes this week.
I altered my plan somewhat as the week progressed. I skipped the pasta and made chili for dinner instead of a lunch. I decided to skip my vegetarian soup and used the chicken for chicken soup instead of chicken and rice. I also did not make the baked oatmeal, fruit and oatmeal bars, or buffalo chicken dip. We ended up having plenty of food that I did not need to make these so I decided to save them for another week.
Shopping
Typically I shop using apps like Instacart and Walmart grocery pick up because they save me an incredible amount of time every week. This time since I was going to be carefully watching my spending I decided to shop in the store to avoid up-charges through the app.
I did first create an order on Instacart to get a price estimate for what I was spending. This also served as my shopping list when I went to the store in person.
Originally I had not planned to buy the cereal, raisins, or canned salmon, but since I thought I had extra room in my budget from shopping in store, I put them in the cart.
Yes I did go over my $50 budget, but this trip also includes ingredients to take someone else a meal one night this week. She is vegetarian and I made minestrone and cheese quesadillas for her family. Most of the ingredients I already had, but I did have to buy crushed tomatoes, crushed tomatoes, and macaroni.
If you subtract those ingredients my total with tax would be $54.37. I'm still $4 over budget, but that's not bad considering there were many weeks recently where I have been spending $150-200/week on food. We also hosted another lunch for my son's friends this week too.
The meals
What follows is documentation of our meals throughout the week. The pictures are just snapped quickly with my phone so they definitely are not styled or glamorous.
Breakfasts:
Eggs (fried and scrambled)
sautéd kale and mushrooms (used from last week and made at the beginning of the week)
1 breakfast burrito (used the last tortilla)
yogurt (½ container from last week)
bacon
sausage
waffles
oatmeal
frozen fruit
Lunches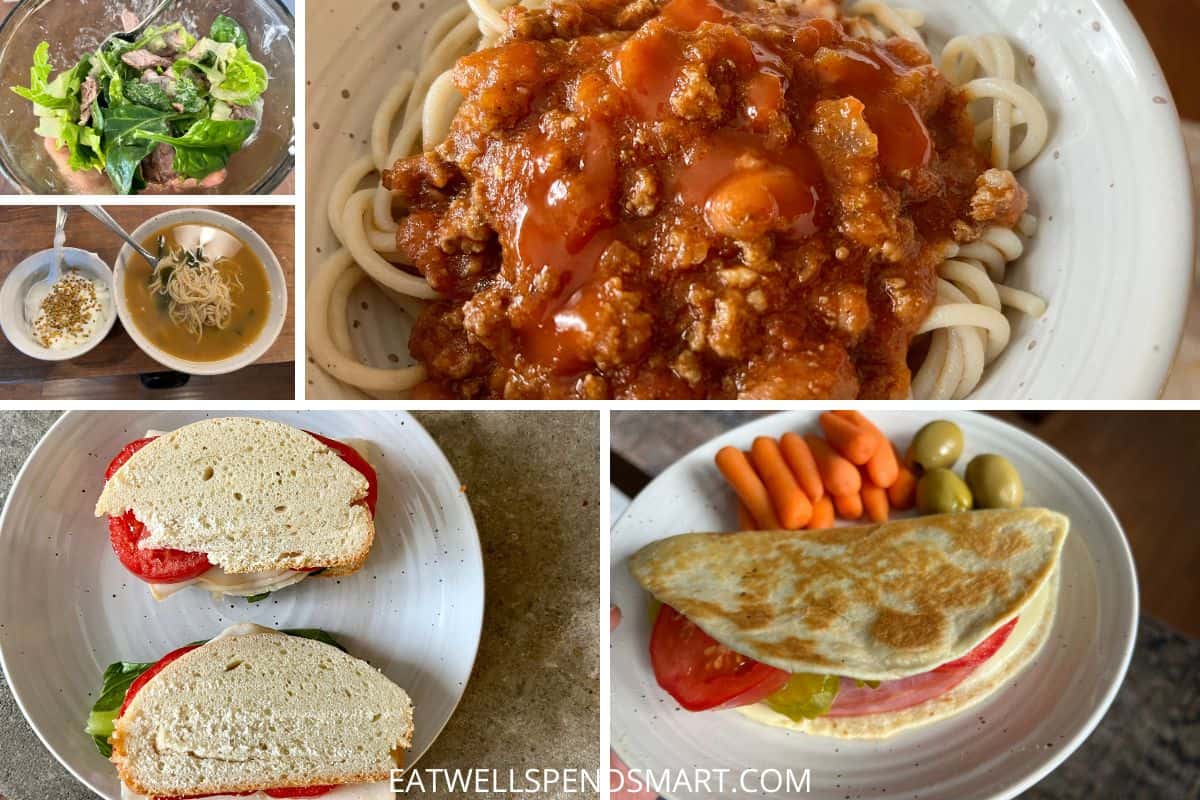 sandwiches
chili mac from leftover chili
salmon patties and sweet potatoes
steak salads from leftover steak
leftover soup
rice ramen
fruit (bananas, apples, grapes, tangerine)
carrot sticks
olives
peanut butter
*One day we hosted two of my son's friends. I made a scrappy lunch of a half batch of sausage balls, peanut butter oat balls, the last of the grapes, pretzels, the last of the apples, the last of cuties and oven fries. I also made a fruit smoothie using my last banana, frozen fruit, and water. They were all hungry and ate every bit of it!
Snacks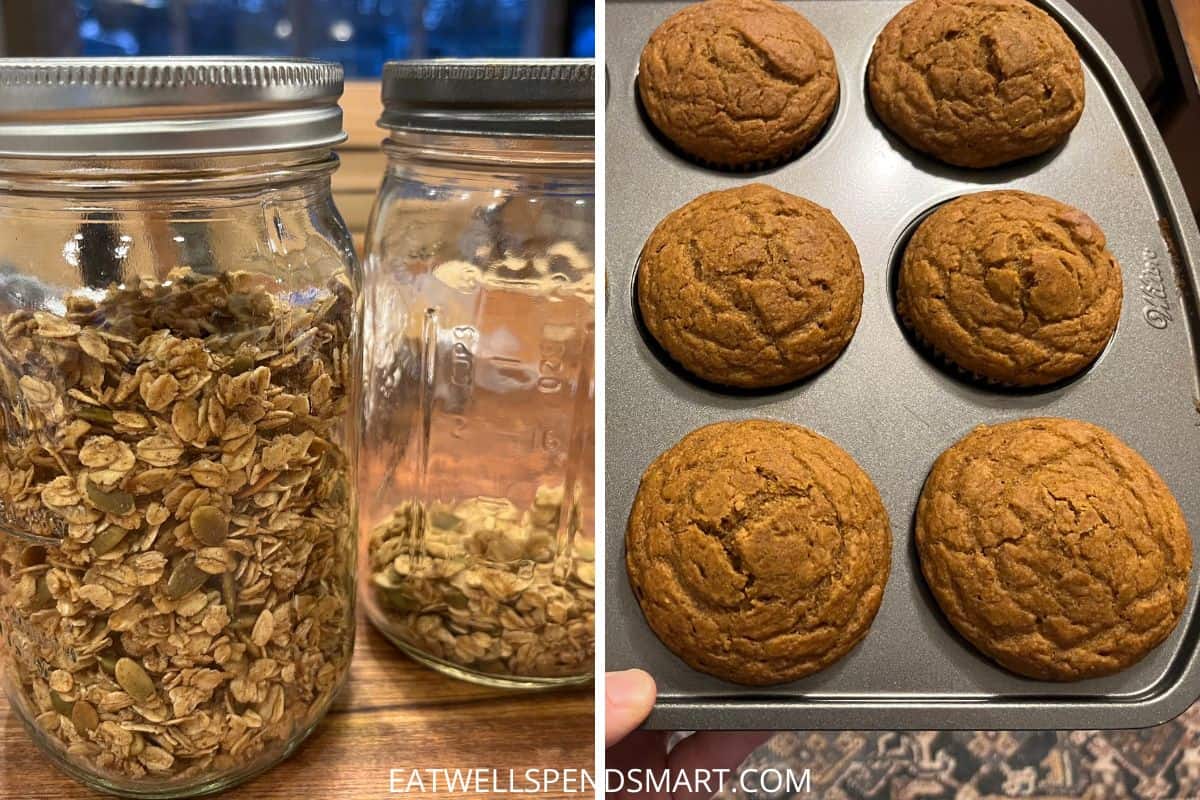 pumpkin muffins
granola
bananas
chips
tortilla chips and salsa
pretzels
smoothies
raisins
cheese (cut from the blocks)
popcorn
individual microwave rice crispy treat
Dinners
Friday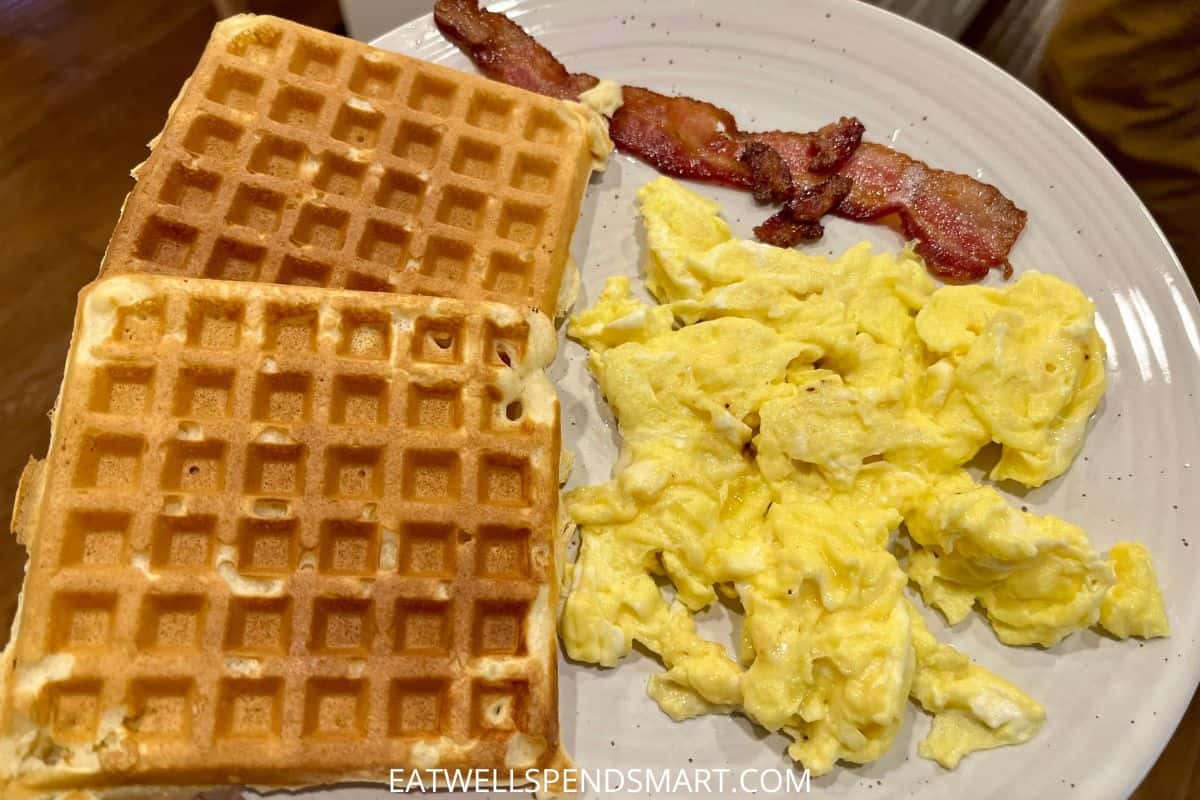 Friday night I like to make "fun food". This week we had breakfast for dinner. My husband made a big batch of waffles and gluten free waffles so that we would have leftovers for breakfast on Saturday and Sunday.
Saturday
I had a bag of frozen shrimp in the freezer and I made delicious shrimp creole. I used up the last of my limp celery in this dish. I did not have bell pepper, but I substituted zucchini instead. It was still great. I also did not have Cajun seasoning so I made up my own and I substituted other tomato products that I had in my pantry for tomato sauce. My kids love this dish and I make in about once every month or two.
Sunday
Last year we bought a ¼ cow to stock our freezer. I still had a few packages of steak left, so we got to splurge and have steak, baked potatoes, and roasted broccoli (from my freezer).
Monday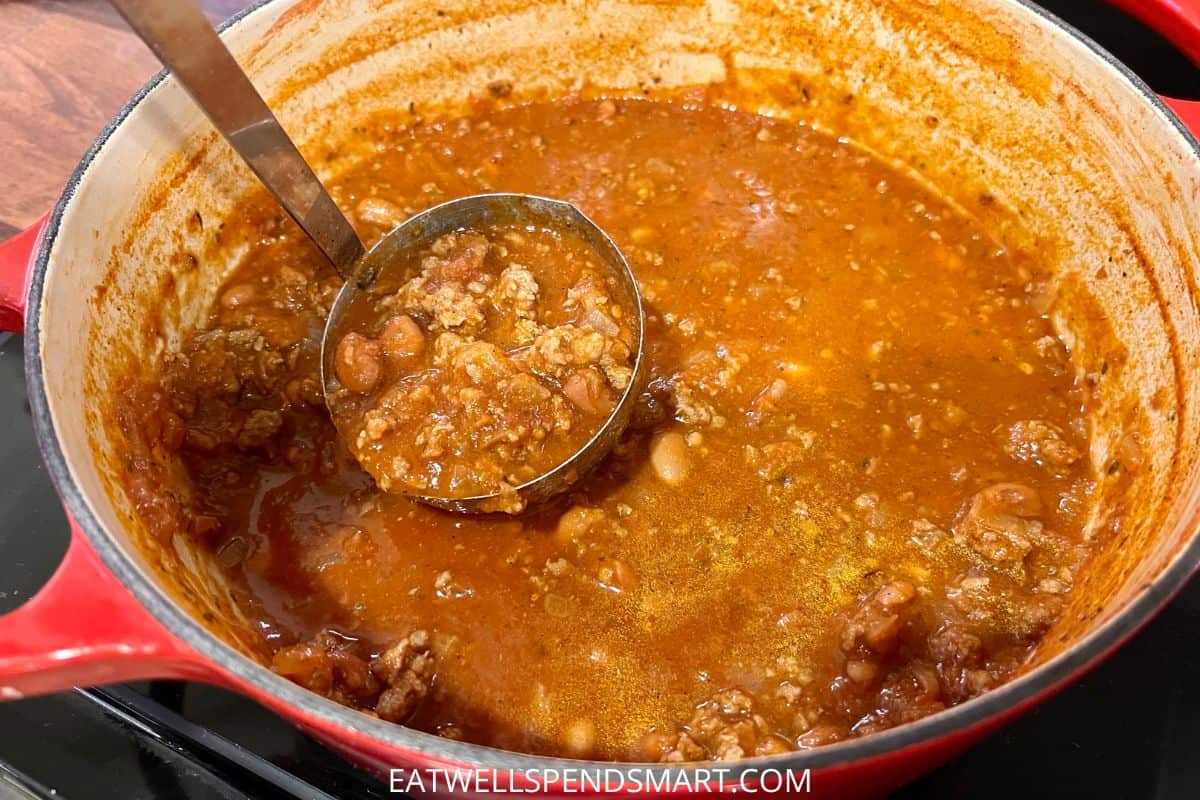 I had planned a pasta dish, but I took a church friend a meal, so when I got home I changed my mind and made chili. I needed something that would stretch for lunch the next day. I only had one pound of ground beef and one can of beans. I made it a little more liquidy than usual to stretch it a bit further. The next day for lunch I mixed the leftover chili with a box of spaghetti for chili mac.
Tuesday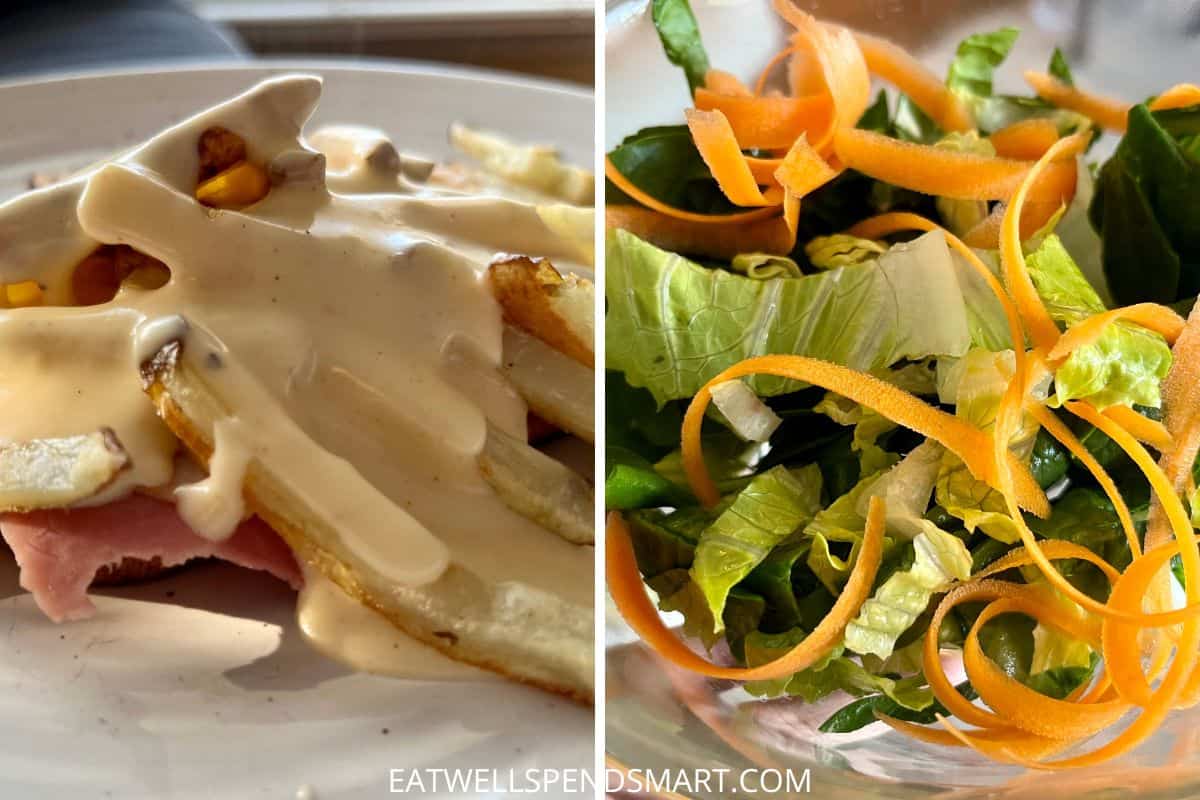 On this day we had horseshoes for dinner. It's a Springfield, MO specialty that my parents used to make growing up. I thought it would be fun to eat for a quick dinner this week. It's essentially just toast, ham (or any kind of meat), and fries topped with a cheese sauce. I made my own oven fries and a quick homemade cheese sauce. I barely had any cheddar cheese left, so I substituted with mozzarella. We had lettuce, spinach, and carrot salads on the side.
Wednesday
Wednesday is our date night because the kids go to youth group. We had just enough frozen chicken nuggets (left from last week) to feed the kids along with applesauce, chips, and cut up cheese. We had Mexican, which is a less expensive dining out option, and we paid for it with cash that we had set aside separate from our food budget.
Thursday
I had a pack of 5 bone in chicken thighs in the freezer that I cooked in the Instant Pot with water, salt, and bay leaves. This gave me shredded chicken and chicken broth that I used to make a chicken soup. The soup included chicken, rice from the pantry, kale from last week, onions, carrots, and seasonings.
Friday
It was fun Friday night food again, and I had a partial bag of pepperoni left so I made pizza. For my husband and I, I made a pizza with 8 slices of pepperoni, olives, banana peppers, and the rest of the spinach. We ran of out of mozzarella for ours so we had a little mozzarella and the rest of the parmesan that I had in the fridge. I made a gluten free pepperoni and tomato pizza for my daughter. The tomato was left from last week. My son had a pepperoni pizza. I used a simple crust recipe (3 cups flour, 1 ½ tsp salt, 1 ½ cups water, 2 ¼ tsp yeast). The sauce was my pizza sauce made from tomato paste.
Final thoughts
After I brainstormed a list of potential things I could make with food we already had I was a bit shocked. No, it isn't my family's favorites, but it is good healthy food that they will indeed eat. Going forward I really need to make this a priority again. It's so easy to look in my near bare fridge and think, "we don't have any food!" In reality we do have food, just not in a convenient form yet.
I have gotten too lax on not following my number 1 rule of "shop your kitchen first". It really does save money!
I do not anticipate being able to keep up the $50 grocery budget because eventually I would deplete my stash of food, but I do plan to lower my spending to $100 week. I think that is a reasonable amount to buy food for the week and set aside a little to keep replenishing my stash.  Now that we are going into the spring and summer season where our garden will be producing vegetables and fruit for us it will be even more doable.
I will get back to my roots and continue to do what I know and preach on this blog:
Use what you have first and plan around that
Shop sales (and buy a bit extra if you can)
Substitute ingredients for what you have when reasonable
Learn to cook instead of following recipes
Limit convenience foods and instead make your own (This is where I have been struggling the most, especially in the lunch and snack areas. I will probably start making at least one homemade snack every week as well as one of my bread products like bread or tortillas.)
Plan and make simple meals (less money and more doable for busy families)
Stretch food for multiple meals (connected meal planning).
Buy versatile produce that have several uses.
Inflation is certainly here. I won't deny that, but I know for my particular situation, there are things I can do to push back a little and ease the effects. Ironically, reading my posts on my challenge that I tried four years ago, I had the same exact pain points that I do now. Apparently I need a refresher frequently!