A taco bar is a great way to host a party on a budget. Most everyone loves tacos in some form and they can be so versatile. Find out what to serve with a taco bar to keep it simple and customizable to please the masses.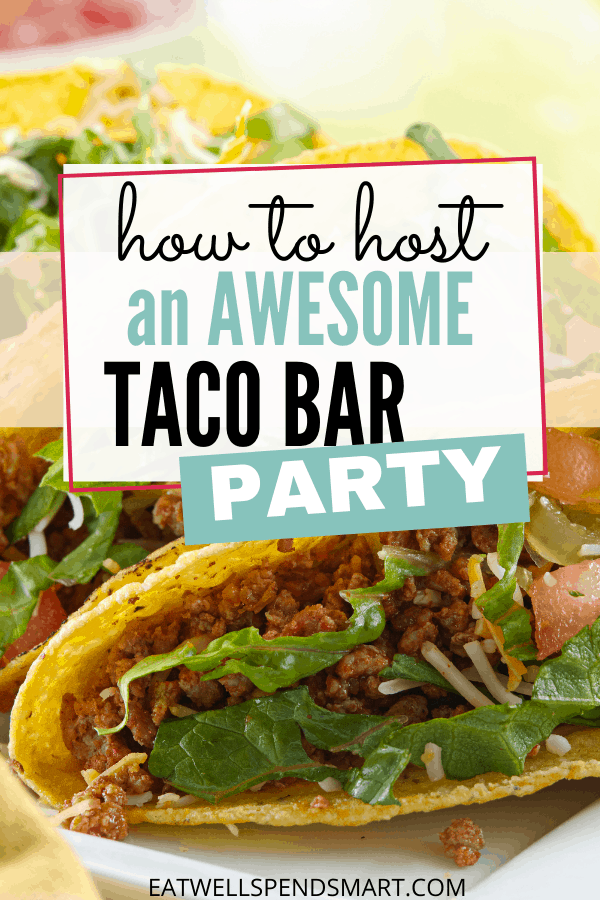 It's no easy task coming up with a delicious meal that will feed a large crowd and suit everyone's dietary standards. When I need a low stress crowd pleaser for family gatherings, church events, birthday parties, or when hosting friends almost every time I go for a taco party. Everyone loves taco night! Meat eaters, vegetarians, low carb eaters, and picky eaters can all be accommodated with the popular taco bar. That's no small task!
Taco Bar Ideas
Now that we have a theme, let's figure out what to serve with a taco bar to give the best experience for our guests.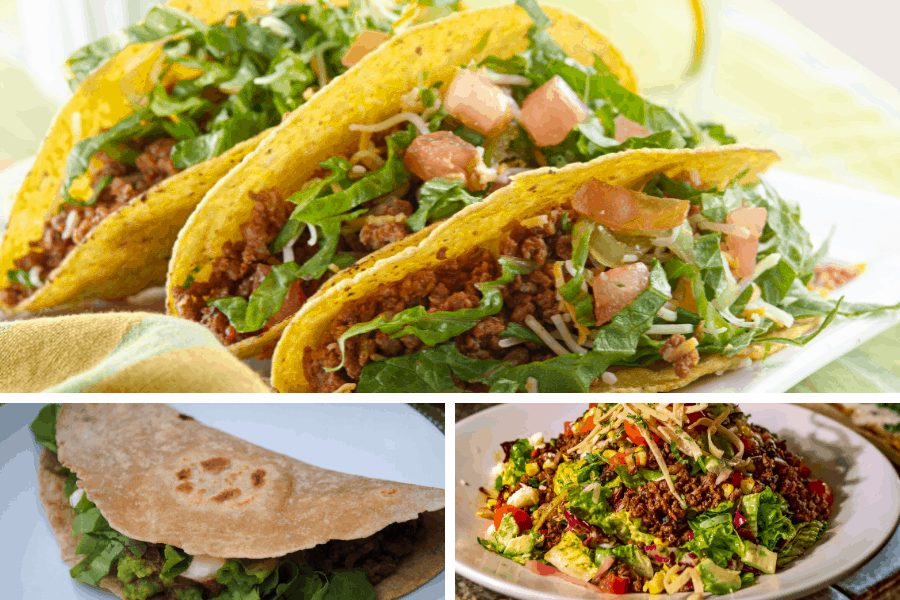 Taco holders
First you need a base for your tacos. You want a little bit of variety here to suit dietary preference and taste.
How many shells?
I would plan for about 3-4 small tacos per person. If you have large shells, 2-3 would be sufficient.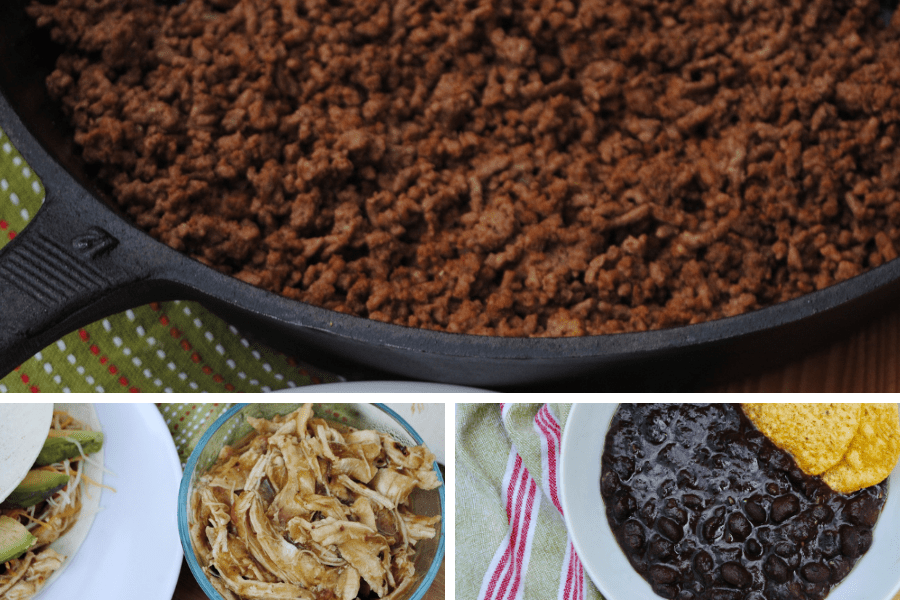 Main Dish Options for Tacos
Next we need main dishes for our tacos. For just my immediate family, I choose one taco meat. If I'm serving more people I like to give 2-3 options, usually beef, chicken, and a vegetarian option like beans. Below are all easy recipes that I like to use.
How much meat per person for tacos?
A pound of meat will yield approximately 8 tacos. I like to plan for about ½ lb of meat per adult. Most people aren't going to eat 4 tacos, but I would rather have too much than too little. Leftovers are a beautiful thing! This can also be split between meats, so ¼ lb each of beef and chicken per person for example. If you have a lot of children that you are feeding, you could get by with less.
Taco Fillings
No taco is complete without the toppings! They are the best part of the taco in my opinion. If you are on a tight budget, stick to cheese, lettuce, a couple of Aldi avocados, and salsa. If you have a little more wiggle room, load them up! Everyone can choose their favorite fillings. Here are some ideas.
What sides go well with tacos?
To round out the meal I like to serve a couple of side dishes to stretch the tacos a little further and give it that Mexican restaurant feel. They aren't deal breakers for the taco bar but they do add a special touch. Here are some of my favorite budget friendly tasty sides.
How to Set Up a Taco Bar
The best part about the taco bar is that you can serve it all buffet style and have everyone build their own tacos. It's very easy on the host, which is a win in my book.
Start with your tortillas, lettuce and chips at the beginning of the buffet after the plates. You want your bed for the tacos to be first. Tortillas can be kept warm in a casserole dish with a towel on top. If you have gluten free eaters that may prefer burrito bowl instead, consider putting a portion of the rice at the beginning of the buffet.
Next, have your meats and beans. They can be kept warm in slow cookers. If you host a lot of smaller parties, it might be worth investing in a food warmer like this three compartment stainless steel chafing dishes. They are perfect for keeping food warm and they look great.
Then, place your condiments and toppings in a beautiful divided stoneware set. These serving dishes are perfect for parties! If you are on a budget, keep it simple and just use every bowl and platter that you already have in the house. This is what I do most of the time when I'm entertaining. No one seems to mind the simplicity.
Lastly, have your side dishes on the end of the buffet to round out the meal.
Now you're ready to host your awesome taco bar party! Now we just need an occasion to celebrate.