Want to make sausage balls but don't want to use a baking mix? No problem! It can easily be done using simple ingredients that you likely have in your kitchen. Ingredients: sausage, cheddar cheese, flour, baking powder, butter, and spices. The results are flavorful homemade sausage balls perfect for a holiday appetizer or game days.
Perfect appetizer
I remember many parties when I was a kid where delicious sausage balls were served. They were always one of my favorite appetizers, and I would make a beeline straight for them every single time. I now make them for my family and they are always a big hit with the kids. You just can't beat cheesy sausage balls. YUM!
The classic original recipe uses just sausage, Bisquick and cheddar cheese. While I love the classic Bisquick sausage ball recipe, I don't love the ingredients in the baking mix, and I also think there is a little too much flour for my taste as well. I also love bumping up the flavor with a few more seasonings.
My sausage balls without Bisquick is still a simple recipe, so don't fret. You'll love this easy recipe the next time you serve finger foods for a crowd!
Ingredient Notes
sausage: Use raw pork sausage. Any breakfast sausage that you enjoy will work. I tested this recipe with Bob Evans Naturally which has no MSG or preservatives, but feel free to use what you like.
sharp cheddar cheese: Sharp is best for maximum flavor. It is also best if you grate the cheese yourself. It will work with pre-shredded cheese as well, but will come together easier when you grate it yourself. Pre-shredded cheese has less moisture because it is typically coated with ingredients that prevent clumping.
flour: All purpose flour or a 1 to 1 all purpose gluten free flour will both work.
butter: The butter helps give some more moisture to the mix to help it come together easier.
baking powder: This is your leavening. It helps the sausage palls puff out a little.
spices: Salt, black pepper, cayenne pepper, garlic powder all provide extra flavor and make these sausage balls super yummy.
How to make sausage balls without Bisquick
In a large bowl, stir together the dry ingredients: flour, salt, pepper, garlic, and cayenne until well combined.
Add the shredded cheese and butter and stir until cheese is evenly distributed through the flour.
Add room temperature breakfast sausage to the flour and cheese. Using your hands carefully work the sausage and flour together until it comes together into a ball. It will be crumbly at first and you will think it won't come together, but it will eventually I promise. It just takes a little time and elbow grease. You could also use a stand mixer or food processor to combine everything together if you don't want an arm workout. Simply place the sausage ball mixture into the bowl of a stand mixer and use the dough hook to combine.
Line a large baking sheet with parchment paper.
Form sausage mixture into balls about the size of a golf ball and place on the cookie sheet.
Bake at 400 degrees F for 15 minutes. Flip and bake another 5 minutes until golden brown on both sides.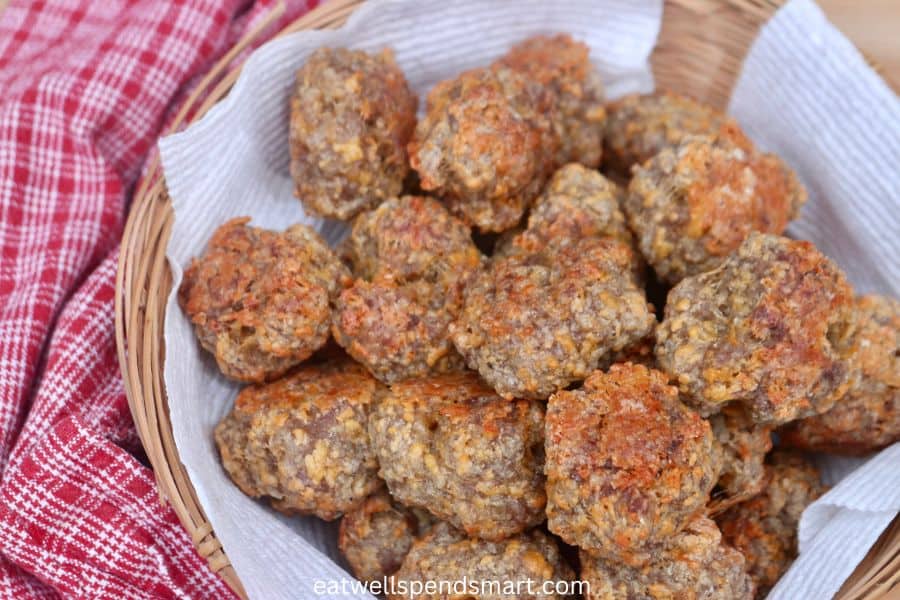 Dipping sauces
These sausage balls are great on their own, but if you like dipping feel free to use your favorite dipping sauce. Here are some suggestions:
bbq sauce
honey mustard
ketchup
Helpful tips
Allowing the sausage to come to room temperature softens the meat and helps with mixing.
Shredding the cheese yourself also provides more moisture and helps the sausage ball mixture stick together better. It's not essential, but it is helpful.
Use a stand mixer or food processor if you do not want to mix with your hands.
If you like a spicier sausage ball, use hot sausage or add a little more cayenne.
Parchment paper on the baking sheet makes for easier clean up.
Sausage balls without Bisquick
Delightful sausage ball appetizer made from scratch without using a baking mix.
Equipment
1 large mixing bowl

1 baking sheet

parchment paper
Ingredients
1

cup

flour

all purpose or gluten free 1 to 1

1 ½

tsp

baking powder

1 ¼

tsp

salt

¼

tsp

black pepper

¼

tsp

cayenne

½

tsp

garlic powder

2

c

sharp cheddar cheese

3

tbsp

butter

melted

1

lb

pork sausage

I used Bob Evans Naturally, room temperature to make mixing easier
Instructions
Pre-heat oven to 400 degrees F.

In a large mixing bowl, stir together dry ingredients: flour, baking powder, salt, pepper, cayenne, and garlic powder.

Add in butter and cheese and stir until well combined.

Add sausage and mix in thoroughly with hands until it forms a ball. It will take time and lots of elbow grease but it will come together. You can alternatively use a stand mixer using the dough hook to mix.

Roll into golf ball sized balls and place evenly on a parchment lined baking sheet.

Bake at 400 degrees for 15 minutes. Flip and bake an additional 5 minutes until golden brown and internal temperature reaches 160 degrees F.
Notes
Allowing the sausage to come to room temperature before mixing helps it soften and make mixing easier.
Shredding your own cheese also provides more moisture and helps the mixture stick together and form into balls easier.
More appetizer ideas
black bean and corn fresh salsa