Healthy soup recipes that are delicious and nourishing can sometimes be hard to find. I've got you covered though. Keep warm through the winter with this massive list of healthy soups that contain no junk ingredients, no canned soups, and no processed foods.
The Polar Vortex barreling through the U.S. calls for soups and lots of them! We must stay warm! If you're tired of your same old soup recipes, I come bearing inspiration for you, dear friend.
This is list of a TON of delicious healthy soup recipes all in one handy spot.  We've got creamy soups, broth based soups, meatless soups, meaty soups, seafood soups, gluten free, dairy free, Paleo, Whole30, you name it.  These are all real food soups which means you don't have to worry about funky ingredients like canned cream of junk soups and Velveeta.  I hope this is a helpful resource for you.
Almost all of these soups will call for a broth of some sort. I can't talk about broth without talking about the homemade version of broth (a nutritional powerhouse, frugal kitchen staple, and the base of every great soup). There's no need to buy boxed broths unless you are truly in a pinch. Here are three recipes for homemade chicken broth, beef broth, and vegetable broth.
How to make homemade broth
Enjoy!  Happy souping!
65 Healthy Soup Recipes
Meatless Soups
Creamy tomato soup (slow cooker)
Butternut squash soup (slow cooker)
Carrot bisque with mint and ginger
Tomato and potato soup with parsley pistou
Sweet potato and poblano pepper soup
Sprouted lentil with coconut curry soup
Chicken/Turkey Soups
Gluten free old fashioned chicken and buttermilk dumplings
Chicken soup with homemade spaetzle
Roasted tomatillo tortilla soup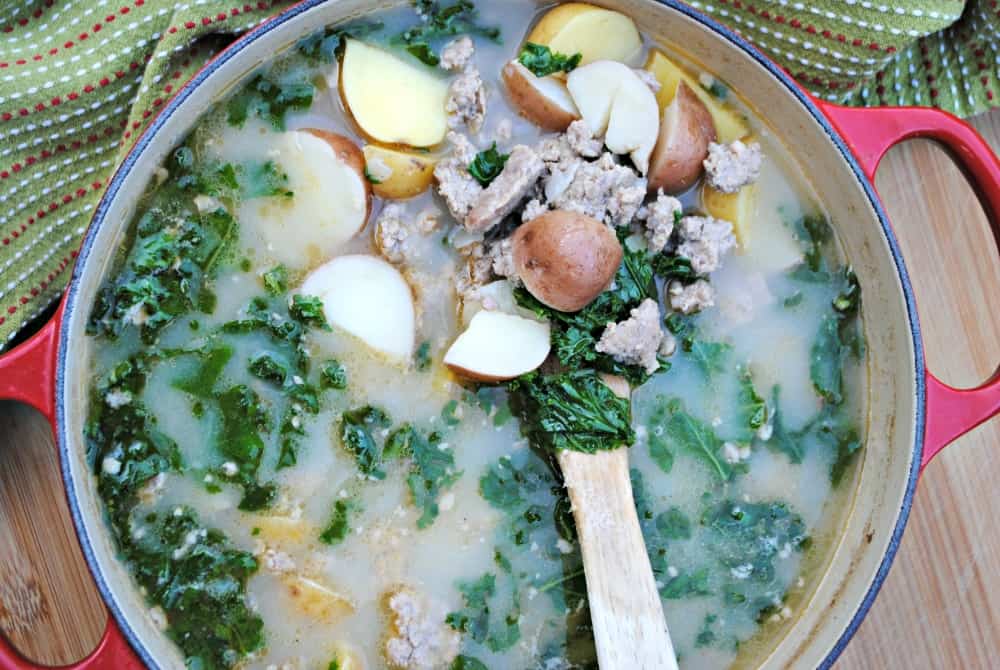 Beef/Pork Soups
Minestrone with quinoa pasta and pancetta
Black eyed pea soup with bacon
Pork butt, lentil and kale soup
Sun-dried tomato pesto soup with sausage
Sage and sausage cauliflower soup
Seafood Soups
Spicy Korean seafood and vegetable stew
Japanese Salmon and shiitake hot pot
What's your favorite soup? I'd love to hear in the comments below.