This February low cost healthy meal plan is meant to feed a family of four for an average of $80/week.  It uses seasonal ingredients and strategies designed to help you eat well on a budget.  There are four weeks of dinner recipes included and ideas for breakfast and lunch.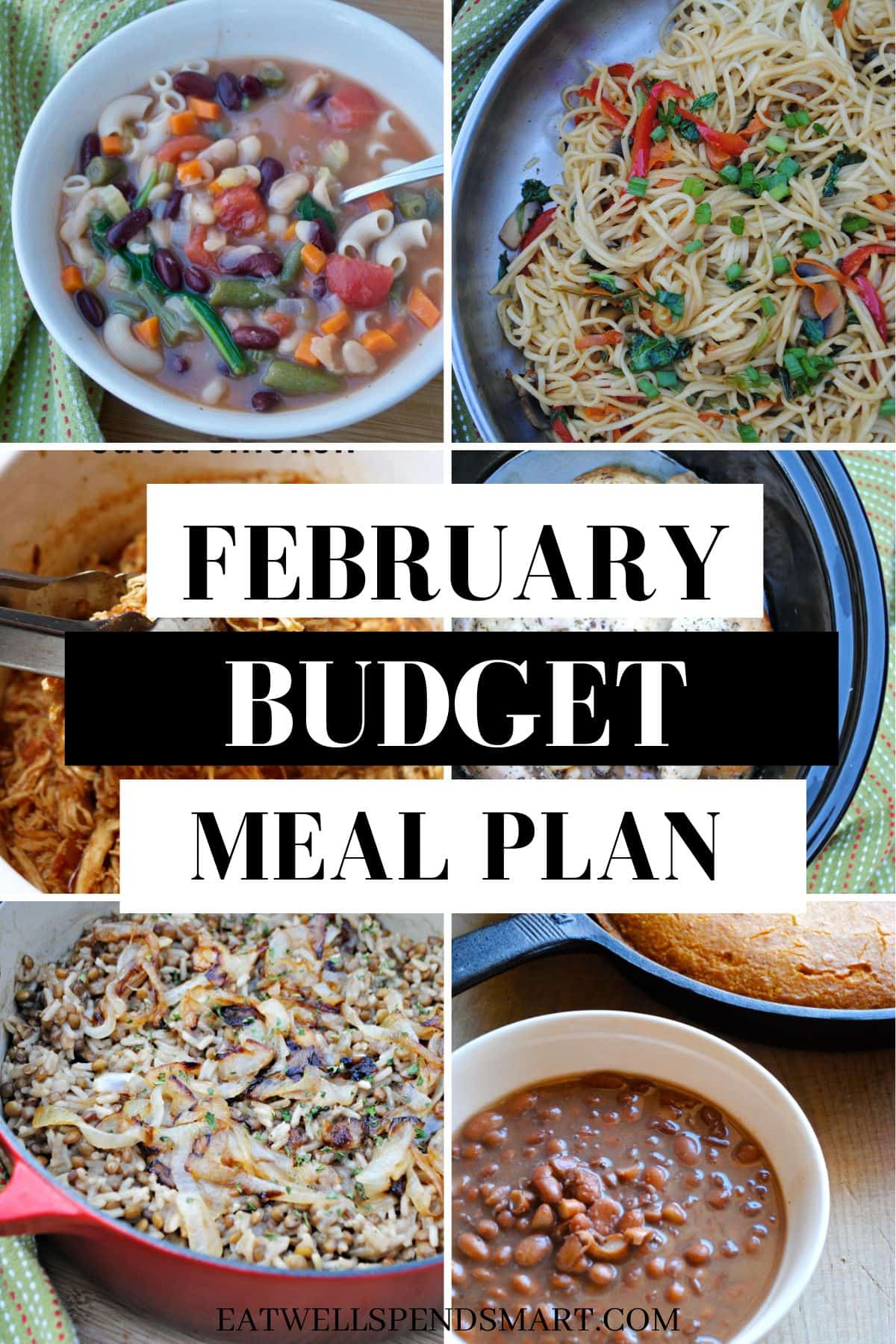 Trying to save money in the month of February? You are in the right place! I love helping families save money on food while still eating well. Below you will find a low cost healthy meal plan for the month of February. Everything is made from scratch using whole ingredients. I use strategies that I teach on my site like stretching protein, balancing out more expensive items, and eating meatless.
Tips for More Savings
Try shopping at Aldi or a discount grocery store for produce.  Avocados are especially cheap there.
Sign up for Ibotta an app on your phone that allows you to get cash back on groceries.  It changes from month to month, but I have gotten cash back on eggs, butter, carrots, onions, broccoli, and more.  It's a free app and you get a bonus just for signing up through my link.
The most savings will come from making your own bread, tortillas, flatbread, and chicken broth.
For lunches, rely on leftovers or a simple sandwich of peanut butter or grilled cheese.  I purposefully plan a soup or casserole at the beginning of the week to start the week with plenty of leftovers.
If you need another meal or want to sub another meal, try shopping your pantry, fridge, and freeze and use what you have on hand.  If you have another protein on hand instead of something I have listen, feel free to substitute.
February Low Cost Healthy Meal Plan
Week 1:
Whole chicken, mashed potatoes, buttered carrots
After cooking, debone chicken and Divide into thirds for two future meals: chicken and stuffing and enchilada soup to freeze for week 4. Also make broth for future meals. Place bones in slow cooker covered with water and a bay leaf.  Cook on low for 8 hours.
Pinto beans, cornbread, greens
Use the cornbread recipe in this post but don't make the dressing until night 3. Reserve half of the cornbread for dressing the next night.
Chicken and stuffing, green beans
Using half of the cornbread from previous night, halve the recipe for the stuffing and mix in a ⅓ portion of the leftover chicken meat.
Vegetable pot pie (sub mushrooms for chicken)
Korean beef, rice, roasted broccoli
1 lb ground beef, 4 cloves garlic, 2 T. maple syrup, ¼ cup soy sauce or coconut amino, ⅛ tsp ground ginger, green onions, sliced on diagonal (amount according to your taste)
Brown ground beef. Add garlic and continue to cook for a minute. Add remainder of ingredients and simmer for about five minutes or until warm and well combined. Serve over rice.
Flex night:  leftovers, breakfast, re-purpose food that's left, or out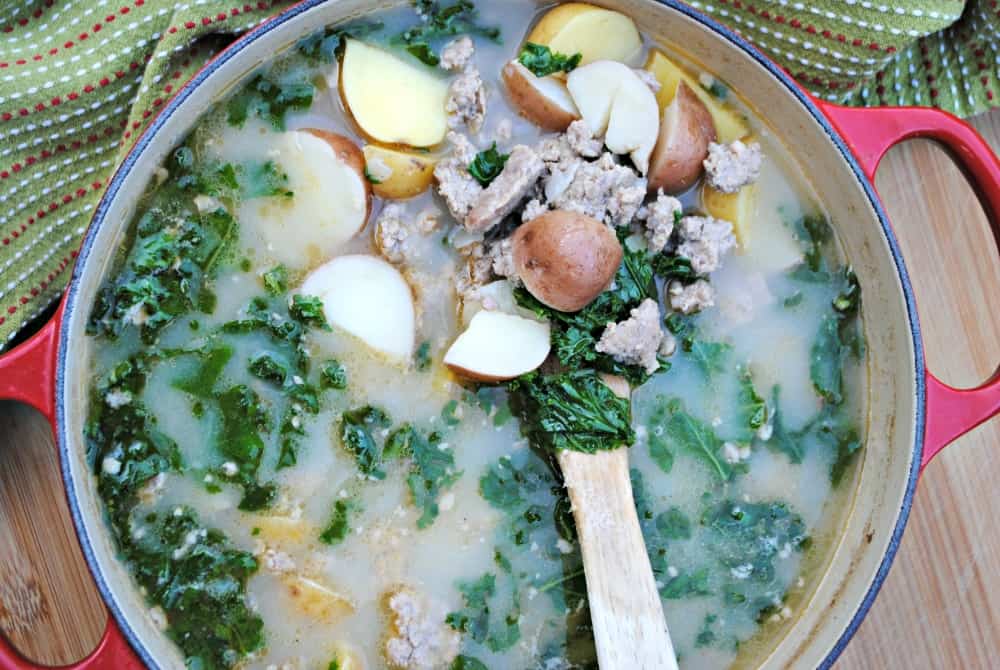 Week 2:
Penne with butternut squash and goat cheese
1 lb. penne 1 butternut squash, peeled and cubed olive oil 1 cup goat cheese sprinkle of rosemary, thyme or basil hot pasta water
Place butternut squash on a baking sheet in a single layer. Drizzle with olive oil and sprinkle with salt. Roast at 400 degrees for about 25 minutes. Cook pasta in salted water according to package directions. Drain pasta, reserving about a cup of salty cooking water. Toss pasta with goat cheese, reserved starchy water, herbs, salt and pepper. Stir in roasted butternut squash and serve hot.
Vegetable lo mein
1 lb. lo mein or spaghetti olive oil 2 carrots, julienned 4 green onions, sliced on the diagonal 2 cups cabbage, sliced thinly 2 cloves garlic, minced or pressed 4 T. soy sauce or coconut aminos 1 T. fish sauce
Cook lo mein or spaghetti until al dente. Meanwhile in olive oil over medium-high heat, saute carrots, cabbage, green onions, and garlic until crisp tender. Add hot cooked pasta and toss with soy sauce and fish sauce. Serve hot.
Burgers, oven fries, fruit
Frittata, carrot sticks
8 eggs ½ cup shredded Parmesan cheese ¼ teaspoon salt pinch of pepper 4 tablespoons butter ½ onion, minced 1.5 cup greens, chopped a couple of pinches of dried herbs of choice (rosemary, thyme, etc)
In an oven safe skillet, melt butter and add onions. Sauté until tender. Add greens and cook until softened. Mix together eggs, cheese, salt, pepper, and herbs of choice. Pour into hot skillet while still on burner. With a wooden spoon or rubber spatula, gently move around eggs for a couple of minutes. You don't want to scramble them just move them around. Transfer to a preheated 350 degree oven for about 5 more minutes or until set. Take care not to overcook to avoid rubbery texture.
Flex night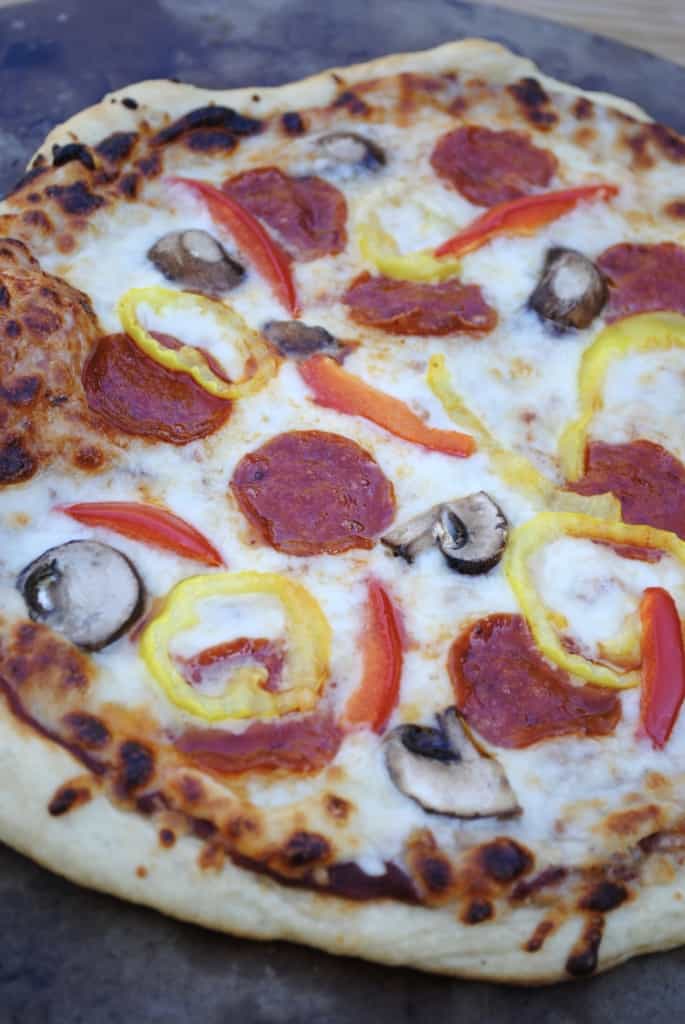 Week 3:
Minestrone
1 ½ cup dried kidney beans 1 onion, diced 1 ½ cup carrots 1 cup celery 1 ½ cup fresh green beans, trimmed and cut into bite sized pieces 4 cloves garlic 6 cups chicken stock or combo of broth and water 28 oz. diced tomatoes 2 bay leaves 1 tsp oregano 1 tsp thyme 1 tsp basil ½ tsp rosemary salt (approx. 1 tsp. Start with a small amount and work up) pepper to taste 1 cup macaroni noodles
Place all ingredients in slow cooker except macaroni. Cook on low for 6-7 hours. The last 30 minutes add noodles and cook until tender.
Slow cooker salsa chicken tacos
Baked potatoes with leftover taco meat
Pasta with bacon, chard, and tomatoes
5 slices of bacon, chopped 1 bunch chard, chopped 1 cup tomato puree or diced tomatoes 3 cloves garlic, minced or pressed salt and pepper to taste 1 tsp oregano ½ tsp basil 1 lb. spaghetti
Cook pasta in salty water until al dente. Cook bacon until crisp in a large skillet. Remove from skillet and set aside. Add chard and garlic to pan and wilt chard. Add tomato puree, seasonings, and a bit of the starchy cooking water that the pasta was cooked in. Toss with hot pasta and serve.
Falafel
2 cans chickpeas, 1 cup fresh parsley, 1 tsp paprika, ¾ tsp cumin, 1 onion, diced 4 cloves garlic, minced 4 T. flour (or more if needed), 1 tsp salt (start with a smaller amount and work up to taste), olive oil or another oil for cooking
Pulse all ingredients in a food processor until makes a thick mixture that holds its shape when held together. Taste and adjust seasonings if needed. Form into balls about 1 T. each. Flatten form a patty. Cook in hot skillet with oil until brown and flip to cook on other side.
Serve by themselves, on tortillas, or flatbread.
Flex night
Week 4:
Enchilada soup
1 ½ cups leftover chicken, 1 cup tomato product (sauce, puree, diced), 3 tsp. cumin, 1 tsp chili powder, 1 tsp salt, ½ tsp pepper, 3 cloves garlic, 2 T. olive oil or butter, 1 small onion, diced, ¼ cup flour, 4 cups chicken stock, 2 cups cooked beans (kidney), 4 oz. cream cheese, 1-2 cups cheddar cheese
Heat butter or olive oil in small stock pot. Add onion and sauté until translucent. Add garlic, flour, cumin, and chili powder, and cook for another minute. Add tomato product and broth and whisk together. Add chicken, beans, salt and pepper. When beginning to thicken, add cream cheese and cheddar cheese. Taste and adjust seasonings as needed.
Swedish meatballs, egg noodles, frozen peas
1 LB GROUND BEEF, 1 EGG, ¼ CUP BREADCRUMBS (DRIED OUT BREAD, CRUMBLED), ½ TSP SALT, ½ TSP PEPPER, ¼ TSP ROSEMARY, ½ TSP OREGANO, 1 CLOVE GARLIC, MINCED OR PRESSED 2 T. BUTTER, 3 T. FLOUR, 2 CUPS BEEF OR CHICKEN BROTH OR WATER, 1 T. WORCESTERSHIRE SAUCE (OR MORE IF NEEDED), SALT AND PEPPER TO TASTE, ½ cup sour cream
Mix together beef, egg, breadcrumbs, spices, and garlic together. Form into golfball sized balls. In a large skillet, brown meatballs turning to brown all sides. Remove meatballs and set aside when browned. Add butter to skillet and stir in flour. Whisk in broth, taking care to deglaze pan and loosening brown bits on the bottom of pan.
Chicken gyros:  sub chicken for ground beef
Lasagna rolls, roasted broccoli
1 tablespoon olive oil 1 medium onion, diced 28 ounce can of crushed tomatoes 4 cloves garlic, minced 2 tsp dried basil 1 ½ tsp dried oregano 1 tsp salt
Filling: 4 cups spinach, chopped 15 ounces ricotta cheese ⅔ cup parmesan cheese, shredded 1 large egg ¼ tsp salt
12 lasagna noodles 2 cups mozzarella cheese
Boil noodles according to package directions. When cooked, rinse with cold water, lay out flat and pat dry. Prepare sauce. Heat olive oil in skillet. Cook onions until soft. Add the remainder of sauce ingredients. Simmer for a few minutes. Prepare filling by mixing all filling ingredients together in a small bowl. Evenly spread filling mixture on entire surface of all of the noodles. Starting at one end, roll up noodles into little bundles. In a 9x13 dish, spread out a cup of sauce. Place roll ups in dish. Pour remaining sauce over roll ups and top with cheese. Bake at 375 for 20-30 minutes.
Lentils and rice, apple slices
Flex night
That concludes the plan!
Interested in more months?