Hoppin' John is a simple Southern dish that features humble black-eyed peas.  The smokey and slightly spicy seasonings added to this dish give this frugal Southern staple tons of flavor. Serve on its own or over rice.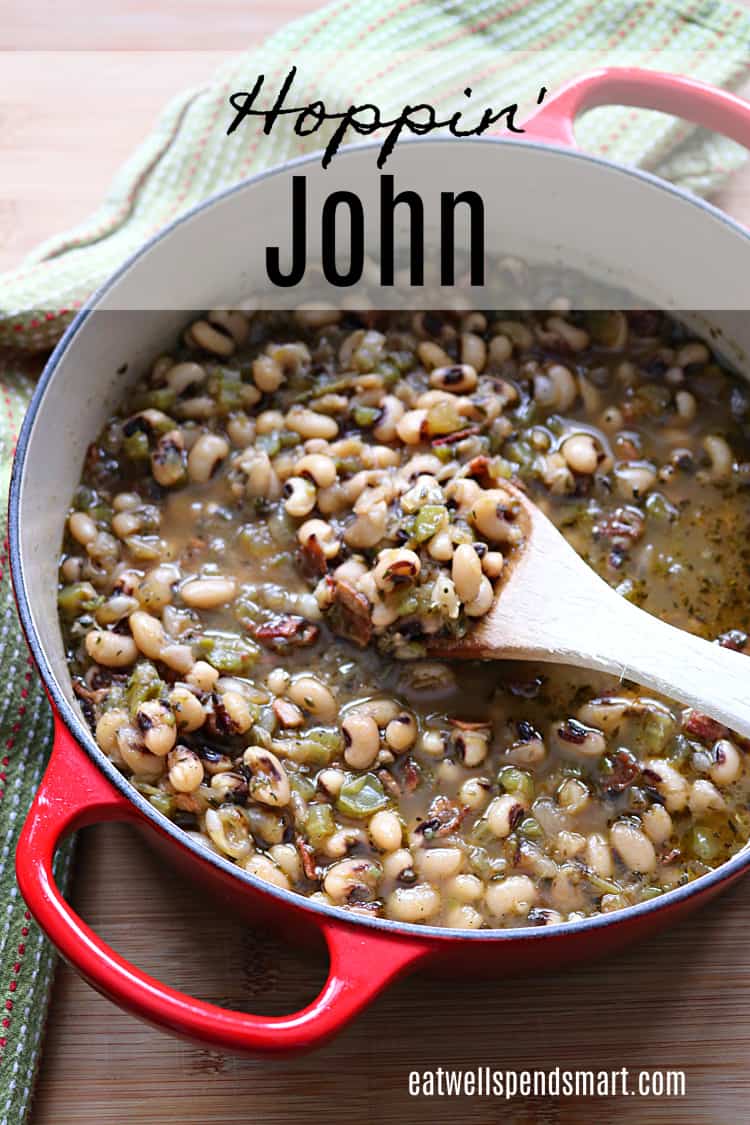 Hoppin' John: Southern Comfort Food
Even though I no longer live in the South, I'm a Southern girl at heart.  Most of my recipes testify to my southern influence in my cooking style.  There's nothing like simple comfort food like a pot of pinto beans, sausage gravy, or boiled cabbage.
Plus, like I have harped on over and over, simple food is not only delicious but it's generally very inexpensive.  Take this Hoppin' John for example.  You can't get much more cheap than dried black-eyed peas. They aren't much on their own, but when you cook them slowly with a little bacon, onion, celery, peppers, and tons of spices, you get something truly delicious and worthy of the term comfort food.
Black Eyed Peas on New Years
It's even said that black-eyed peas bring to good luck if eaten on New Year's Day. I don't know about all of that, but I'm always up for a feast to bring in the new year!
My grandpa's siblings for years now have congregated together on January 1st to celebrate around southern staples like black-eyed peas, hog's jowl, cornbread, collard greens, and blackberry dumplings.  They don't always meet at my grandparents' house, but when they do, you can find me there soaking in all of my grandma's southern cooking.
You don't have to wait until the new year to eat black-eyed peas though.  Buy some in the bulk bin this week and make yourself a delicious pot of Hoppin' John.  I think you'll love it.
Hoppin' John
Ingredients
3

slices

bacon

chopped

1

small

onion

diced

1

celery rib

diced

1

green bell pepper

diced

3

cloves

garlic

minced

1

bay leaf

1 ½

c

dried black eyed peas

rinsed

5

c

water or broth

1 ½

tsp

dried thyme

¼

tsp

paprika

¼

tsp

onion powder

¼

tsp

garlic powder

½

tsp

Italian seasoning

1

tsp

salt

or more to taste

⅛

tsp

cayenne pepper
Instructions
In a soup pot, brown chopped bacon until crisp.

Add chopped celery, onion, and bell pepper and sauté for about 5 minutes or until the vegetables begin to slightly brown. You may need to increase the heat.

Add garlic, bay leaf, black-eyed peas, water and seasonings.

Bring to a boil, reduce heat to a simmer, cover and cook for about an hour until peas are tender. It could take up to 1 ½ hours.

Serve over rice or as is.
 More Southern favorites: