Slow cooker Italian beef is a perfect low maintenance weeknight dinner.  Great for sandwiches or without bread alongside a salad for a low-carb version. No seasoning packets or processed ingredients in this recipe, but the flavor results are still awesome.
Ingredients needed: 3 lb. chuck roast, salt, pepper, garlic powder, Italian seasoning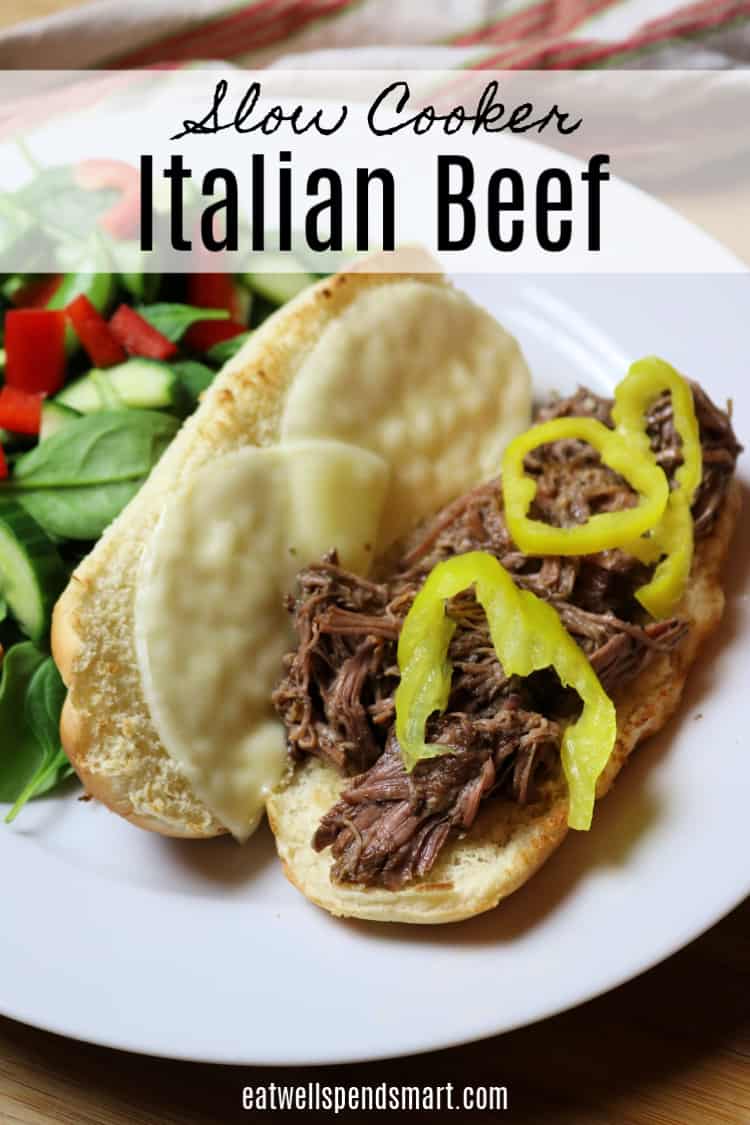 Italian beef: childhood favorite
Not many kids learn how to make Italian beef when they are twelve years old, but I did, and I am oh so thankful. My mom was an excellent cook and made sure I knew my way around the kitchen before I left the nest. Italian beef was one of our family favorites that I memorized early on, and I'm pretty sure my college roommates were thankful for those cooking skills too.
This recipe has evolved over the years though. When my mom first taught me, we made it on the stovetop and boiled the meat in water with spices and beef bouillon cubes. While it was totally delicious and one of my absolute favorite meals, I have adapted as I've gotten comfortable in my own kitchen.
I no longer use bouillon cubes since switching to a more unprocessed diet. I also ditched the stovetop method, and simplified it for the slow cooker since I tend to gravitate towards more hands-off cooking methods these days.
This slow cooker Italian beef has become a family favorite in my own home and I couldn't be happier.  Every time I make it, I think back to my own childhood and smile. Don't you just love old family recipes?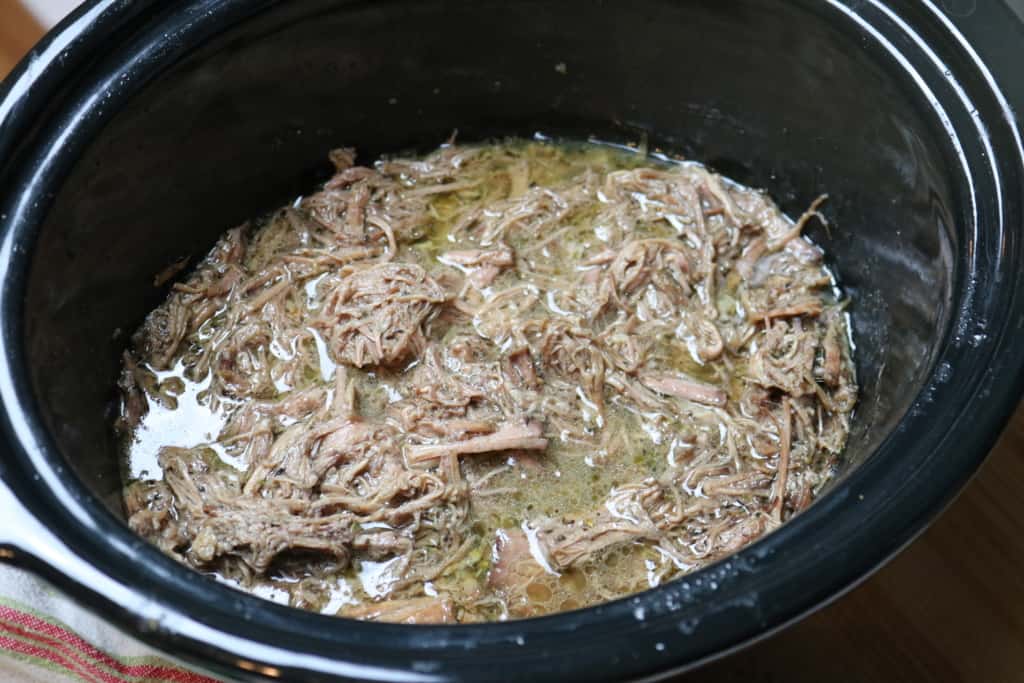 Tips for perfect Slow cooker Italian Beef
Don't be afraid of the seasoning. It looks like a lot, but beef needs a lot of seasoning to make the flavors pop. Also don't be fooled by the simple seasonings.  They have big flavor!
Cook it on low all day if you can. High for 5 hours works too, but low and slow will yield the most tender beef.
Don't open the slow cooker.  Opening the slow cooker lets out all of the steam and lowers the temp. You will get a more tender Italian beef if you just let the slow cooker work without fussing with it.
If you are using hoagie buns, toast them first and use a thick bread.  All that juice meat needs a substantial bun to stand up to.
Suggested side dishes
Slow cooker Italian beef
Tender Italian shredded beef made in the slow cooker. Perfect for sandwiches or on its own.
Ingredients
3

lb

beef chuck roast

2

tsp

sea salt

I love Redmond real salt

1

tsp

garlic powder

4

tsp

Italian seasoning

1

tsp

black pepper

1

c.

water
Instructions
Place chuck roast in slow cooker along with water and seasonings.

Cover with lid and cook on low for 8 hours or on high for 5 hours.

After elapsed time, shred beef with forks and remove any fat.

Serve by itself or on a toasted hoagie bun with provolone cheese and peperoncini peppers.
Notes
This produces fairly salty beef, but if you are concerned that it will be overly salty, start with 1 ½ tsp and add more after tasting at the end.
Looking for more slow cooker recipes?