Travel breakfast ideas that will help you save money and eat well on your next road trip. Included are no cook breakfasts as well as make ahead breakfasts for a hotel room or even on the road. These ideas could even be used to have on hand for busy mornings when you need a grab and go breakfast.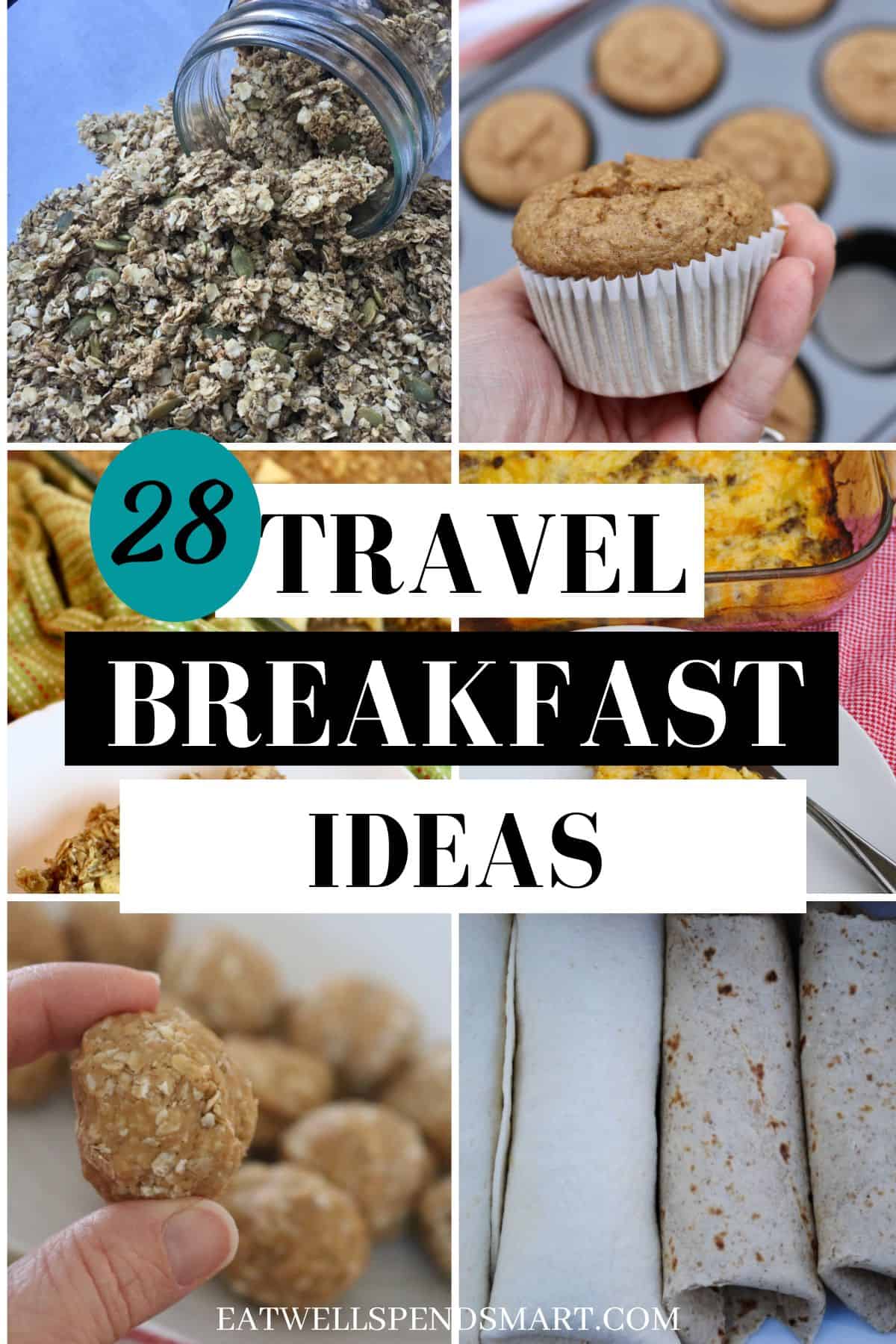 This post contains affiliate links. If you make a purchase through one of my links, I may receive a commission at no additional cost to you.
Saving money on food when traveling
Two ways that we try to save money on road trips is by looking for accommodations that offer free breakfast and also packing our own breakfast, lunch, and snacks to eat on the road instead of stopping for fast food. Not only does eating our own food cost less, it is also more nutritious than fast food.
Read more: Save money on food when traveling
Travel breakfasts can be a little tricky, but it is totally doable to still eat a good breakfast on the road if you have portable easy recipes as well as a way to pack and re-heat if necessary.
Packing and re-heating breakfast foods
I like to pack a variety of make ahead options, no cook breakfasts, fresh food, and food that requires refrigeration.
To keep the food that requires refrigeration cold, I recommend a cooler. If you are going on a long road trip, make sure your cooler is packed with plenty of ice in a cooler that will keep ice for an extended period of time.

When re-heating one of the make-ahead foods, I have had a lot of luck with the Hot Logic Portable Oven.
When we went to Florida last year, I made egg casserole the night before, cut it into squares, and packed it in a container in our cooler. We hit the road at 4am when we weren't ready to eat. Then about an hour before we were ready for breakfast, I put it in the hot logic and an hour later we had a hot breakfast. It worked great!
Don't skip the most important meal of the day even on the road! Here are my favorite road trip breakfast ideas to spark some creativity for your next travel adventure.
Make-ahead options
Muffins are a great option for the road because they require no refrigeration or heating. They are an excellent portable food and one that I make every single vacation.
This granola is a favorite at my house. Kids love to snack on it on its own but it is also excellent on top of yogurt or even in milk. The best part is that it can be kept at room temperature.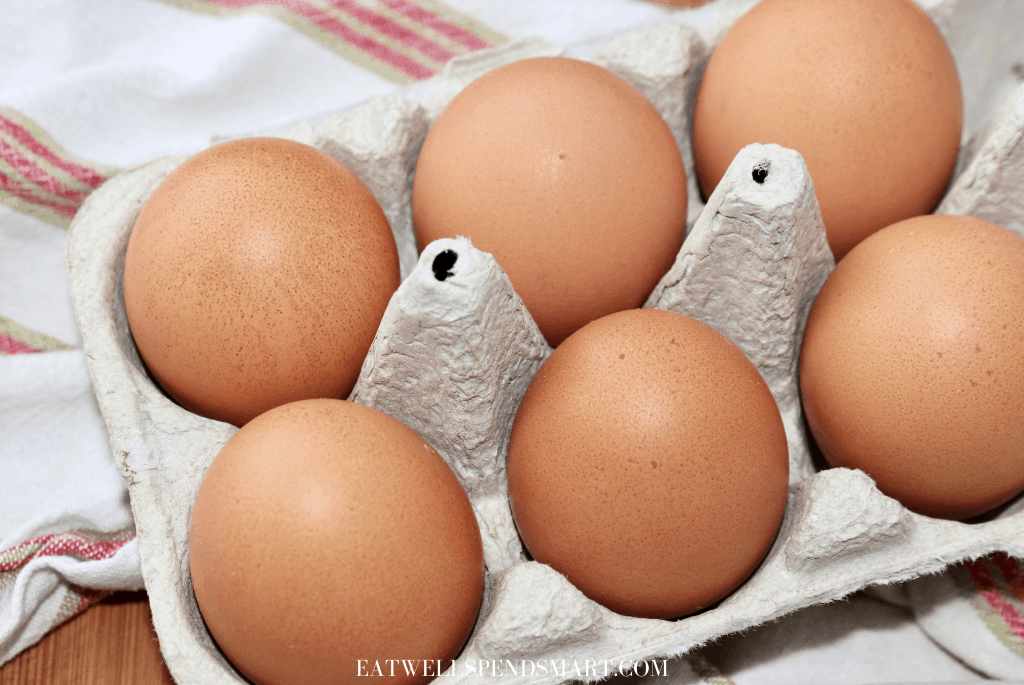 Hard-boiled eggs
Make a big batch of hard boiled eggs the day before leaving. Then you have portable protein at your fingertips, no re-heating required.
3-ingredient peanut butter oatmeal balls
These are easy to make and don't require refrigeration. They are also a kid favorite and contain a mix of carbs, protein, and healthy fat.
If you like a savory hearty breakfast but prefer a portable form, try these stuffed biscuit muffins. Biscuits are rolled out, stuffed with scrambled eggs, bacon and cheese, and then folded up and baked in a muffin tin. So delicious!
Make-ahead breakfast sandwiches via Tastes Better from Scratch
You can customize these in so many different ways. Add vegetables, change the meat, use mini bagels, switch the cheese, and more. It's the perfect portable breakfast.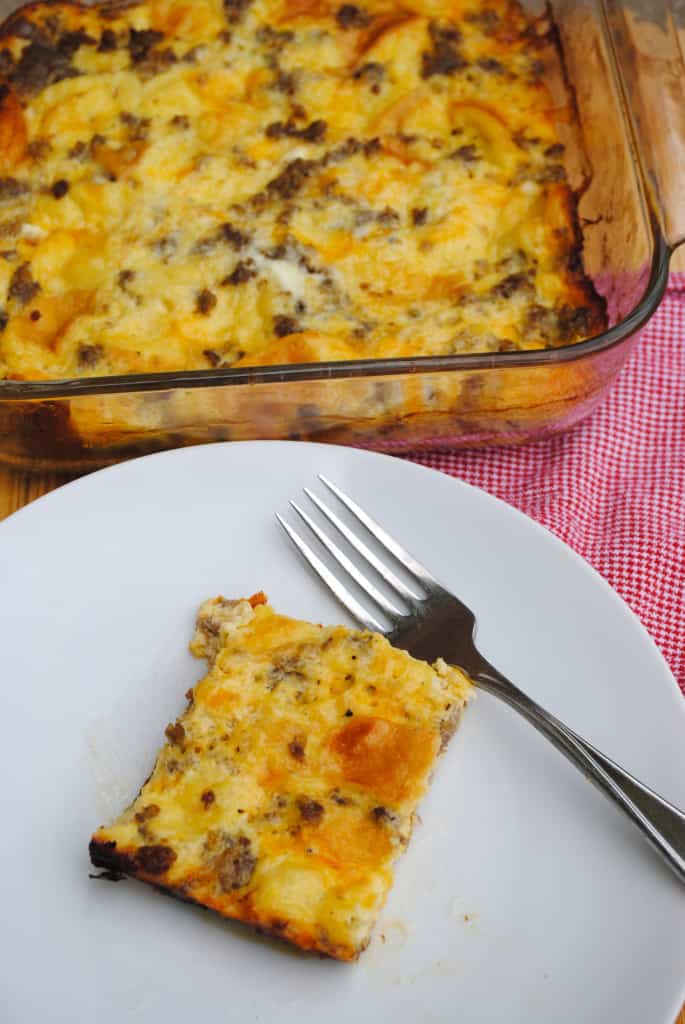 This egg casserole is my go-to breakfast for any occasion. After baking, cut into squares for individual portions. Can be eaten hot or cold. I prefer reheated.
Baked oatmeal is great for the road. Cut into squares for individual servings after baking and reheat or eat cold. I prefer reheating.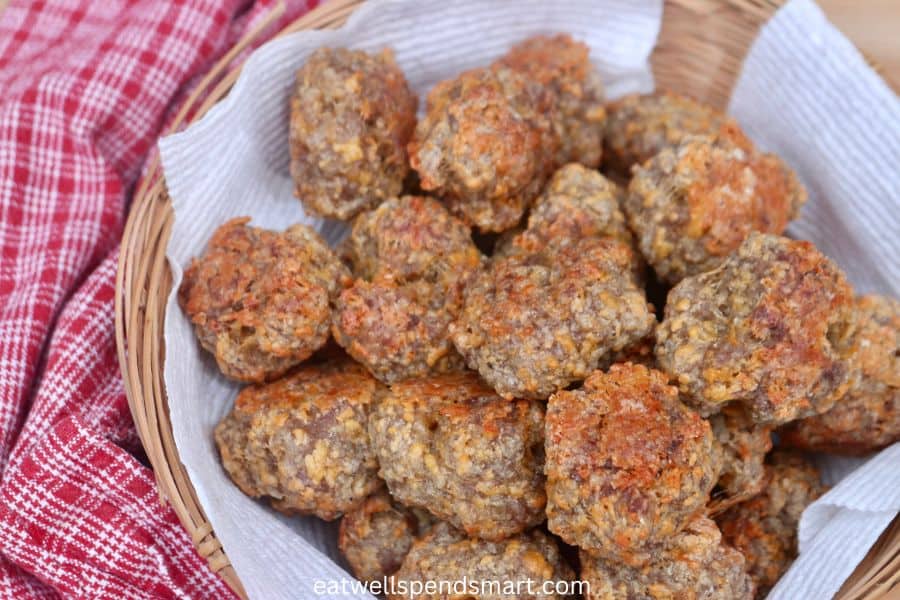 Sausage balls
Another great portable protein, these sausage balls without Bisquick are delicious and fun to eat!
Breakfast burritos
Scramble eggs and fill a tortilla with any toppings of your choice. Cheese, sausage or bacon, peppers, onions, salsa, hot sauce, etc. Roll your burritos and wrap them in parchment paper and then foil. If reheating in the microwave, first remove the foil.
Overnight oats via Feel Good Foodie
The night before, everyone can customize their own overnight oats, refrigerate, and then enjoy them the next morning on the road for breakfast. Try one of these fun varieties.
Chocolate chia pudding via Minimalist Baker
These little puddings made from chia seeds are so easy to whip up the night before to grab and go for the road the next day. Plus they are a chocolatey treat! Win!
No cooking required
If you are in a hurry and don't want to cook at all, stop by the grocery store and pick up some easy breakfast ideas that don't require any cooking at all.
English muffins with peanut butter
English muffins with avocado
bagels topped with cream cheese, ham, or smoked salmon
store-bought hard boiled eggs
peanut butter or almond butter and apples or rice cakes
yogurt with fruit and store bought granola: I find pre-portioning at home in small plastic containers or small mason jars is easier than doing this on the road. Another alternative is store-bought individual yogurt cups and adding fruit on top.
fresh fruit: Fresh berries, bananas, apples, oranges, and grapes all make great travel food.
applesauce cups or pouches
string cheese
nuts and seeds/trail mix: almonds, cashews, peanuts, pumpkin seeds, sunflower seeds, chocolate chips, coconut chips, raisins, etc.
dried fruit
cereal with thermos of milk: Fill thermos halfway with milk or plant based milk. Add dry cereal to thermos when ready to eat.
cottage cheese with fruit: Pre-portion ahead of time in individual containers.
store bought granola bars or protein bars