Do you have leftover pork roast and need some ideas for using your leftovers? Look no further! Reduce food waste by turning your leftover roast pork into a completely different meal. Try one of these delicious recipes that the whole family will love!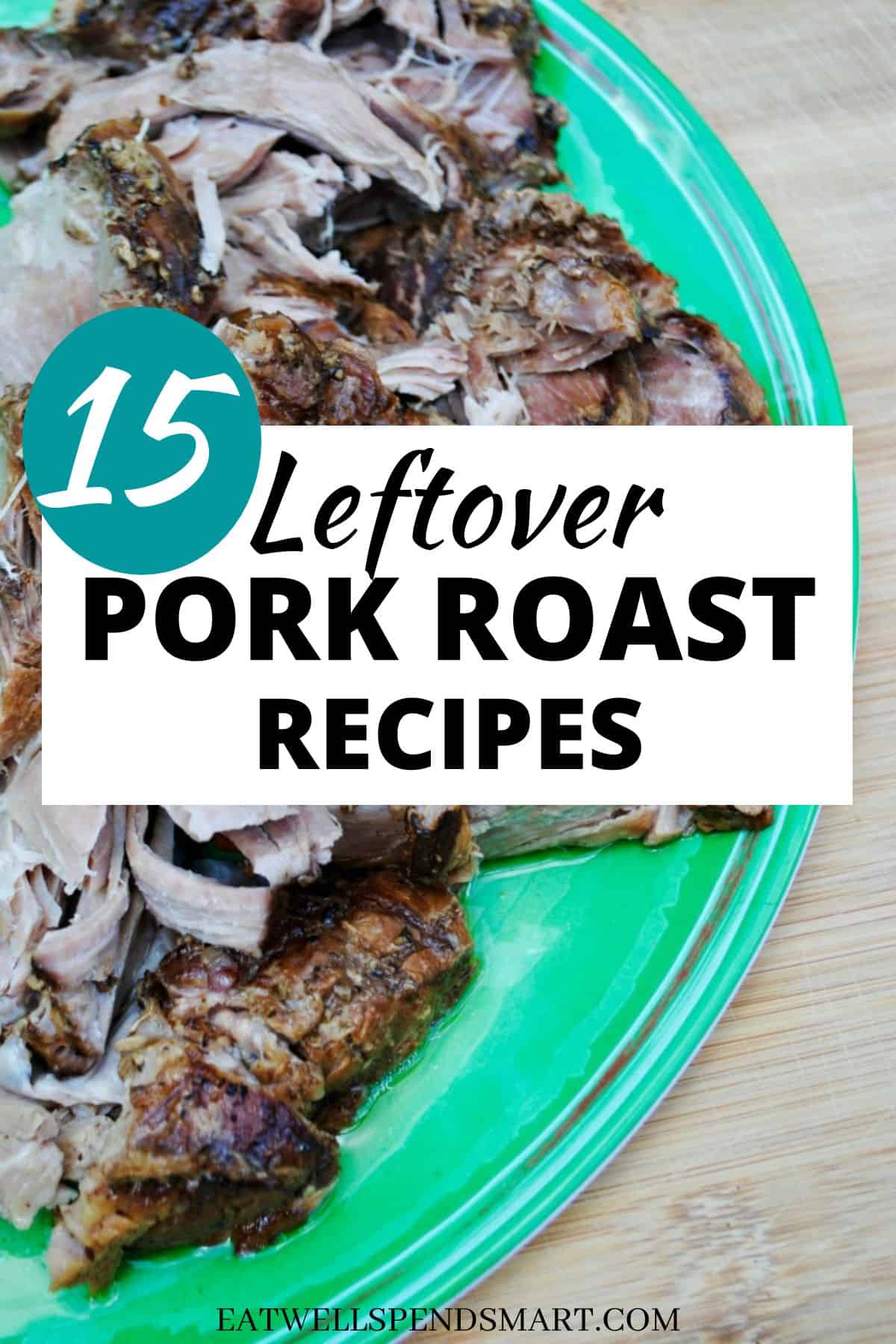 You either love leftovers or hate them. I'm in the love leftovers camp, but I understand why some people don't like them. Leftovers often don't taste the same re-heated as what they did fresh. Many people also don't like to repeat the same meal the next day. Unfortunately, you end up with food that goes to waste.
What if you could fix your problem and re-purpose your leftovers into something totally new that tastes like fresh? Win win!
Today I'm going to show you some ideas for using leftover pork roast in new different ways.
Say you cooked my slow cooker pork roast or my pork tenderloin with butternut squash, but you don't want to eat the same as leftovers. The next day you could shred or chop up your pork leftovers and use it in a completely different meal. This saves time and money and is a strategy I intentionally plan for every single week in my meal planning. I call it "connected meal planning" but many people call it many different things.
Now let's get to the ideas!
Leftover pork recipes
1. BBQ pork sandwiches
Leftover pulled pork is always a classic and always delicious. This works best with shredded pork but you could also use finely chopped pork to achieve similar results. Simply mix 2-3 cups of leftover shredded pork with 1 cup of your favorite bbq sauce in a sauce pan. Warm through and serve on buns or bread. It's a super simple recipe that comes together in minutes.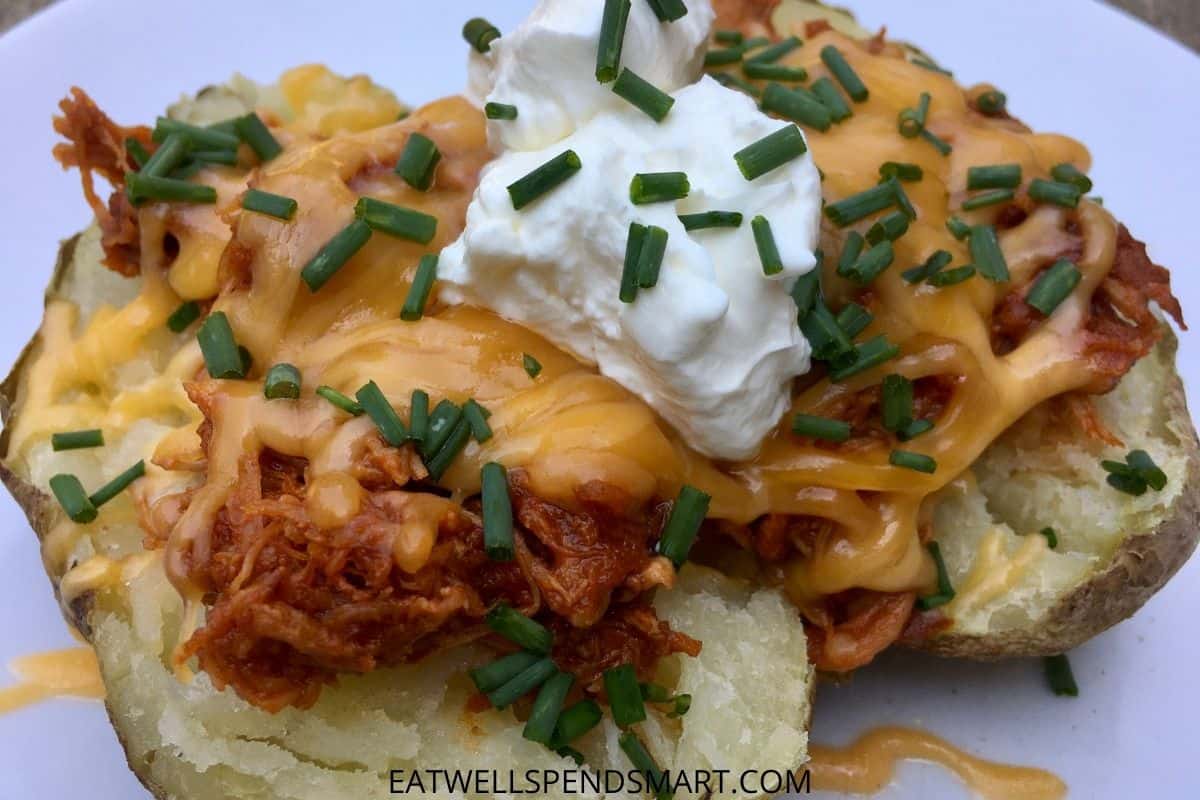 2. BBQ baked potato
Another twist on the bbq pork is to put it on a baked potato instead of a bun. Microwave or bake your potato in the oven. Open it up and season with salt and a pat of butter. Top with bbq pork and shredded cheddar cheese. Place back in oven or microwave to melt the cheese and top with chopped green onion or chives and sour cream.
3. Leftover carnitas
Pork tacos are a great way to use up leftover pork. Everyone loves tacos and carnitas are crispy and delightful! Spread your leftover meat on a sheet pan along with some of the juice you may have left. Season liberally with chili powder, garlic powder, salt, cumin, a squeeze of lime juice, and a drizzle of olive oil. Toss with tongs to coat. Place under broiler in over for 3-5 minutes. Toss again and broil for another few minutes until pork is crispy and hot. Serve on flour or corn tortillas with your choice of taco toppings.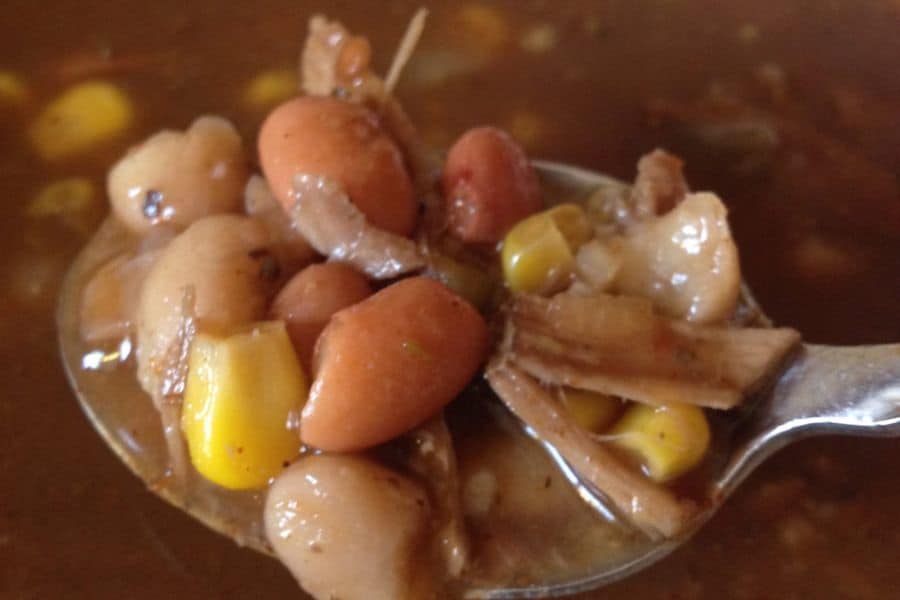 4. Mexican pork and bean soup
Tender shredded pork works great in a Mexican soup. Add all of the ingredients in a stock pot and simmer until hot.
Ingredients
1 can pinto beans
1 can great northern beans
1-2 cup leftover shredded pork
1 c. frozen corn
1 c. salsa
1 T. cumin
1 T. chili powder
3-4 cloves garlic
4-5 cups chicken stock
salt (approx. 1 tsp. Maybe less if your broth is salted.)
5. Spinach, apple, pork salad
Top this spinach and apple salad with sliced leftover pork for a tasty and fresh leftover meal. Made with spinach, red onions, apples, feta, seeds, and a sweet Italian dressing, this salad is great for a light lunch.
6. Pork stir fry
Make a stir fry with your leftover pork by following this recipe.
1.5 cups leftover pork, chopped into bite size pieces
2 T. olive oil
4 cups of any stir fry vegetables of choice (thinly sliced carrots, thin frozen green beans, bok choy, etc.)
1 onion, sliced
4 cloves garlic, minced or pressed
2 T. soy sauce
1 tsp sesame oil
1 tsp fish sauce
In a large skillet, heat olive oil over medium heat. Sauté chopped vegetables and onion until crisp tender for about 10 minutes. Add garlic and stir fry for another minute.
Remove vegetables from the pan. Add more oil if the pan is dry. Place the pork in the pan and sauté. Crisp up the pork, add vegetables back in and add all of the sauces, stir frying for another minute. Taste and adjust seasonings if needed. Serve over hot rice.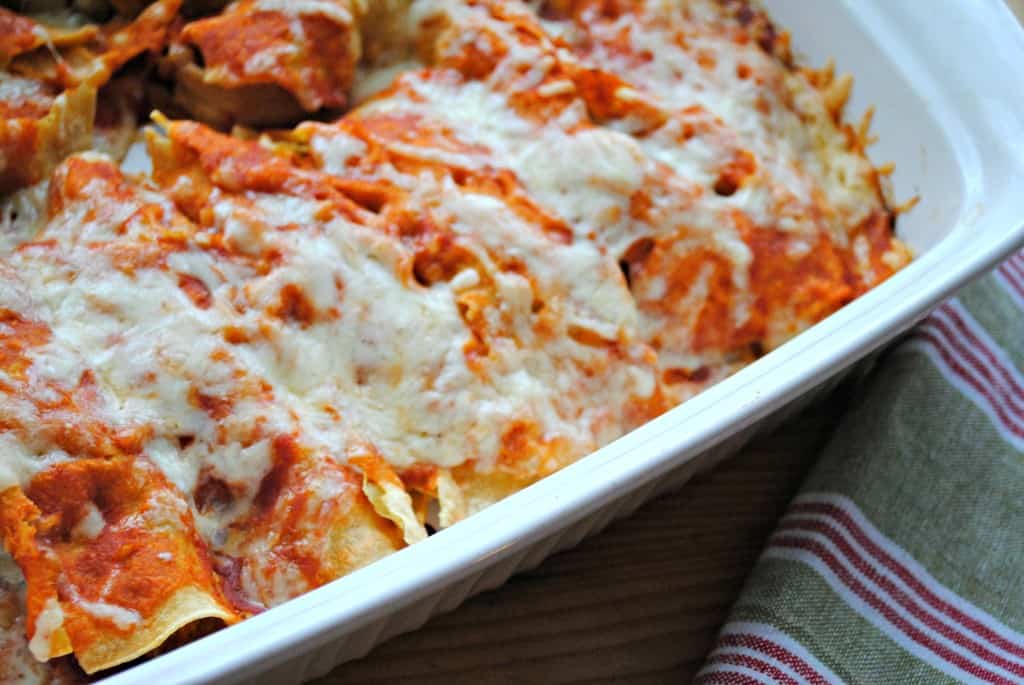 7. Pork enchiladas
Use my recipe for chicken enchiladas but instead of chicken, use shredded leftover pork. So yummy!
I love a good hot sandwich panini style and this Cuban does not disappoint. Use some good bread and place leftover pork, ham, pickles, mustard and cheese inside. Grill in a pan until hot and melty.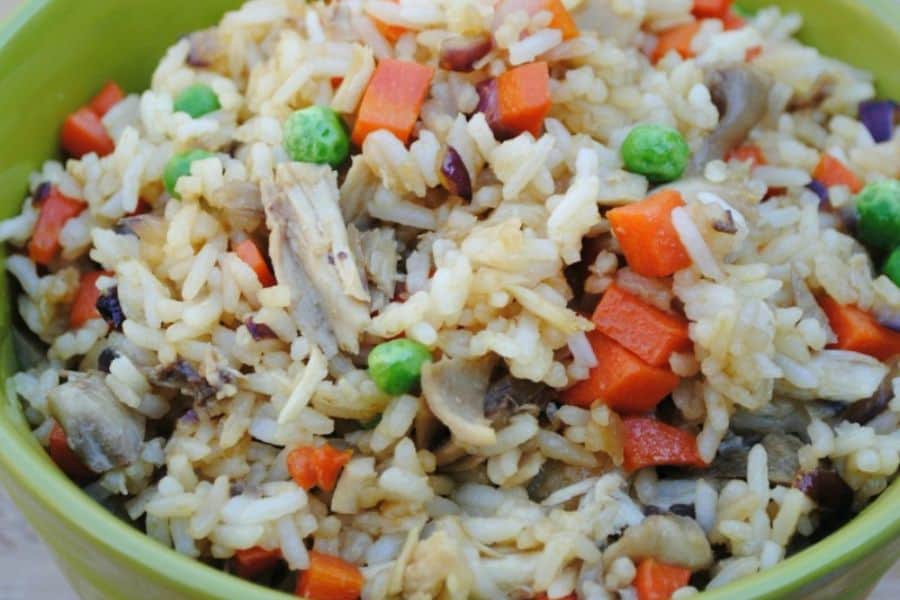 9. Pork fried rice
Fried rice is such a great meal for using up leftovers. Use my recipe for chicken fried rice, but use chopped up pork in place of the chicken.
10. Pork stroganoff
Similar to beef stroganoff but using pork instead of beef. The creamy tangy sauce is delicious over noodles.
2-3 c. leftover pork roast, shredded or chopped
1 c. diced onions
8 oz. mushrooms, sliced
1-½ tsp salt (If your broth is salted you may not need this much.)
½ tsp pepper
3 cloves garlic, minced or pressed
2 T. flour
1 T. Worcestershire sauce
1 ½ cup broth (beef or chicken)
½ c. sour cream
16 oz. short cut pasta or egg noodles
The Instructions
Cook noodles according to package directions in liberally salted water.
In a large skillet, add diced onions and sauté.
When onions are mostly cooked through, add mushrooms and sauté until tender. Add salt, pepper and garlic and cook for another minute.
Stir in flour and leftover pork and cook for one minute.
Whisk in broth, Worcestershire sauce and cook until thickened. Stir in sour cream and stir in hot cooked noodles.
11. Lettuce wraps
Lettuce wraps are so fun and can be used with a variety of fillings. Pork works great! Use this lettuce wrap recipe like in the picture above, but instead of ground chicken, start with chopped leftover pork.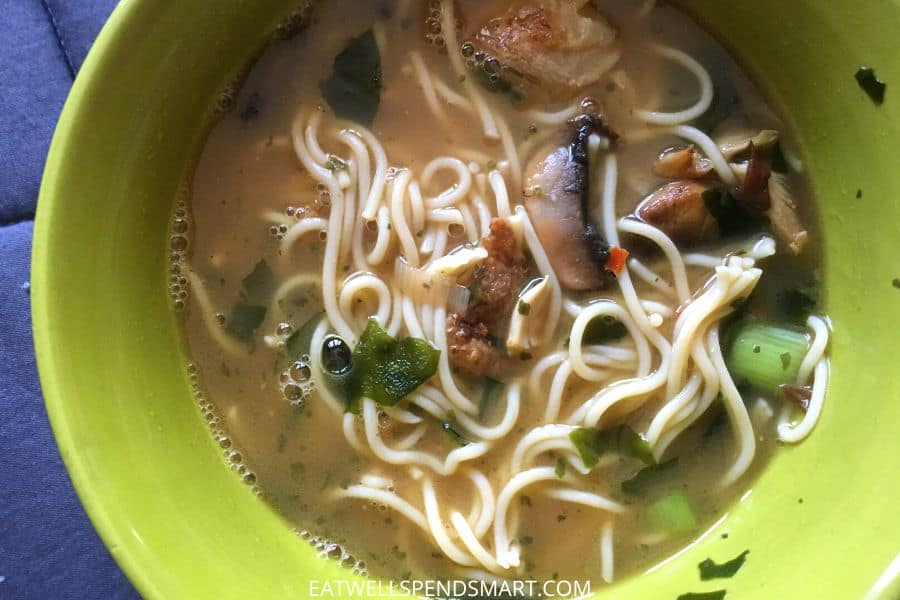 12. Ramen noodles
Jazz up ramen by sautéing vegetables of your choice like mushrooms, spinach, or carrots and adding leftover sliced or shredded pork on top.
13. Pork and rice bowl
Chop up or shred your pork and make a nice rice bowl topped with vegetables and a delicious sauce. Use the recipe below or free style it by cooking your rice, sautéing any vegetables you wish, and topping it with a jarred teriyaki sauce.
Tangy sweet and sour sauce goes so well with pork. With already cooked leftover pork, you can whip this sweet and sour pork up in under fifteen minutes. Serve with rice.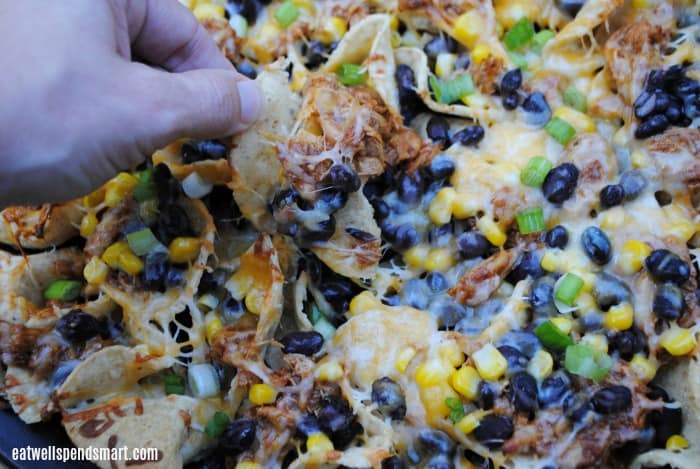 Mix bbq sauce with your leftover shredded pork to make delicious bbq leftover pork nachos. Topped with cheese, black beans, corn, and green onions, these are simple and so tasty! Use this bbq nachos recipe, but use the pork instead of chicken.
More leftover ideas
If you love ideas for using your leftovers, visit these posts and don't forget to pin to Pinterest!
How to use leftover baked potatoes
Things to do with leftover ham