Needing cheap lunch ideas? Get some inspiration of inexpensive main dish and side dish lunch ideas that work with a tight budget.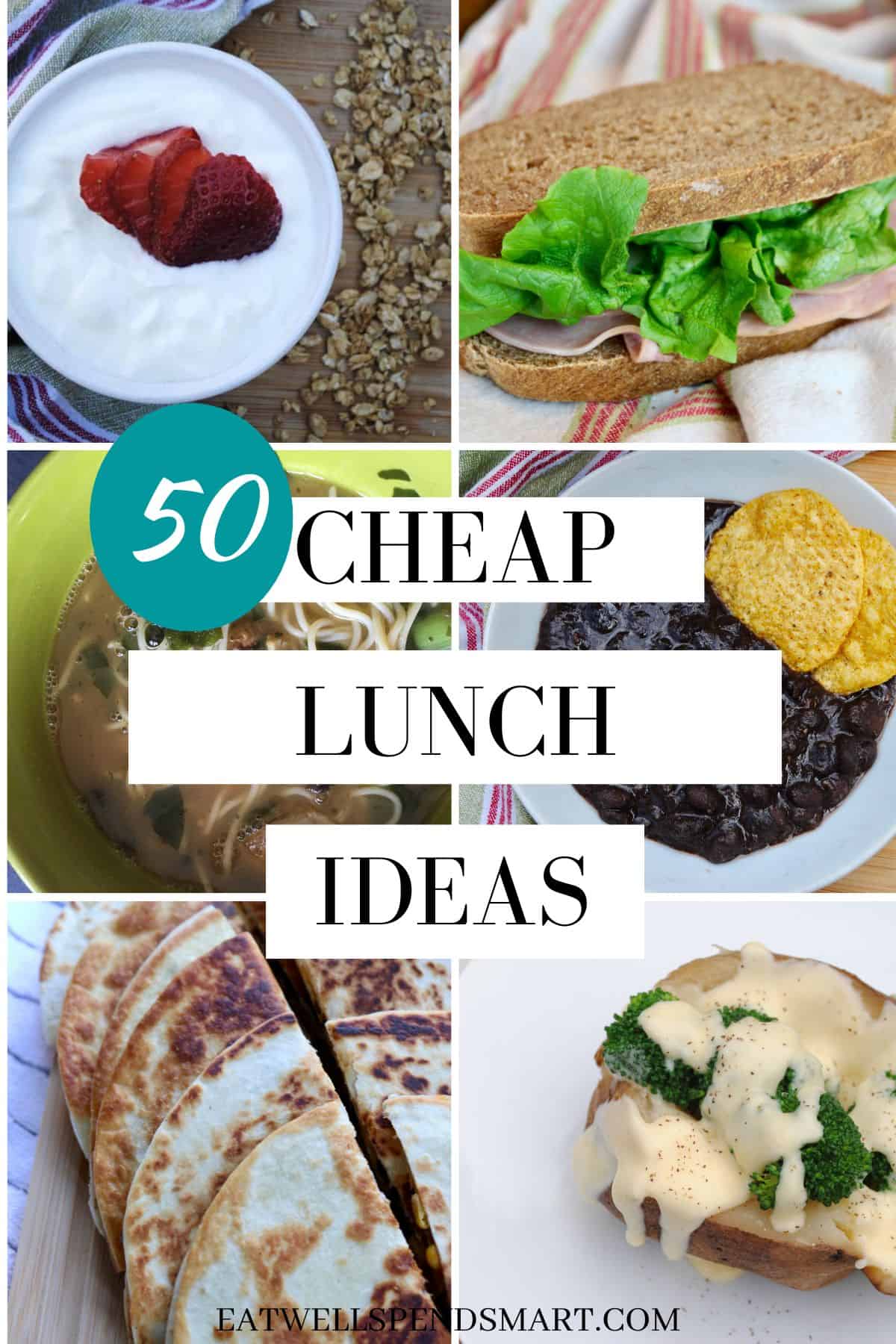 Lunch is often one of the most difficult meals to plan. It doesn't have the "most important meal of the day" tagline that breakfast has and it doesn't have the pressure that "family dinner" has. Lunch is stuck somewhere in the middle of no man's land where you still want to eat something decent but you don't want to spend too much time or too much money.
Three lunch staples in our home are leftovers, sandwiches, and gluten free frozen chicken strips. Then we fill in the gaps with some sides like fruit and veggies. When I need ideas, I go to this list.
Components of a great lunch
In my opinion there are three components that make a great lunch.
Tasty: If it doesn't please the taste buds, I'm not interested. The good news is that even and cheap food can actually taste good.
Easy: It's lunch time. I don't have time for ten steps; I need a quick lunch. It has to be either made ahead so I can warm it up, require no cooking, or can be made in just a few minutes. Have no fear. All of these are easy lunch ideas. Read my strategies for prepping lunch the easy way for more ideas on easy meal prep.
Nutritious: My requirements for a nutritious lunch are a meal with a mixture of these things: protein, carb, fat, and fiber. If we check off all of these boxes, we're good.
Cheap main dish lunch ideas
Now onto the big list of cheap lunch ideas. Let's start with main dishes all made with simple ingredients.
1. crispy black bean tacos: These come together so fast and are super cheap.
2. rotisserie chicken: Grab one from the store, debone, and eat it by itself or in any dish where you need a protein source.
3. hard-boiled egg: Make a big batch at the beginning of the week for easy grab and go protein.
4. tortilla or bagel pizzas: Top your bagel or tortilla with pizza sauce, mozzarella cheese, and your favorite toppings. Bake at 500 degrees until cheese is melty.
5. quesadillas: Make plain cheese quesadillas or add more fillings. Fill your tortilla with any toppings of choice: chicken, beans, vegetables, cheese, salsa, etc. Then warm in a skillet with olive oil or butter until browned on each side.
6. bean burrito: This is great when you have leftover crockpot pinto beans. Mash leftovers and fill a tortilla with beans, cheddar cheese, and salsa. Fold in tortilla sides and roll up into a tight burrito.
RELATED: 30 recipes using beans
7. pasta salad
8. soup: Soup is great made on Sunday for lunch or dinner and then saving leftovers for lunch for the whole week. Use a thermos for a great hot school lunch. Try some of these frugal soups: tomato soup, chicken noodle, slow cooker black bean soup, broccoli cheddar soup
9. peanut butter sandwich: Always a cheap classic, pb&j is a kid favorite. Mix it up, by putting it on a bagel, English muffin, pancakes, or waffles.
10. deli meat sandwiches: Look for deli meat that is on sale that week instead of paying full price. Look for bread that is marked down or make your own homemade bread. Add interest to your sandwiches by adding toppings and a sauce: bbq sauce, mayo, mustard, pesto, etc.
11. deli meat and cheese roll ups: If you don't do bread, roll up your meat and cheese together into fun roll ups.
12. salami, crackers, and cheese: similar to a DIY lunchable. Great for a "snack lunch".
13. wraps: start with a tortilla and fill with some sort of protein: chicken, deli meat, beans, chickpeas. Add spinach or lettuce and any other desired vegetables. Top with extras: banana peppers, olives, tomatoes, pickles, cheese, etc. Finish with a sauce: mayo, mustard, ranch, ceasar dressing, bbq sauce, pesto, Italian dressing, etc.)
14. salmon patties: This is a super simple pantry meal that is dirt cheap. They are easy to whip up for lunch or make them the night before and eat them cold the next day. Serve with ketchup.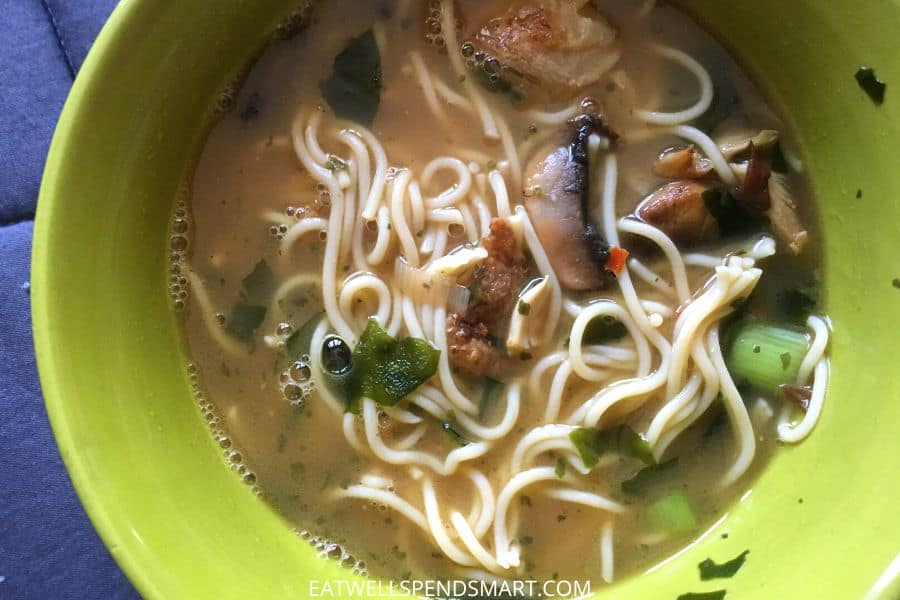 15. ramen: We enjoy this healthier ramen and like adding soft boiled egg, leftover meat, mushrooms, carrots, or any veggies in the fridge. It's not great for lunch boxes because the ramen soaks up all of the liquid while sitting in the thermos and then turns mushy. Save this for an at home lunch.
16. tuna salad: eat with crackers, pepper slices, or on a sandwich. For a hot melt, top bread with tuna salad and cheese and pop it under the broiler to melt.
RELATED: 16 canned tuna recipes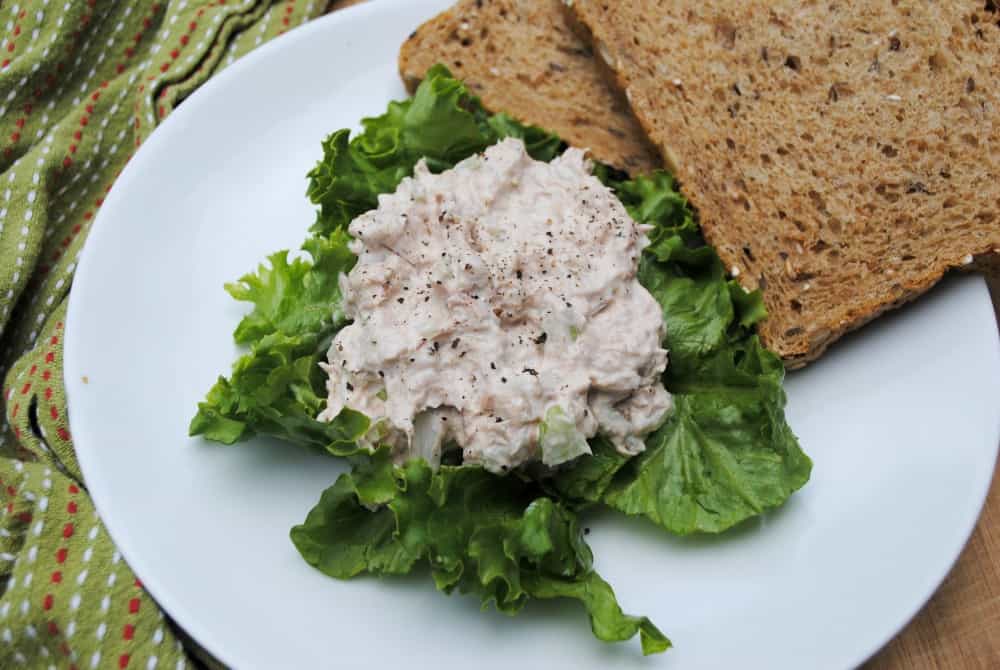 17. egg salad: Eat with crackers, in a lettuce wrap, or on bread. Simple and cheap.
18. chicken salad: Use leftover chicken, rotisserie chicken, or canned chicken. Mix with a chopped apple or grapes, chopped celery, mayo, squeeze of lemon juice, and salt and pepper. Serve on bread for a delicious chicken salad sandwich, or as a wrap, with crackers or sliced veggies.
19. lentils and rice: cheap and great for making ahead and reheating.
20. grain bowl: Prep ahead by roasting veggies and cooking your grain and protein of choice. Then mix and match for grain bowls throughout the week.
21. beans and rice: Batch cook beans and rice and top them with salsa, cheese, sour cream, avocado, etc.
22. grilled cheese sandwiches: Always a classic and delicious dunked in tomato soup.
23. cream cheese and jam sandwich
23. mac and cheese: Buy a boxed mac and cheese. Even an organic brand you can find on sale for $1/box. Add tuna or ground beef and frozen peas for extra protein and nutrition.
24. fried egg sandwich: Eggs are a great cheap protein source. Fry and egg and eat it as a sandwich. Yum!
25. salad: A head of lettuce is fairly inexpensive. Stay away from pre-cut bags of lettuce as they are typically soggy and not a great value for the price. Inexpensive toppings include boiled eggs, tuna, leftover meat, beans or chickpeas, carrots, cucumber, and homemade salad dressing.
26. baked potato bar: Potatoes are cheap and can be topped with so many things. Try one of these cheap baked potato toppings. If you have leftovers, find a new way to use your leftover baked potatoes.
27. buttered noodles or pesto noodles: You can't get much cheaper than noodles with butter. Add peas, broccoli, or parmesan cheese for more nutrition and interest. You could also mix a jarred pesto with noodles for a yummy change.
Sides and extras
Round out your lunch by adding some side dishes which included fiber, carbs, and fat. You could even make a "snack lunch" with a smorgasbord of any of the ideas below. My kids often eat a snack lunch with random fridge finds for a cheap meal.
1. hummus
2. fruit (strawberries, grapes, apples, oranges, kiwi, cantaloupe, watermelon, bananas, pineapple, peaches) Budget tip: Buy fruit that is on sale.
3. vegetables (carrots, celery, snap peas, bell pepper strips, cucumbers, cherry tomatoes) Try a homemade sour cream dip to add interest.
4. cheese: Cutting it up yourself will be the cheapest option. Pre-cut cubes or slices will be the most convenient. Budget tip: Buy cheese in bulk when on sale and freeze for lowest cost.
6. cottage cheese
7. applesauce
8. popcorn
9. yogurt
10. bean dip
11. raisins
12. olives
13. fruit strips or fruit leather
15. granola
16. trail mix
17. pretzels
18. chips and salsa
19. peanut butter oat balls: Any nut or seed butter mixed with honey and then mixed with oats and rolled into balls. You could also add any mix ins that you wish: chia seeds, chocolate chips, raisins, flax seeds, sunflower seeds, etc.
20. apple slices or bananas and peanut butter
21. pickles
22. crackers
23. nuts and seeds
More articles you may enjoy to stretch the food budget: