Dealing with food allergies or a strict gluten-free diet can be a real pain when trying to feed the family on a budget. Try this gluten free meal plan on a budget. All meals are made with whole foods and contain common ingredients. No fancy shmancy here! Keep your grocery budget in check while still enjoying delicious gluten-free meals.
Gluten free on a budget
Whether you need to follow a gluten-free lifestyle because you have celiac disease or medical conditions, it can feel like you have to buy all expensive food to make it work. That's very defeating if you are also trying to lower your grocery bill for budget purposes.
In my opinion a great way to eat gluten free on a budget is to stick to foods that are naturally gluten free without resorting to special gluten-free alternatives.
Sure, the specialty gluten-free products are fun, but they are often made with processed foods and won't help your grocery budget or health long term. Special flours, gluten free bread, and pre-packaged snack items will hike up your food bill quickly.
Cheap gluten free foods
These are some of my favorite cheap gluten free foods that can be found at any local grocery store:
chicken (drumsticks, bone in thighs, and whole chickens will be your best budget-friendly unless you can find chicken breasts on sale.)
ground beef or ground turkey (buy when on sale)
pork (I often see pork roasts, chops, loins on sale for an excellent price.)
beans: black beans, red beans, white beans, chickpeas
potatoes: white potatoes and sweet potatoes
cabbage
onions
carrots
canned tomatoes
frozen vegetables: broccoli and peas are two of my go-tos
lentils
gluten free grains: rice, certified gluten free oats, corn
peanut butter
bananas
apples or any other fruit on sale
canned tuna and salmon
eggs
​Budget meal planning strategy
1. Shop your kitchen first
My first tip is to ALWAYS shop your kitchen first! Brainstorm a list of meals you can make with what you already have. You may be surprised at how many creative meals you think of to add to your meal plan without an additional cost. Before you even try my plan below, start with what you already have!
2. Prevent food waste
Use similar ingredients in meals and intentionally re-purpose leftovers to prevent your hard earned dollars from going in the trash.
3. Use naturally inexpensive foods.
If you are on a budget, it might not be the season for steaks, exotic fruits, and packaged gluten free foods. Stick to the basics to stay in budget.
​4. Cook from scratch
Instead of buying boxed broth, make your own from your leftover chicken bones. Instead of buying canned soups or packaged snacks, make your own. You'll save money by putting in the work and it doesn't take that much extra time.
5. Shop at stores with the best prices
Don't shop at expensive stores if you don't have the budget for it. Walmart or Aldi might be your best bet if you are on a budget.
6. Shop sales
Check your local sales fliers to see what's on sale that week and plan your meals around those sale items.
7. Use coupons, store loyalty rewards, and cash back programs.
If you aren't using store coupons, clipping digital coupons, using store loyalty rewards or cash back apps, you are absolutely leaving money on the table. Each store will have its own unique programs. My favorite cash back apps are Ibotta (use my code dgjqfhi to get $5) and Fetch Rewards (use code AJ3YQ to get 100 points).
Gluten free budget meal plan
Now on to the meal plan. Delicious recipes that the whole family will enjoy.
Dinners
Whole chicken with potatoes and carrots
A simple one dish meal that requires under 10 minutes of hands on time and then cooks in the oven. I find this one very kid friendly.
1 whole chicken (IMPORTANT NOTE: part of this chicken will be used for other meals. See below for details)
salt
pepper
dried herbs of choice (thyme, rosemary, or Italian seasoning are my favorites)
2 T. melted butter or olive oil
1 ½ lbs potatoes, cut into 1 in pieces (no need to remove skin)
4 large carrots, cut into 1 in. chunks

Preheat oven to 400 degrees.
Remove innards from chicken.
Rub outside with olive oil or butter. Season inside and outside liberally with salt, pepper, and herbs.
Place cut vegetables in a 9x13 baking dish and place chicken on top.
Roast for about an hour or until chicken reaches an internal temperature of 165 degrees F and vegetables are tender.
Prep for another meal: Debone the chicken. Use part of the chicken for the original meal and save 2 cups of chicken for chicken soup and 2 cups for Spanish rice. Save the bones and make broth. Place bones in a slow cooker, stockpot, or Instant Pot and cover with water. Cook on low for 10-12 hours in slow cooker, in a stockpot for 8-10 hours, or an Instant Pot on high for 2 hours. Strain the liquid and use this for broth for the chicken soup.
Note: Reserve 2 cups of chicken for leftover chicken soup. Any other leftover chicken can be used for lunches or can be added to the lentils and rice dish.
Leftover chicken and potato soup
2 T. butter or olive oil

1 small onion, chopped (1 cup)

3-4 carrots, peeled and chopped (1- ½ c)

2 celery ribs, diced

4 potatoes, peeled and cut into 1-½ in pieces

¼ tsp garlic powder

½ tsp dried thyme

¼ tsp dried rosemary

1-½ tsp salt

¼ tsp pepper

1 bay leaf

2 cups leftover chicken

6 c. broth from boiling the chicken
In a Dutch oven or stock pot, heat butter or olive oil over medium heat.
Add chopped onions, carrots, and celery and sauté for 5-7 minutes until onions are tender and translucent.
Add garlic, salt, thyme, rosemary, pepper, and flour. Stir and cook for a couple of minutes.
Add potatoes, broth, and bay leaf and stir.
Bring to a boil, then reduce heat to a simmer and simmer for 15 minutes until potatoes are tender.
The last five minutes, add leftover chopped shredded chicken.
Taste and adjust seasonings if needed.
Spanish rice with chicken
2 c. white rice
1-½ c. salsa
4 c. broth or water
1 tsp salt
½ tsp garlic powder
2 tsp. chili powder
1 T. olive oil or butter
2 c. leftover chicken
Toast rice in olive oil or butter in a large skillet over medium heat.
Add salsa and broth and stir.
Bring to a boil and reduce heat to a simmer.
Add chicken and stir.
Cover and simmer for 15 minutes.
Remove from heat still covered and let rest for five minutes.
Remove lid and broil in oven for 3-4 minutes to crisp the top. Keep an eye on it so it doesn't burn, If you would like, you could also add shredded cheese to the top and melt in the oven.
Sausage potatoes onions and cabbage
Find a clean sausage brand that doesn't contain any gluten. Aldi has chicken apple sausages for a great price. You can leave the sausages whole or cut them up. Only use half of the cabbage for this recipe.
Serve with cheese quesadillas made with corn tortillas to make more filling, especially for your picky eaters.
Italian ground beef and cabbage
Use the other half of the cabbage in this tasty one dish meal. If your family doesn't love tomato chunks, simply substitute tomato puree.
This meal is so cheap but is so yummy.
Breakfasts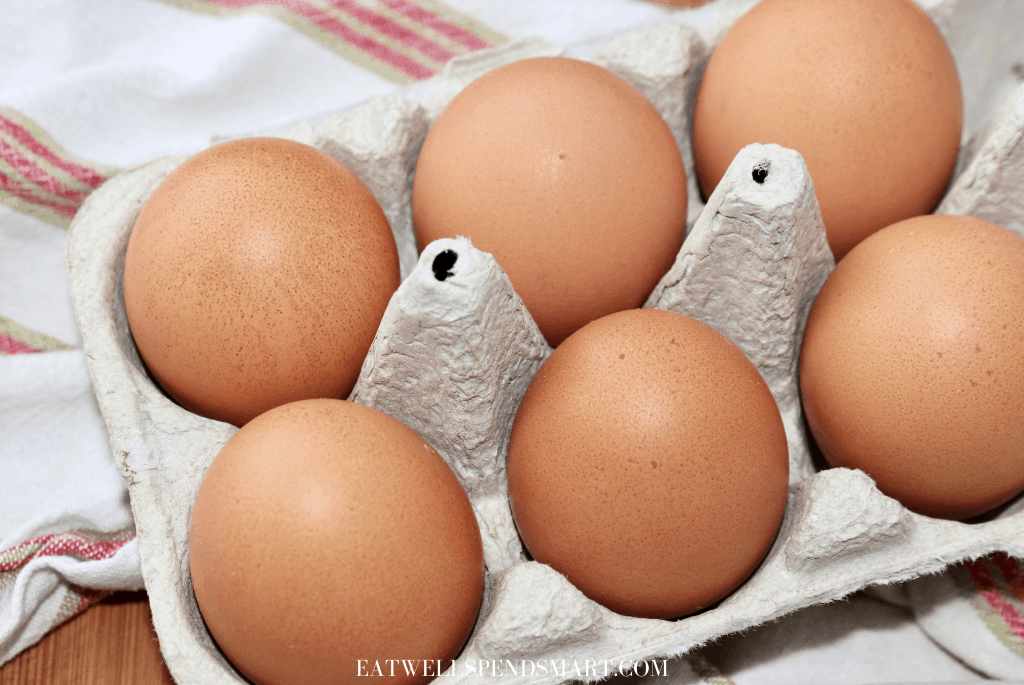 To keep costs down, I would rotate just a couple of options each week so you aren't buying lots of different ingredients. For the oat options, make sure you are buying certified gf oats.
scrambled, fried, or poached eggs
stovetop oatmeal
egg tacos: corn tortillas, eggs, cheese, beans, salsa
roasted potatoes
Lunches & Snacks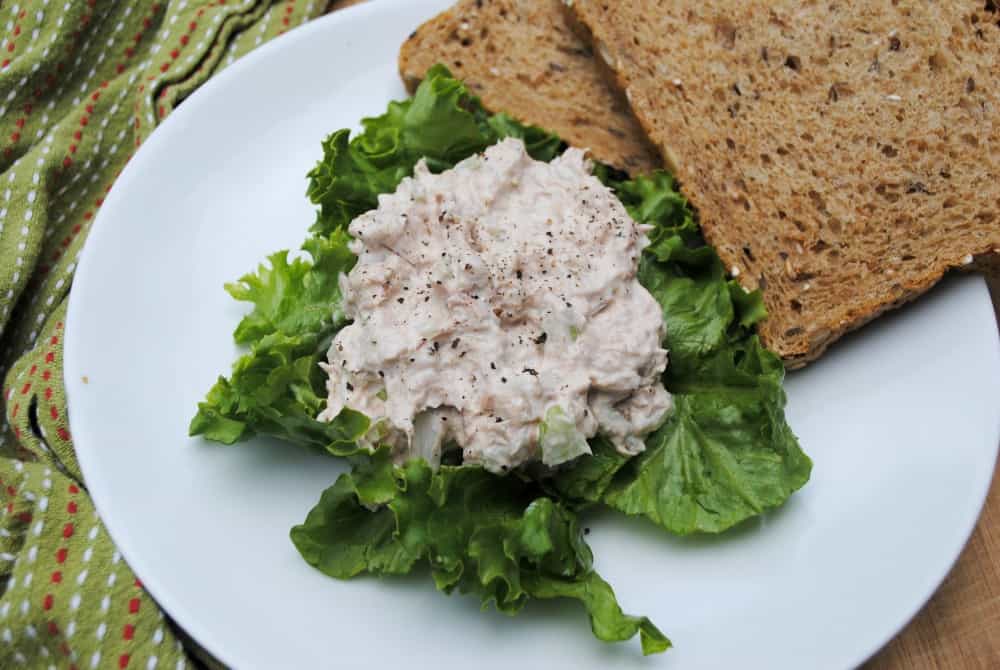 Leftovers are always my #1 lunch option if you have leftovers. If you don't have leftovers or they are going to be re-purposed, here are some more cheap lunch and snack ideas that I have included in the meal plan:
leftover roasted chicken
deli meat and cheese roll ups
cottage cheese with or w/o bananas
bananas with peanut butter
hard boiled eggs
egg salad in a lettuce wrap
tuna salad in a lettuce wrap
carrot sticks
celery sticks with or w/o peanut butter
popcorn
corn chips and salsa
peanut butter and apples
For more ideas: CHEAP HEALTHY SNACK IDEAS and CHEAP LUNCH IDEAS
Grocery list
whole chicken
12 oz. chicken sausage
1 lb. ground beef
deli ham (lunch option)
1 c. brown or green lentils
2 c. dried black beans
cottage cheese
3 dozen eggs
cheese (needed for quesadillas and a lunch/snack option)
butter
peanut butter
carrots
5 lb bag russet potatoes
celery (2 ribs + more for lunch/snacks)
3 lb. bag onions
1 red bell pepper
1 head cabbage
apples (3 lb. bag)
bananas (7)
corn tortillas
tortilla chips (snack/lunch option)
certified gluten free oats
14.5 oz diced tomatoes
3 c. long grain white rice
salsa (2-½ c. + more for lunch/snacks)
Pantry staples needed: olive oil, may0 (if making egg or tuna salad), baking powder and sugar (if making muffins), salt, pepper, seasonings (thyme, rosemary, Italian seasoning, chili powder, cumin, garlic powder)
When I priced everything out at my local Walmart, the total came to around $110.
At Aldi it was around $86, not including certified gluten free oats and rosemary, simply because they do not carry those items.
That's pretty good for a week's worth of groceries for four people for breakfast, lunch, and dinner in today's economy. If you already have some of the ingredients like rice, oats, spices, etc, your total could be even less expensive!