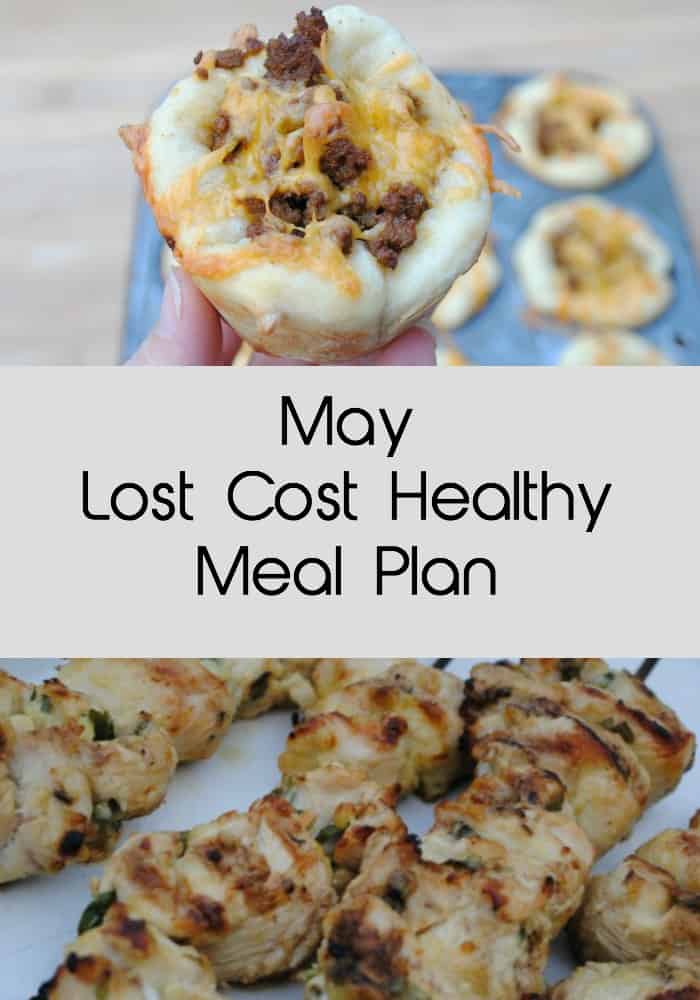 Another month, another real food frugal meal plan.  Can you believe we've been on this journey since September?  In just three more months, we will have a full year of frugal meal plans archived here on the blog!  That's something to celebrate.  Lots of inspiration to keep great food on your table without breaking the bank!
This meal plan was designed to be an average of under $80/week.  The first week is a bit higher because we're buying items that we will use all month like a big bag of carrots and onions.  The following weeks are much less expensive though so don't panic at the expense of the first week.
Tips for reducing costs even more
Shop your pantry first and use ingredients that you have on hand first! Feel free to make substitutions based on what you have.
 Also check to see if any of the ingredients are on sale or can be substituted for ones that are on sale. I LOVE using apps to get cash back on my groceries and save money! Ibotta is my favorite! Use my code "dgjqfhi" to get $10 back immediately when you sign up and verify your first rebate within the first two weeks.
Use dry beans for canned. Try cooking them in the slow cooker covered with water on low for 6-8 hours.
Try shopping at discount grocers like Aldi.  Almost everything is cheaper there, ESPECIALLY avocados!
Check your freezer before purchasing new meat!  Sometimes items hide in there that we forget about
Grow your own herbs, vegetables, and fruit and sub where you can.
If you are really struggling, please check out local food banks and pantries.  My church, for example offers a food pantry twice a month.  I'm sure there are many in your area if you just look.
May Frugal Real Food Monthly Meal Plan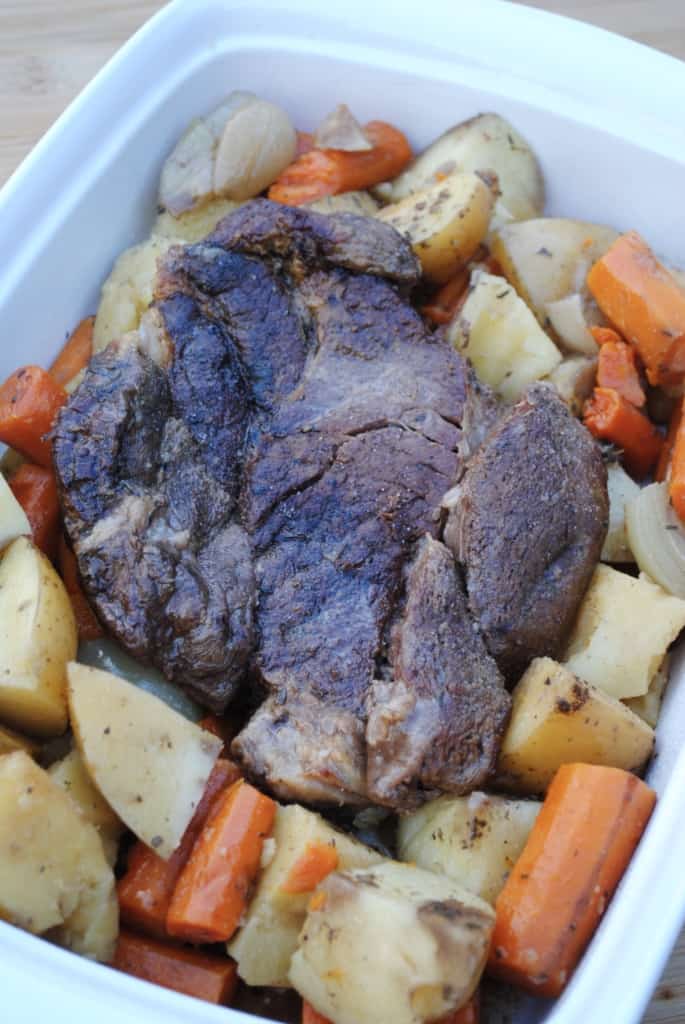 Week 1
Smoked sausage kabobs, apple slices, sautéed beet green tops from beets used for later in the week
Slow cooker beef roast, potatoes and carrots (Reserve a portion of the beef for chimichangas for later in the week.)
Roasted vegetable spring pasta
1 bunch asparagus, cut into 1.5 inch pieces
8 oz. mushrooms, quartered
1 onion, cut into ⅛ths
fresh herbs to taste (basil, oregano, etc), optional
salt pepper to taste
olive oil or butter
1 lb. pasta of choice
On a sheet pan place asparagus, mushrooms, and onions in a single layer. Drizzle with olive oil or butter and season with salt and pepper. Roast a 450 degree oven for 15 minutes or until vegetables are crisp-tender.
Meanwhile, cook pasta in salted water, according to package directions. Drain pasta, reserving a cup of cooking water. Toss pasta with roasted vegetables, adding the reserved water back if needed. Salt, pepper to taste and add in a handful of chopped fresh herbs if desired.
Shredded beef chimichangas, Spanish rice
FILLING
2-3 C. LEFTOVER beef roast, SHREDDED
½ TSP SALT
½ TSP CUMIN
1 TSP CHILI POWDER
¼ TSP GARLIC POWDER
3 T SALSA
CHEESE SAUCE
2 T BUTTER
2 T FLOUR
1 ½ C. MILK
1 ½ C. CHEDDAR CHEESE, SHREDDED
¼ TSP SALT
2 T. SALSA
4-6 TORTILLA SHELLS (homemade or store-bought)
OLIVE OIL
MIX ALL FILLING INGREDIENTS TOGETHER IN A BOWL AND SET ASIDE.
IN A SAUCEPAN, MELT BUTTER. ADD FLOUR AND WHISK TO MAKE A ROUX. WHISK IN MILK. BRING TO A LIGHT BUBBLE AND REDUCE HEAT TO SIMMER. SIMMER UNTIL SLIGHTLY THICKENED. STIR IN CHEESE, SALT, AND SALSA.
IN A SEPARATE SKILLET, HEAT OLIVE OIL OVER MEDIUM HIGH HEAT. WARM TORTILLAS TO MAKE PLIABLE AND PLACE A SMALL PORTION OF CHICKEN IN EACH TORTILLA. FOLD IN SIDES AND THEN ROLL UP. COOK ON EAT SIDE UNTIL GOLDEN BROWN AND TOP WITH SAUCE WHEN SERVING.
Roasted beet salad
3 beets, peeled and cut into cubes
mixed greens or whatever salad greens are on sale
goat cheese, crumbled
½ cups any nuts on sale (walnuts, almonds, etc)
olive oil
Homemade dressing
• ½ cup olive oil
• 5 T. balsamic vinegar
• 1 T. maple syrup or honey
• 1 T. dijon mustard
• pinch of salt
• fresh cracked pepper to taste
• any fresh herbs that you desire
Instructions:  Whisk together in a bowl or place in a small jar and shake until well combined.
Place peeled and cubed beets in a single layer on a baking sheet. Drizzle with olive oil and roast at 400 degrees for 45 minutes or until beets are tender.
Assemble salad with mixed greens, roasted beets, goat cheese, and nuts. Toss with homemade dressing.
Flex night
Week 2
Taco cups, fruit, carrot sticks
Slow cooker pork, mashed potatoes, greens
Egg salad sandwiches, fruit
Cuban sandwiches, potato wedges
leftover pork roast
dijon mustard
8 slices of deli ham
swiss cheese
pickles (bread and butter or dill)
hoagie bun or sturdy homemade bread
butter
On your hoagie bun or bread, build your sandwich with pork roast, deli ham, swiss cheese, pickles, and dijon mustard. Butter the outside of bread and grill sandwich, flattening with a spatula while grilling. Serve hot.
Mexican salads
1 can black beans
1 cup frozen corn, thawed
1 head lettuce
salsa
cheese
avocado
dressing (½ cup sour cream, 2 T. mayo, 2 T. milk, 1 clove garlic, ¼ tsp salt or to taste, ½ tsp onion powder, ½ tsp chili powder, ½ tsp cumin, cayenne pepper to taste)
Build your salad with lettuce, black beans, and corn, and top with salsa, cheese, avocado, and dressing.
Flex night
Week 3
Slow cooker chicken, cabbage, mashed potatoes
Spring greens soup (substitute milk), bread
Chicken salad sandwiches, carrot sticks
2 cups leftover chicken, chopped
½ cup mayo (homemade or store-bought) Note: start with a small amount and work your way up to desired moistness
½ cup apples, chopped
½ cup celery, chopped
a squeeze of lemon juice
salt and pepper to taste
any fresh herbs on hand (optional but recommended)
Add all ingredients together and stir until they come together. Check for seasonings and add more if desired. Fresh herbs if you have any will make this pop. Serve on lettuce or bread.
Fish tacos, Spanish rice
2-4 white fish fillets of choice (If they are big, get two. If they are small get closer to four)
chili powder
paprika
salt and pepper
2 T. butter
tortillas (homemade or corn)
1 cup cabbage, thinly sliced
small bunch of radishes, trimmed and sliced thinly
¼ cup red wine vinegar
pinch of sugar
avocado
sour cream
Place cabbage, radishes, vinegar, and a pinch of sugar in a bowl. Stir well and place in fridge.
Cut fish into strips and pat dry. Sprinkle with chili powder, paprika, salt and pepper.
In a skillet over medium heat melt butter. Cook the fish strips for a few minutes on each side and then transfer to a plate. Warm tortillas and top with sour cream, fish, pickled cabbage and radishes, and avocado.
Flex night
Week 4
Asparagus risotto, cut up fruit
4 cups homemade chicken broth
2 tablespoons olive oil or butter
4 green onions, sliced thinly
1 cup Arborio rice
1 pound asparagus (trim off woody ends and cut into 1.5 inch pieces)
2 T. butter
½ cup grated parmesan cheese
salt and pepper to taste
In saucepan, simmer broth until hot.
Heat oil in a separate pot over medium heat. Add onions and rice and stir for about five minutes or until rice is brown.
A large label at a time, stir in broth, stirring constantly until most of the broth is absorbed.
Continue with reminder of broth and until rice almost tender, which will take approximately 20 minutes.
Add asparagus and green onions the last five or ten minutes.
Finish by stirring in the butter and cheese.
Slow cooker beans, honey glazed carrots
Note: Reserve a portion of the beans for burritos later in the week.
Chicken legs, cabbage and potatoes: Use chicken legs instead of sausage.
Spring noodle stir fry
1 cup carrots, cut julienne
1 small bunch green onions, sliced on the diagonal
8 oz. snap peas, trimmed
1 cup mushrooms, sliced
1 lb. soba noodles
¼ cup soy sauce, tamari, or coconut amigos
¼ cup chicken broth
1 T. honey
4 cloves garlic, minced
2 tsp cornstarch or arrowroot (optional)
olive oil
Cook soba noodles according to package directions.
Over medium high heat, stir fry carrots, mushrooms, green onions, and snap peas in oil or other preferred fat until crisp-tender.
Mix together soy sauce, broth, honey, optional cornstarch, and garlic in a small bowl or measuring cup.
Toss hot noodles with stir fried vegetables and stir in sauce. Heat through to thicken sauce.
Bean burritos
leftover pinto beans
cheddar cheese, shredded
batch of homemade tortillas
Using leftover pinto beans, drain off a little liquid.  Place in a small pot over medium-low heat. Mash and mix with desired amount of cheese when beans start to get warmed and bubbly. Add back more bean liquid if they get to thick.  Fill warm homemade tortillas with bean and cheese mixture. fold in the sides and roll to make a burrito. Serve hot.
Flex night
READ MORE OF MY CHEAP HEALTHY MEAL PLANS!