June marks the beginning of the summer, which means tons of fresh delicious produce in my neck of the woods.  Lots of greens, cucumbers, and zucchinis, and more!  This meal plan is full of seasonal goodies that I know you will love.
This meal plan was designed to be an average of  $80/week. The first week is a bit higher because we're buying items that we will use all month like big bags of carrots, potatoes, and onions.
Ways to decrease costs more
Shop your pantry first and use ingredients that you have on hand first! Feel free to make substitutions based on what you have.
Also check to see if any of the ingredients are on sale or can be substituted for ones that are on sale. I LOVE using apps to get cash back on my groceries and save money! Ibotta is my favorite! Use my code "dgjqfhi" to get $10 back immediately when you sign up and verify your first rebate within the first two weeks.
Use dry beans for canned. Try cooking them in the slow cooker covered with water on low for 6-8 hours.
Try shopping at discount grocers and inexpensive stores like Aldi. Almost everything is cheaper there, ESPECIALLY avocados!
Check your freezer before purchasing new meat! Sometimes items hide in there that we forget about.
Grow your own herbs, vegetables, and fruit and sub where you can.  This time of year I hardly have to buy any produce because I have so much coming out of my garden.  Feel free to substitute produce if you have something different in your garden.
If you are really struggling, please check out local food banks and pantries. My church, for example offers a food pantry twice a month. I'm sure there are many in your area if you just look.  They will often give pantry goods like oats, rice, pasta, canned tomatoes, and beans which are all on this plan.
June Frugal Monthly Meal Plan

Week 1
Whole chicken, mashed potatoes, collard greens
Chicken salads:  leftover chicken over salad greens with homemade dressing
Lentil soup
•1 cup green lentils
•1 T. fat or oil of choice
•½ large onion
•2 cloves garlic
•5 cups water or broth
•2 bay leaves
•salt and pepper to taste
•fresh herbs if desired
Heat oil over medium heat. Add diced onion and garlic. Cook until soft but not brown. Add liquid, bay
leaves, and salt. Bring to a boil and reduce to a simmer. Cook for 15-20 minutes until tender but not
mushy.
One post summer vegetable pasta
Flex night
Week 2
Slow cooker salsa chicken with rice
Zucchini boats, fruit slices
Frittata, salad
Hoagies with smoked sausage, peppers and onions
Flex night
Week 3
Grilled tilapia, rice, roasted broccoli
Stuffed peppers, fruit slices
Chicken fingers, oven fries, apple slices
Black bean, corn, and spinach enchiladas
Zucchini soup
3 zucchini
½ onion
2-3 cloves garlic
4 cups broth (homemade: see recipe under staples)
3 T. sour cream
salt and pepper to taste
Place zucchini, onion, garlic and broth in a stockpot. Bring to a boil and then reduce heat to a simmer for about 20 minutes or until tender. Alternatively, you could place the ingredients in an electric pressure cooker on high for 5 minutes. After either method, puree the ingredients with either a high powered blender or immersion blender. Stir in sour cream and salt and pepper and puree for another 30 seconds. Taste and adjust seasonings as needed.
Flex night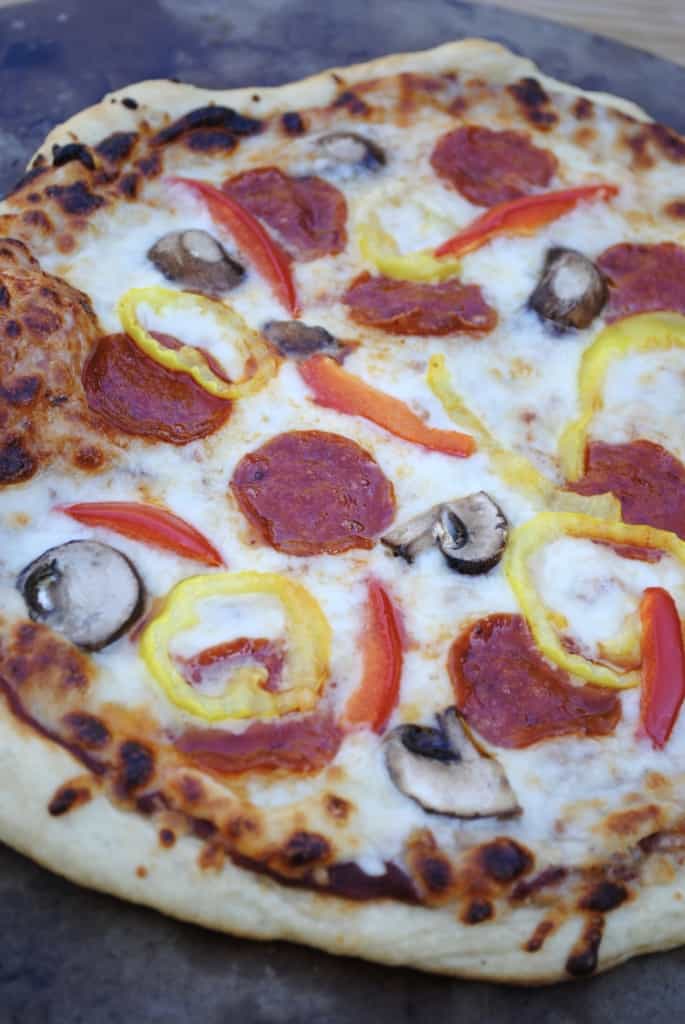 Week 4
Grilled chicken legs, corn on the cob, mashed potatoes
6-8 chicken legs
salt, pepper, thyme, oregano, cayenne
Pat chicken legs dry and season liberally with seasonings.
Heat grill to about medium heat. Scrape and oil grill.
Grill chicken legs for about 30 minutes, flipping about every 5 minutes until they reach an internal temperature of 185. If they start to burn, move to a cooler part of the grill.
Stir fry, rice (Use any protein or eat meatless.)
Taco salad
Breaded eggplant over spaghetti Make homemade breadcrumbs to cut down costs.
Indian spiced red lentils, collards and tomatoes
Flex night
Read more of my cheap healthy meal plans!