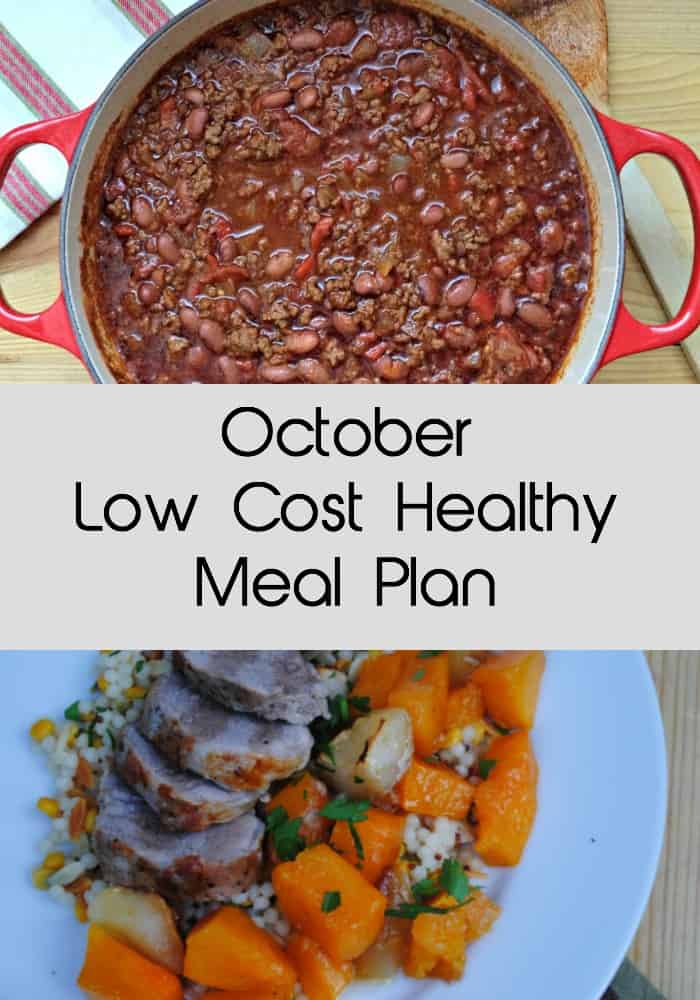 Welcome to the October real food frugal meal plan.  Four whole weeks of healthy real food on a budget!  It's fall y'all, so you'll find lots of fall delights like squashes, pumpkins, greens, and root vegetables.  Don't you just love this time of year?
I design these plans to feed a family of four on $80/week.  If you live in an area with a higher cost of living, your totals may be higher than mine, but this meal plan is still a frugal meal plan full of healthy real food (no cans or boxes), and will still slice your food budget drastically.
These meal plans are meant to work together so that you are using multiple items for multiple meals and also utilizing leftovers. You will see batch cooking and large cuts of meat stretched for several meals. A typical method that I use is to cook a large amount of protein (whole chicken, large pork roast, or batch beans) to use for multiple meals like bowls, rice dishes, casseroles, or soups. This is a great way to reduce waste and re-purpose leftovers so that they find new tasty life.
Adapting for allergies
A note on food sensitivities and allergies. It is impossible for me to write a plan that suits everyone's dietary needs, but it would be fairly easy to adapt to gluten free for example. Substitute gluten free pasta and gluten free flour for the regular wheat flour listed, or use spiraled vegetable noodles. Please feel free to adapt as needed. Of course, it might add a bit more to your costs, so be mindful of that when making your budget.
Below you will find the plan and links to recipes. These plans will always be free for those of you who just can't squeeze any more out of your budget.  I get it and it's my mission to help all families get good food on their tables no matter what.
October Real food frugal meal plan
Breakfast options:


toast
eggs (hard boiled, fried, scrambled, poached)
peanut butter and toast
bacon
oatmeal
apples with peanut butter
banana with peanut butter
pancakes
french toast
oatmeal muffins
pumpkin muffins
hash browns
egg sandwiches
Read: CHEAP BREAKFAST IDEAS
Lunch and snack options:
leftovers (always #1 option)
peanut butter and banana sandwiches
grilled cheese sandwiches
carrot sticks
celery sticks
apples
banana muffins
popcorn
cheese slices
oat balls (peanut butter, oats, honey or maple syrup)
Dinners

Week 1:
Notes:
Purchase carrots with the green tops attached and still edible.
Batch cook black beans for use in weeks 1 and 4.
Herb roasted chicken, buttered cooked carrots, mashed potatoes:  reserve half of chicken for chicken enchiladas and white chicken chili
Carrot top pesto pasta: Mix cooked pasta of any kind with the pesto.
White chicken chili:  increase beans to 2 cups, decrease broth to 8 cups, use 2 cups leftover chicken from whole chicken.
Burgers, homemade buns, sweet potato fries
French toast, bacon, wilted greens
2 eggs
½ cup milk
dash of vanilla
1 T. maple syrup
½ tsp cinnamon
6 slices of stale bread
1-2 T. butter
Whisk first five ingredients together in a bowl. Heat a cast iron skillet or griddle over medium heat. Melt 1 T. butter.
Dip bread into custard mixture, let drip and place on skillet or griddle. Cook on one side until golden, then flip to brown the other side. Serve with a pat of butter and warm maple syrup.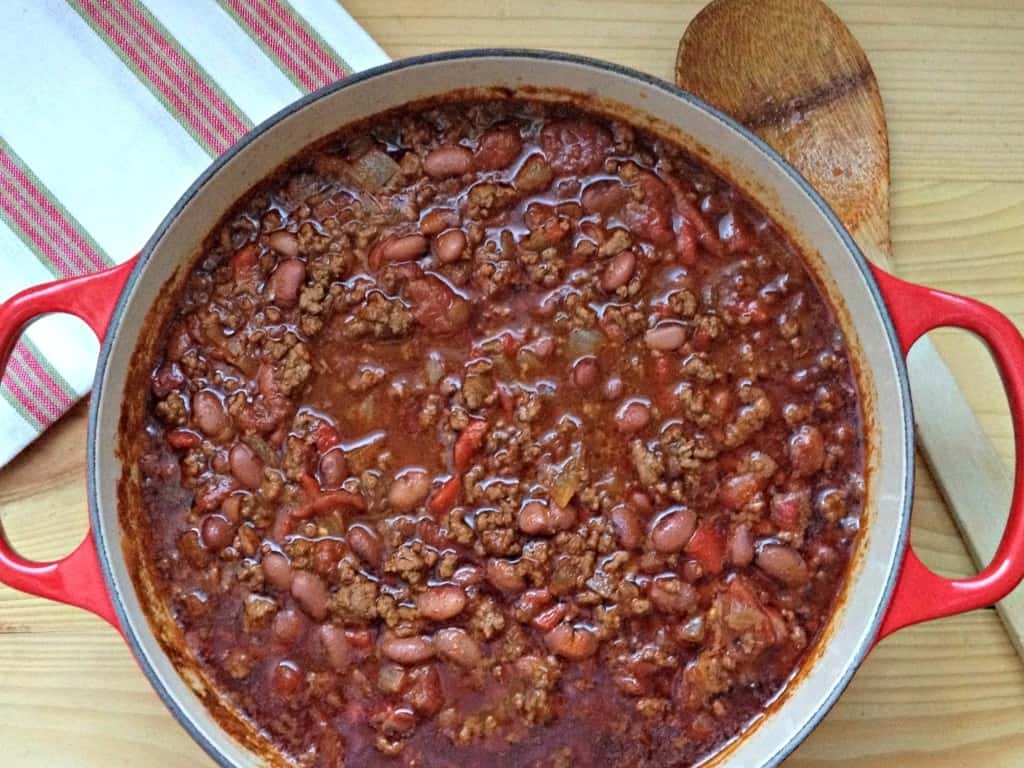 Week 2
Sausage, potatoes, onions, and cabbage (use half head of large cabbage and other half of for the beef and skillet dish)
Chili mac:  Use leftover chili over hot pasta
Lentil, bacon, and kale soup
3 slices bacon, chopped
1 onion, diced
1 stalk celery, finely chopped
2 medium carrots, diced
2-3 cloves garlic, minced
14.5 oz can diced tomatoes
3-4 cups kale, roughly chopped
6 cups chicken broth (or half broth half water)
1 cup green or brown lentils
½ teaspoon dried thyme
bay leaf
1 tsp salt or to taste
pepper to taste
Brown bacon in skillet over medium heat until crisp. Remove bacon leaving drippings. Add onion, celery, carrots, and garlic and sauté for approximately five minutes. Add remainder of ingredients. Bring to a boil and reduce to a simmer for about 40 minutes or until lentils are tender. Adjust seasonings if needed.
Ground beef and cabbage skillet

Week 3:
Chicken with roasted root vegetables
Pumpkin risotto, roasted broccoli
Butternut squash soup, buttered bread
1 butternut squash, peeled, seeds removed and cubed
1 apple, cored and cubed
1 onion, peeled and quartered
2 cloves garlic, minced or pressed
pinch of cinnamon and nutmeg
pinch of salt and pepper
4 cups stock or half water
Put everything in the slow cooker. Cook on low for 6-8 hours. Puree in a blender, immersion blender, etc until velvety . Taste and adjust salt, pepper and spices if necessary.
Broccoli cheddar baked potatoes
1 head broccoli
4 large baking potatoes
4 T. butter
¼ cup flour
2 cups milk
1 cup cheddar cheese (or more if needed)
4 slices of bacon (optional)
Bake potatoes in oven at 350 for about an hour or cook in the slow cooker on low while at work.
Cut up broccoli into bite sized chunks and steam or roast in 350 degree oven for 15 minutes.
In a skillet, melt butter. Whisk in flour and cook for a couple of minutes.
Whisk in milk and bring to a bubble to thicken. Salt and pepper
When thickened, stir in cheese. Check for seasonings and adjust as needed.
Serve baked potato with broccoli and cheese sauce and 1 piece of crumbled cooked bacon if desired.
Nachos:  Place tortilla chips on a large baking sheet.  Top with black beans batch cooked from week 1, cheddar cheese.  Bake at 450 degrees until hot and melty.
Biscuits and gravy, eggs:  Use the biscuit recipe from my chicken pot pie. Gravy recipe: Melt 2 T. reserved bacon fat.  Add 2 T. flour and cook for a couple of minutes.  Whisk in milk and bring to a bubble to thicken.  Add salt and pepper to taste.
Week 4:
Pork with butternut squash and apples
Pork fried rice with vegetables:  use leftover pork in this dish. Omit oyster sauce, and sesame oil for budget purposes.
Stuffed breakfast biscuit muffins
Creamy chicken and rice soup: Just use regular rice instead of buying wild rice unless you already have it in your home.
Burrito bowls:  Use batch cooked black beans from week one.  Use on top of rice and burrito toppings of choice, salsa, avocado, cheese, etc.