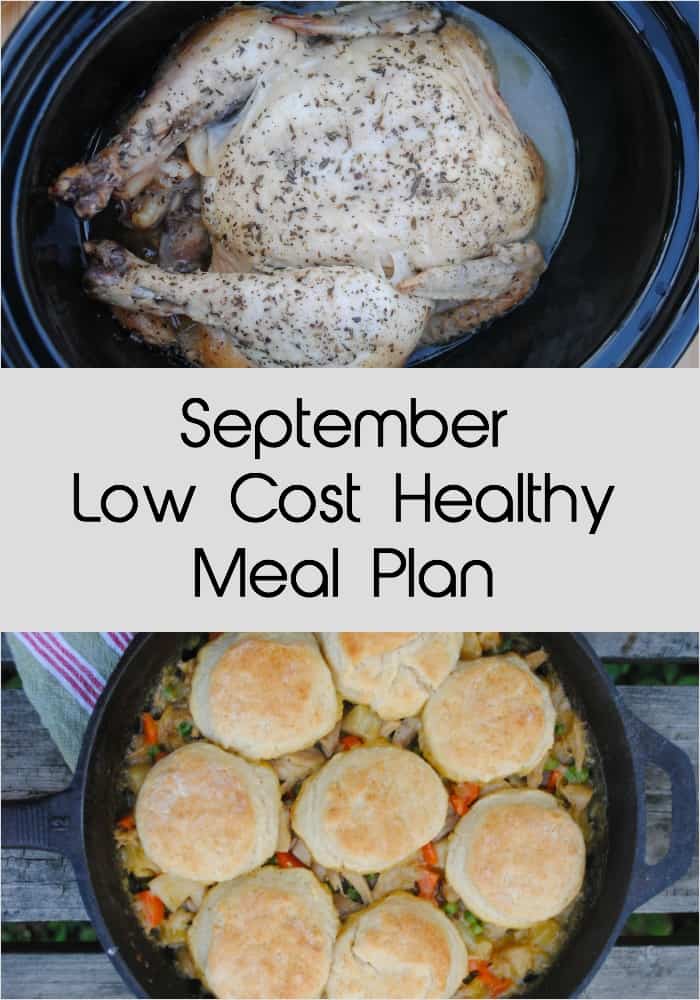 Back by popular demand, we have more frugal real food meal plans!  This time instead of just one week's worth, we have an entire four weeks!  Yes, you read that right.  Four whole weeks of frugal family friendly delicious meals.  My hope is to provide you these every single month at the beginning of the month to help as many people as possible eat well all month without breaking the bank.  This month I am getting a late start since my mom and I were on vacation the first week of September.  I apologize for my lateness, but I hope you still find this plan helpful.
In my region (Midwest) with pricing from a regular grocery store, the total cost for all of these meals for a family of four is approximately $277 for the month.  This does not include kitchen staples like dried spices, salt, olive oil, flour, etc.  With the added pantry staples, if you did not have any of them, it would add about $50-$60 to the total.
If you live in an area with a higher cost of living, your totals may be higher than mine, but this meal plan is still a very frugal meal plan full of healthy real food (no cans or boxes), and will still slice your food budget drastically.
Allergies and food sensitivities
A note on food sensitivities and allergies.  It is impossible for me to write a plan that suits everyone's dietary needs, but it would be fairly easy to adapt to gluten free for example. Substitute gluten free pasta and gluten free flour for the regular wheat flour listed, or use spiraled vegetable noodles.  Please feel free to adapt as needed.  Of course, it might add a bit more to your costs, so be mindful of that when making your budget.
These meal plans are meant to work together so that you are using multiple items for multiple meals and also utilizing leftovers.  You will see batch cooking and large cuts of meat stretched for several meals.  A typical method that I use is to cook a large amount of protein (whole chicken, large pork roast, or batch beans) to use for multiple meals like quesadillas, salads, casseroles, or soups.  This is a great way to reduce waste and re-purpose leftovers so that they find new tasty life. Below you will find the plan and links to recipes.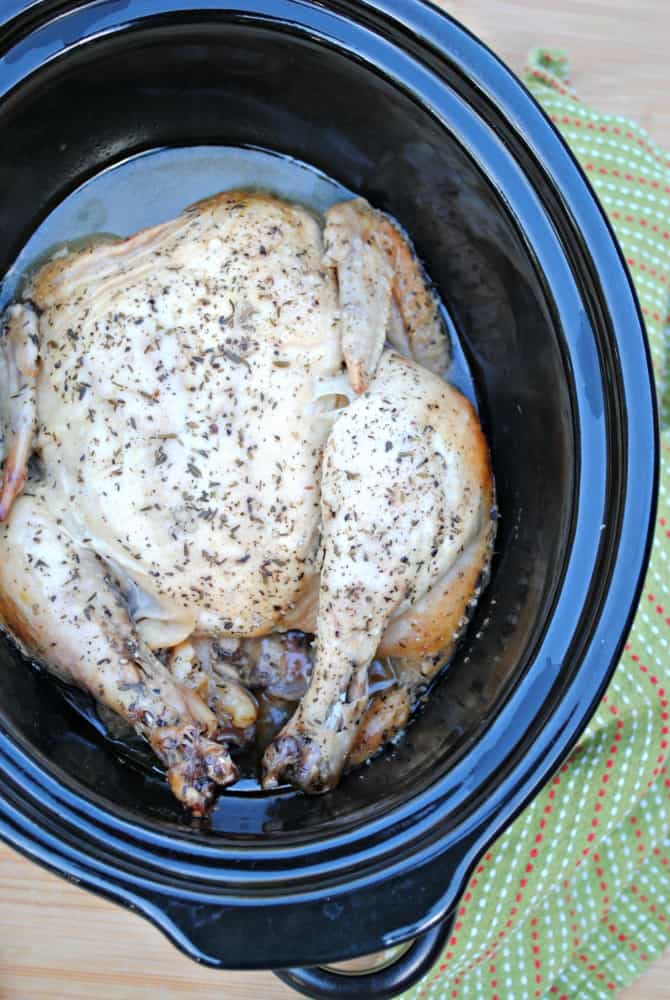 September Real Food Frugal Meal Plan
Breakfast options:
eggs
toast
peanut butter and toast, apples, or bananas
oatmeal
fluffy pancakes or oat pancakes
French toast
banana oatmeal muffins
hash browns
breakfast burritos using leftover tortillas
baked apple oatmeal
Lunch and snack options:
leftovers (always #1 option)
peanut butter and banana sandwiches
grilled cheese sandwiches
quesadillas
carrot sticks
celery sticks
apples
banana muffins
popcorn
cheese slices
oat balls
Homemade items to make:
bread: white or whole wheat
tortillas
salad dressing:  2 parts olive oil, 1 part vinegar, garlic, salt, pepper, spices to taste
Dinner Plan

Week 1:

slow cooker chicken, mashed potatoes and gravy, Brussels sprouts
tomato soup (use milk instead of cream) and grilled cheese
mashed potato cakes (add bacon), fruit, sautéed spinach (reserve a portion for stuffed shells)
chicken stir fry (1.5 cup leftover chicken, sub broccoli, onions, carrots for snap peas) and rice
spinach stuffed shells, roasted broccoli
pizza, salad4vp.970.myftpupload.com/chicken-pot-pie-with-biscuit-topping
chicken pot pie, salad

Week 2:

pork roast, buttered peas, roasted potato wedges
shredded pork sandwiches with leftover pork, sweet potato fries
quiche (sub milk for cream), buttered carrots
Mexican pork soup

spaghetti (buy 1 lb but only use ½ lb and save the other half for taco mac and cheese next week), salad Note: If jarred sauce is cheaper, use that instead.
pinto beans, corn bread (omit sugar, sub milk for buttermilk), greens
bean burritos (leftover beans mashed, cheese, tortillas), Spanish rice

Week 3:
oven fried chicken legs (6 chicken legs dredged in flour seasoned with salt, pepper and garlic powder.  Bake at 450 for 45 minutes, flipping once), sautéd cabbage, corn
salmon patties, macaroni and cheese, green beans
taco mac and cheese (leftover mac and cheese, taco seasoning to taste, ½ lb ground beef), fruit, peas
chicken piccata (use two chicken breasts sliced in half to make cutlets and omit capers), green beans
cabbage casserole, buttered carrots
leftovers or breakfast
Week 4:
Prep:Batch cook 1 lb. of black beans

black bean and corn quesadillas (cook 1 lb. black beans.  Use 1.5 cups for recipe and a couple of cups for taco salads later in week.  Mix together black beans, sautéed onions, 3 T. salsa, 1 cup corn, salt,1.5 cup shredded cheese.  Use as filling in quesadillas.), sliced avocado
tuna noodle casserole (Use homemade breadcrumbs and omit parmesan cheese.  Top with cheddar.)
black bean taco salad (use leftover black beans and top lettuce salads with black beans, salsa, sour cream, peppers, and cheese.)
omelets with peppers, fruit (apples, bananas, and oranges or on sale fruit)
BLTS, oven fries
leftovers, clean out the fridge, breakfast for dinner
Notes on food costs
A few more notes on food costs. I firmly believe in grace when it comes to nourishing ourselves. We can only do what we can do. Buy the best quality of food you can afford. If you can't afford the highest quality of everything, you just can't. Bellies still need to be fed regardless.
Consider frozen vegetables if they are less expensive than fresh. Once you have trimmed down all of those options and if you still can't afford that amount, try checking out local food pantries and food banks. Churches/religious organizations and through your city are good places to look for those options. Dry goods like oats, beans, flour, pasta, canned tomatoes, and peanut butter are items they might typically carry. Some even offer meat and produce. Also check out discount grocers, local food co-ops, CSAs, or food ministry programs for possible cheaper options than your local grocery store. I would also encourage everyone to grow something of your own. Whether it's in pots, a windowsill, or a backyard, anything you can grow yourself will be money saved off of your grocery bill, even if you're just growing salad greens and herbs.
Try out more of my cheap healthy meal plans!