A list of frugal meals for when you are on a tight budget and need some inspiration for cheap meals. You can eat well even on a small grocery budget!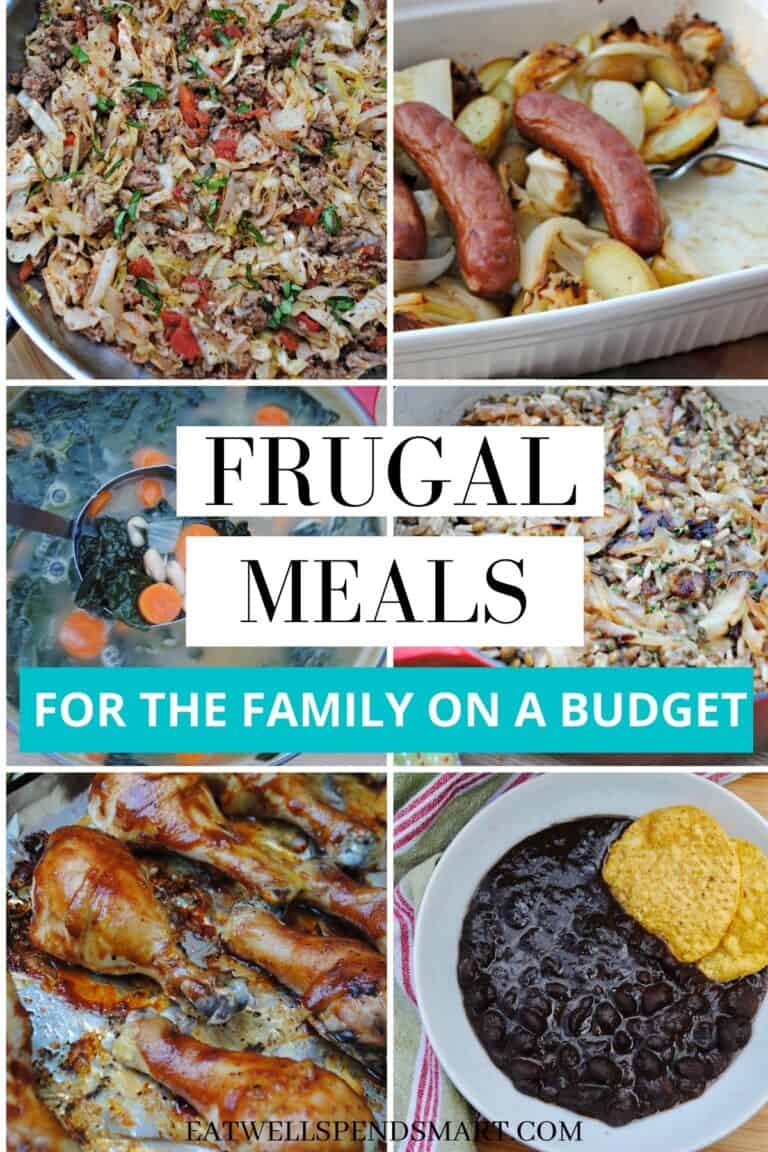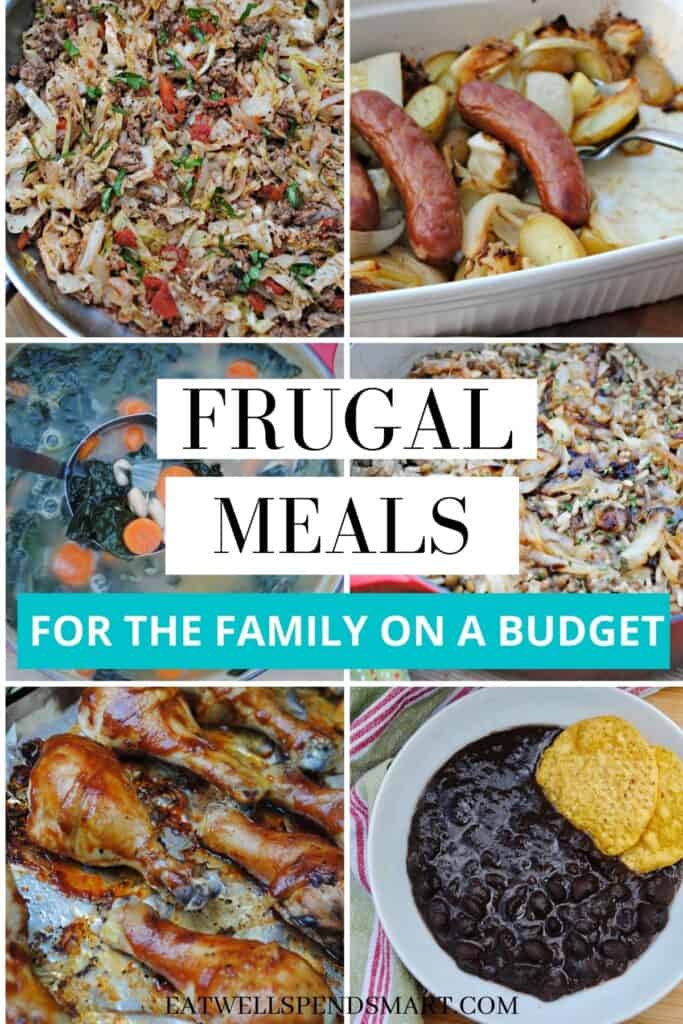 Meal planning when you are on a budget can be stressful. Sometimes there is just not a lot of wiggle room in the food budget to work with and you find yourself on the internet searching for frugal recipes to fill in the gaps. I've been there. Sometimes I'm still there. We want to feed our families nutritious food but we still have to balance the finances.
The good news is that you don't necessarily need a lot of money to to feed your family well. This is where frugal meal ideas come in. We can give our grocery bill some breathing room by incorporating cheap meals into our meal rotation.
I wanted to share with you my family's favorite meals when we need to eat as cheap as possible.
Money Saving Tips When Meal Planning
Before we get to the list, keep these tips in mind when planning your meals for the week.
Cheap grocery list: Take this list with you to the grocery store to stock up on foods that will give you the most bang for your buck. You'll find that these meals are mostly made up of items on this list.
Cheap Breakfast Ideas: Fortunately breakfast food is pretty inexpensive. If you are still needing ideas, try browsing this massive list.
Cheap Healthy Snacks: Snack ideas that are easy on the wallet and provide good nutrition.
Feeding Older Kids and Teens on a Budget: How do older kids and teenagers eat so much? Do they ever get full? Read about my strategies for feeding the masses while still staying on budget.
Use What you have to save on Groceries: The best way to create frugal meals is to use what you already have before buying more. Do this every single time you meal plan and watch your grocery bill plummet.
Ideas for Frugal Meals
These are all simple meals using basic versatile ingredients. I hope they help you save money and inspire you in your quest to come up with frugal dinners to feed your family. It's my passion to help struggling families eat healthy frugal meals.
With just corn tortillas, black beans and spices, this is a dirt cheap meal that kids love! The shells get crispy and taste like a fast food treat for very little money. It's been a reader favorite recipe for years!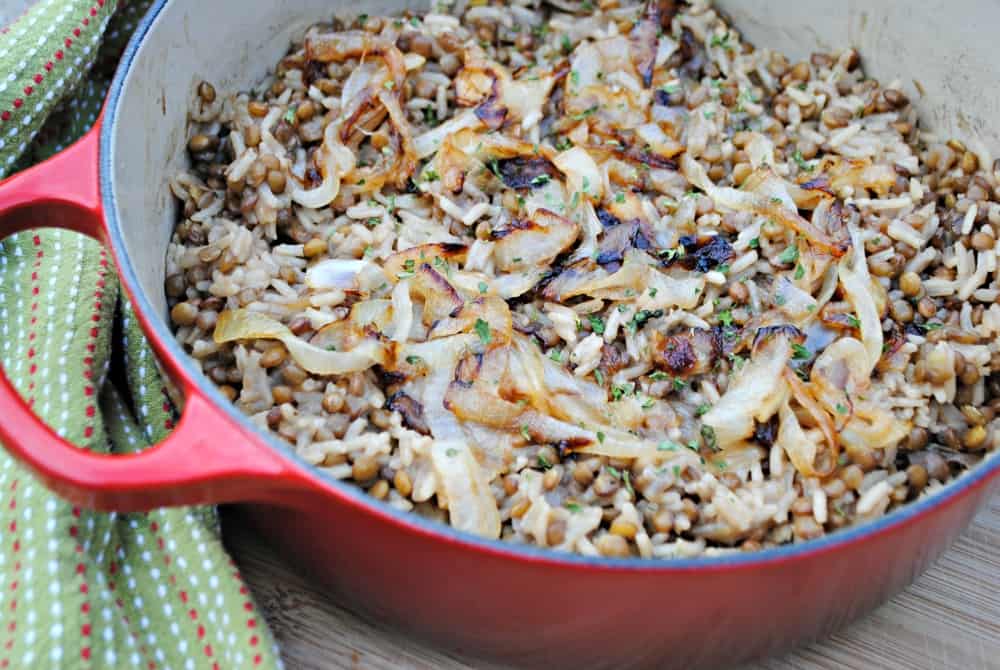 As soon as the budget gets tight, lentils and white rice go on the list because they are such cheap ingredients. Inspired by Middle Eastern cuisine, this is such culinary treat and easy on the wallet.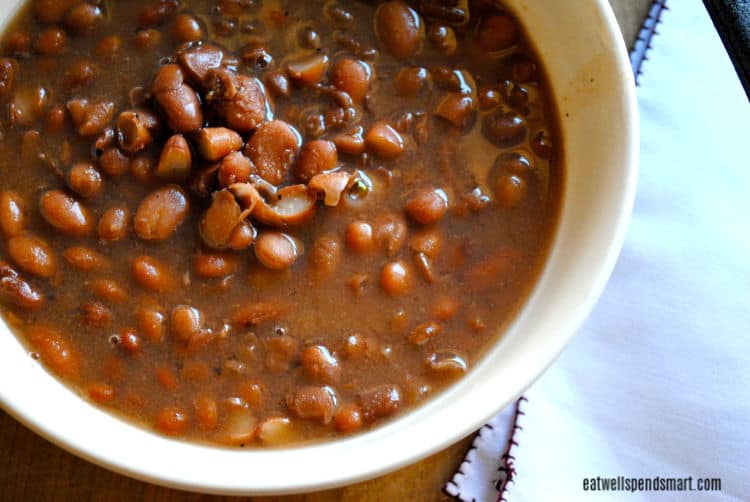 This could be the cheapest meal of the bunch. Bean recipes are always frugal. A bag of dry beans, some seasoning, and some bacon fat get thrown into the slow cooker and you are well on your way to an ultra cheap Southern feast.
Make sure you use the leftovers to make even more frugal meals. Read: Ways to Use Leftover Beans
If you have basic spices in your pantry, this flavorful beans and rice only calls for a couple of cans of beans, rice, and a can of tomatoes. So easy and frugal.
Split pea soup isn't much to look at, but it is very yummy and comforting on a cold day. This split pea soup can be made vegetarian just by omitting the optional ham hock. Both ways are delicious and frugal!
Dry black beans are a great thing to keep stocked in your pantry for this super cheap meal. The total cost is only a few dollars for the entire pot of soup!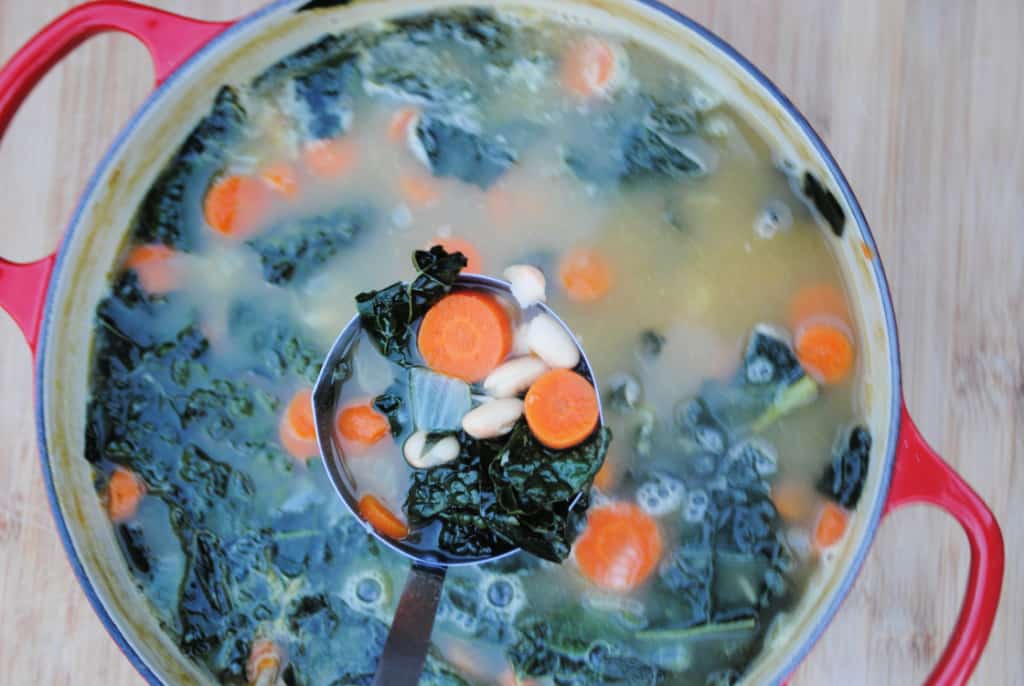 White beans and inexpensive vegetables are the star of the show in this tasty soup. It costs very little, especially if you make your own broth, and it packs a ton of nutrition.
8. Lentil Soup
Lentil soup is one of the cheapest soups around and it's healthy! Stock, dry lentils, rice, potatoes or sweet potatoes, carrots, celery, onion, herbs, salt and pepper are all it takes for this humble meal.
Boil a whole chicken and use a portion of it to make this delicious soup. It's especially comforting in the winter months. Use the leftover chicken and bones for another meal. Read: HOW TO GET MULTIPLE MEALS FROM A WHOLE CHICKEN.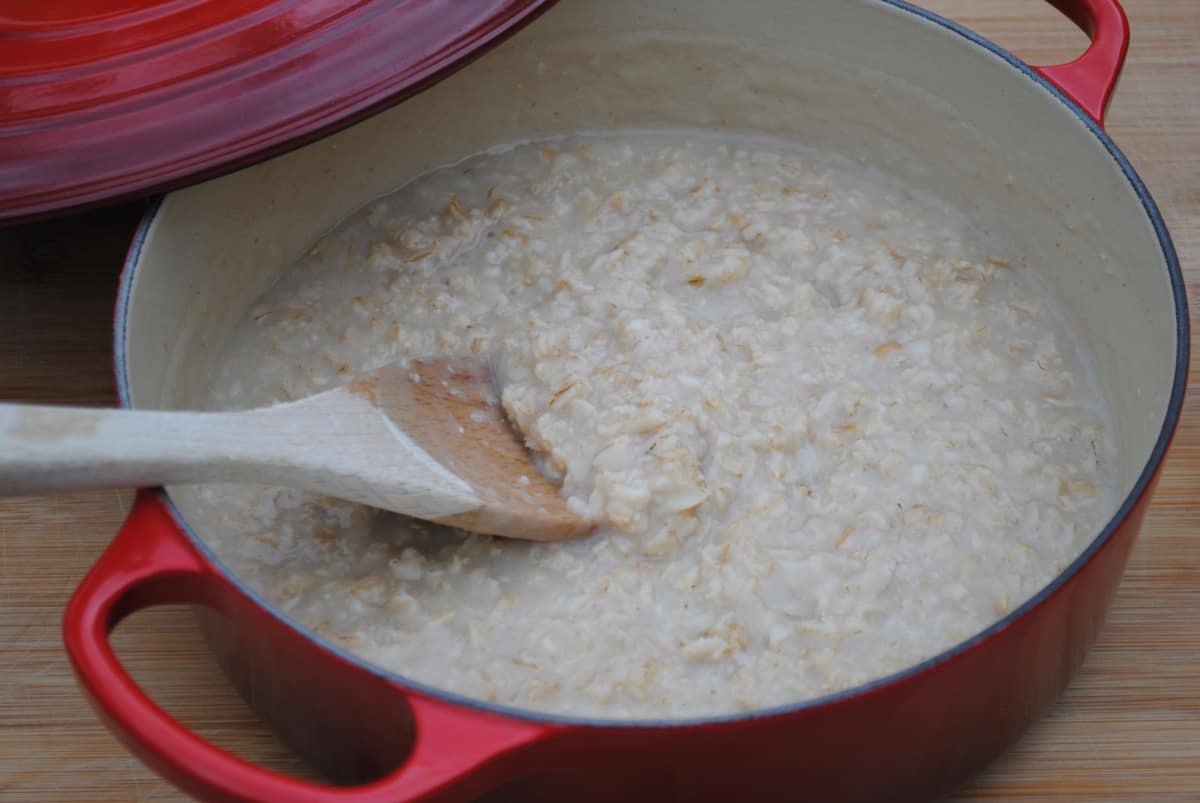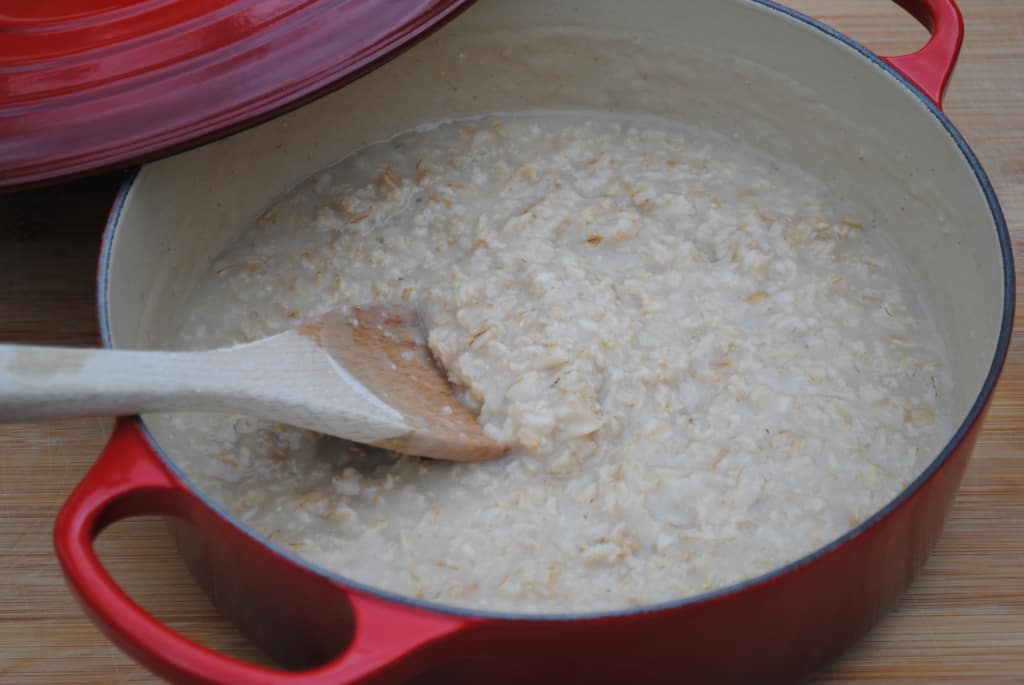 Oatmeal is a cheap breakfast but can also be made for dinner. Serve an oatmeal bar with fruit, peanut butter, honey, and other mix ins for a cheap breakfast for dinner night.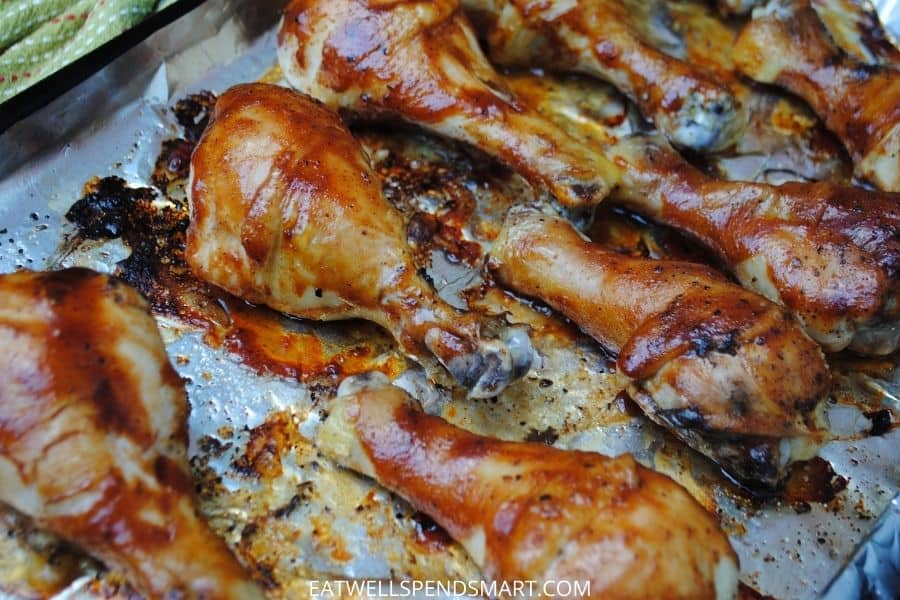 Chicken drumsticks are very cheap. Pop them in the oven with some bbq sauce and your kids won't even realize you are eating on a budget. They are definitely a meal that they whole family will love.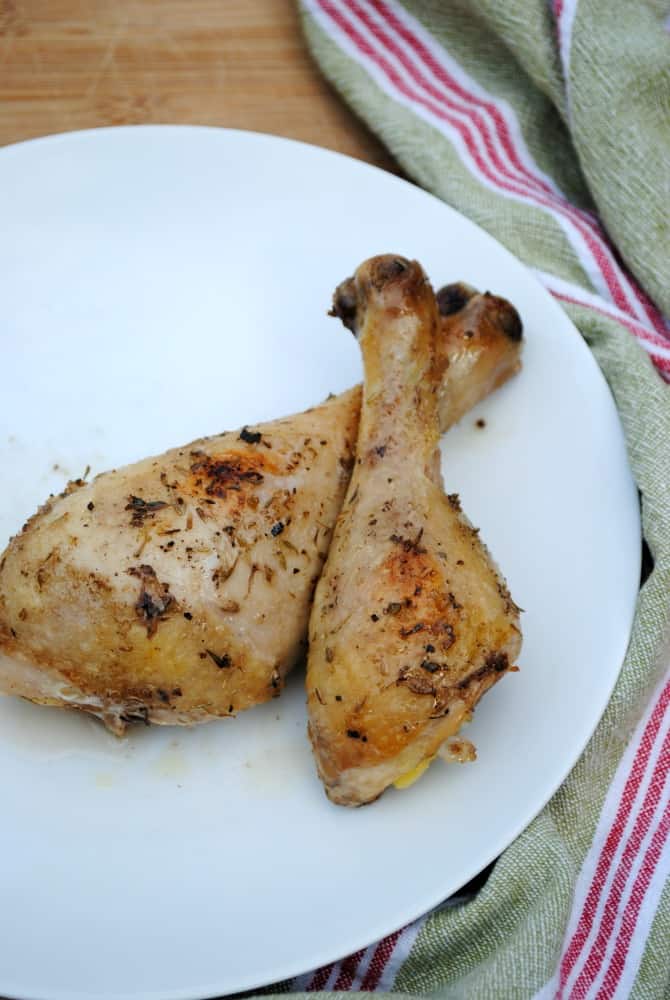 These herbed baked chicken legs are another way to serve budget friendly drumsticks. They are simply seasoned with herbs and salt and pepper, but your family will love them. You will love how easy they are.
Chicken thighs are a very inexpensive protein. I love to bake roast them in the oven with vegetables for an easy sheet pan dinner. They get crispy and delicious! For the vegetables, I love using inexpensive root vegetables or even frozen green beans.
I love a one dish dinner and this one is a winner. Cabbage, onions, and potatoes are all super cheap. Add a sausage of your choice and let it all bake together. It's a great fast easy meal.
Cabbage is so cheap and is the base for this easy skillet dish. It's a great way to get extra veggies into your family's diet without costing a lot of money.
When money was tight growing up, we would always resort to salmon patties. I loved them growing up and my own family today loves them too. Canned salmon is very inexpensive and a great frugal protein source.
Frozen peas and pasta are always stocked in my kitchen. When you have no energy and money is low, try this super frugal pasta dish. It's an easy dinner and yummy! If you are on an extremely tight budget, you could omit the bacon.
18. Bean burritos
Use leftover pinto beans and mash them in a skillet to make refried beans. You could add some water or broth to thin out if needed. Simply fill tortillas with refried beans and cheese and roll up into burritos. These are also great to fill the freezer for quick lunches and dinners.
19. Eggs
Eggs are incredibly versatile and a great frugal food. Make hard boiled eggs, soft boiled, poached, fried, or scrambled. You can eat them alone or with some fresh fruit or toast. Make an egg sandwich, a quick egg bake, or egg salad. There are so many frugal meals to make with this cheap protein.
20. Quesadillas
Quesadillas are a great frugal meal and excellent for using leftover bits of food. Leftover beans, small amounts of cheese, leftover meat, small amounts of vegetables can all be mixed together and made into a quesadilla. Place the filling on half of the tortilla and fold over. Brown both sides in a skillet with olive oil or butter. Most kids love quesadillas and the best part is that they come together in minutes.
Who doesn't love breakfast for dinner? Pancakes are filling and go a long way to feed a family on a budget. Skip the boxed mixes and make your own using pantry ingredients. Even picky eaters love this one.
Now I want to hear from you! What are your favorite frugal dinner ideas?