A cheap grocery list for when money is tight and you want to get the most good food for your money. You do not have to buy junk food to eat on a budget. Ideas for fruit, vegetables, protein, snacks, and pantry items.
Why would you need a cheap grocery list?
According to the USDA, the average family of four is currently spending anywhere from $158.60-$316.20/week on groceries. Food costs are rising and people are looking to cut back on expenses. Food costs are a big source of spending. Heavily relying on naturally inexpensive food helps lower the grocery bill without needing to use other more complicated money saving strategies.
There are so many reasons why you might need a cheap grocery list. While I don't recommend skimping on good nutritious food, there are often circumstances that require us to adjust our spending. Maybe you have experienced some of these.
tight budget

job loss

getting out of debt

college student

saving for a big expense

rising food costs
changes in the economy
Tips for making cheap groceries even cheaper
While the cheap grocery list below is going to automatically save money, there are a few ways to save even more.
Skip name brands: Generic store brands are often just as quality as the name brands and are much less expensive. Unless you can find a good sale on the name brand or have a good coupon/rebate, choose generic instead.
Buy on sale: Look for markdowns or loss leaders in your grocery store's ad. You can often find cheap food even cheaper this way.
Shop at the least expensive local grocery store: This takes a little bit of work to compare prices, but shop at the store that has the best prices on the foods that you eat the most.
Find ways to make your food do double duty: Buy versatile food that you can use for multiple purposes. Stretch that whole chicken over multiple meals. Use your bag of carrots in more than one meal. Eat baked potatoes one night and then repurpose your leftover baked potatoes for another meal the next day.
Scan receipts for cash back: Apps like Ibotta and Fetch are easy ways to scan your receipts to earn cash back on groceries. Earnings can be accumulated for cash or gift cards.  Get $10 when you sign up through my link for Ibotta and redeem your first offer.

Get 2,000 points with Fetch Rewards when you scan your first receipt and use my code. Download Fetch Rewards on your phone. Use my referral code AJ3YQ.
Cheap Grocery List
While prices may vary depending on your location or grocery store, these are all generally cheap groceries that any store will carry. You will find that they are basic foods that are very versatile and can be used for multiple meals.
I have included real prices in my area at either Walmart or Aldi. Please do not get hung up on prices if yours are higher. This list will still be a cheap grocery list compared to other foods. This is meant to help you gain inspiration to build a frugal meal plan around budget friendly foods.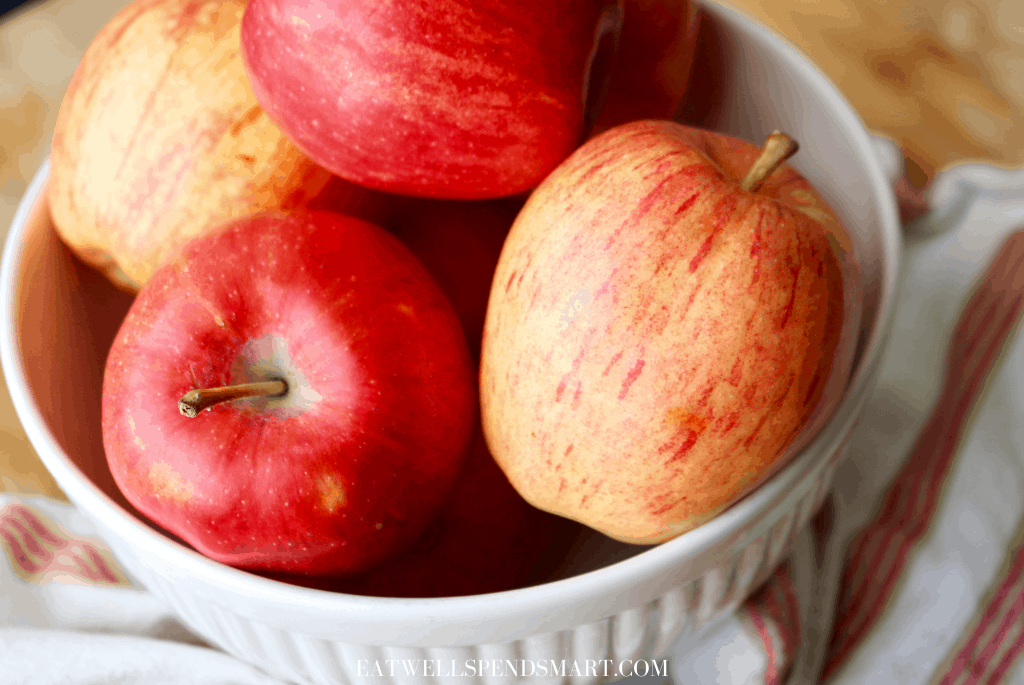 1. Apples
Price: Walmart $3.12/3 lb bag
Fresh fruit can often be expensive, but I find a bag of apples is consistently fairly cheap. Plus they can be used in so many ways. They can be eaten plain for a snack, stewed for a dessert or side dish, or eaten for breakfast in a baked apple oatmeal.
2. Bananas
Price: Walmart $.17/each
Bananas are another great cheap fruit. You can get an entire bunch for just a couple of dollars. They are perfect for eating on their own, cut up in yogurt or cereal, with peanut butter, or in a smoothie .
3. Oranges
Price: Aldi $3.29/ 3 lb bag
A bag of oranges is another inexpensive fruit just about year round. Sometimes cuties are cheaper and sometimes the large oranges are. Check the sales before purchasing to get your best option.
4. Any fruit that is on sale (ex. Pineapple)
Price: Aldi $1.75/each
After apples and bananas, I look for fruit that is on sale or the lowest cost per ounce. This week that is pineapple for me. It may be different for you depending on the time of year and your location.
5. Applesauce
Price: Walmart $1.98/46 oz.
Applesauce is a great inexpensive snack to keep on hand. You can get a large container for cheap and it feeds a lot of mouths. Stay away from the squeeze pouches if you are on a budget. Although they are very convenient, they are much more expensive per ounce than the large jars. Remember that convenience costs money.
6. Carrots
Price: Aldi $1.45/2 lb. bag
A bag of carrots is incredibly cheap and an essential vegetable to keep on hand. It is the base for many soups and sauces. It also is a cheap side dish and a great snack.
7. Onions
Price: Walmart $1.94/3 lb bag
Onions are another cheap grocery staple to always have in the pantry. They add flavor to just about every dish. I find a bag of onions to be more economical than loose.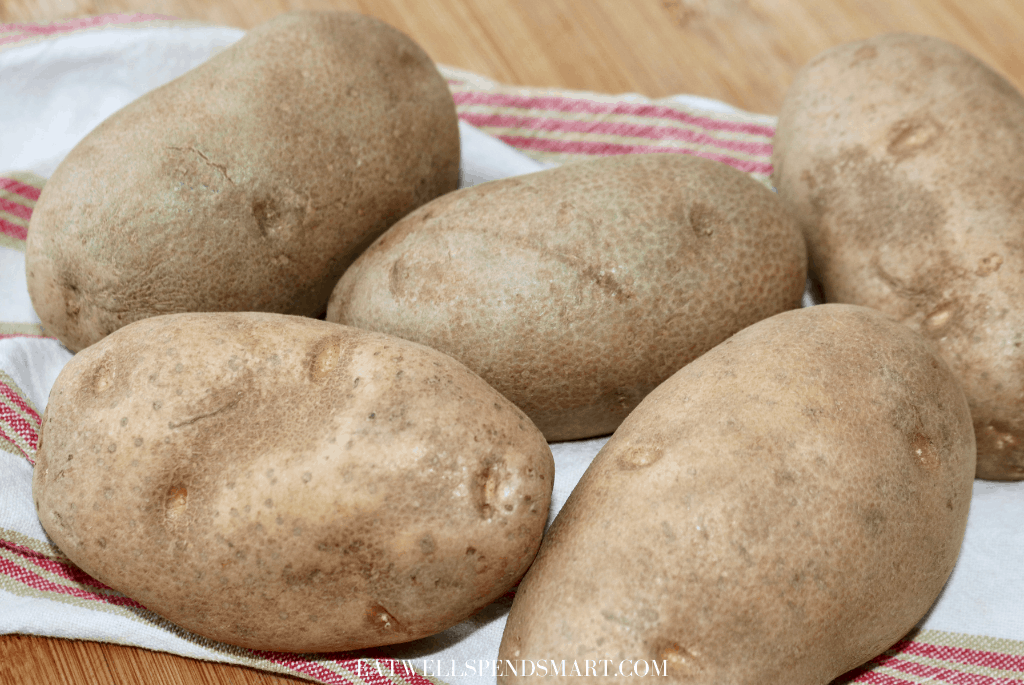 8. Potatoes
Price: Aldi $4.39/10 lb bag
I buy a 10 lb bag of potatoes every two weeks. Not only are they a favorite at my house, they are incredibly cheap and versatile. When prioritizing what foods to buy with my grocery budget, potatoes are at the top of my list.
READ: 16 ways to use leftover baked potatoes
9. Sweet potatoes
Price: Walmart $.78/each
Although they aren't as cheap as white potatoes, sweet potatoes are still inexpensive. I love baking them, stuffing them with bbq, making sweet potato fries, or using them in a hash.
10. Cabbage
Price: Aldi $.79/lb
There's a reason peasant food included cabbage and lots of it. It's so cheap and there is so much you can do with it. Put it in vegetable soup, boil it, make an Italian ground beef and cabbage skillet, use it in a cabbage roll casserole, sauté it, or make a slaw. One cabbage can stretch for a couple of meals and it is packed with nutrition.
11. Cucumbers
Price: Walmart $.62/each
I frequently find cucumbers for less than $1 at the local grocery store. They are one of the most economical vegetables in the grocery store and great for snacking or using in salads.
12. Celery
Price: Aldi $1.55/package
A bunch of celery is also a great versatile vegetable to buy. Use it in soups, casseroles, or stir fry. It is also a cheap snack to cut up at the beginning of the week to use for dipping in homemade sour cream dip or slathering in peanut butter.
13. Yellow squash
Price: Aldi $1.45/lb
If you have ever had a garden, you know how squash grows like crazy from one single plant. That is one reason it is so cheap in the store. Squash is excellent in the summer sautéd, fried, grilled, in a stir fry, or in a casserole. 
14. Zucchini
Price: Aldi $1.45/lb
Zucchini is an excellent cheap nutritious vegetable in the summer. Sauté it, fry it, make stuffed zucchini boats, 
15. Corn
Price: Walmart $.38/ear
Corn in the summer is dirt cheap. You can often find ears of corn for 3/$1 which makes it a very inexpensive side dish. 
In the summer when fresh corn is not readily available and inexpensive, frozen corn is very cheap as well.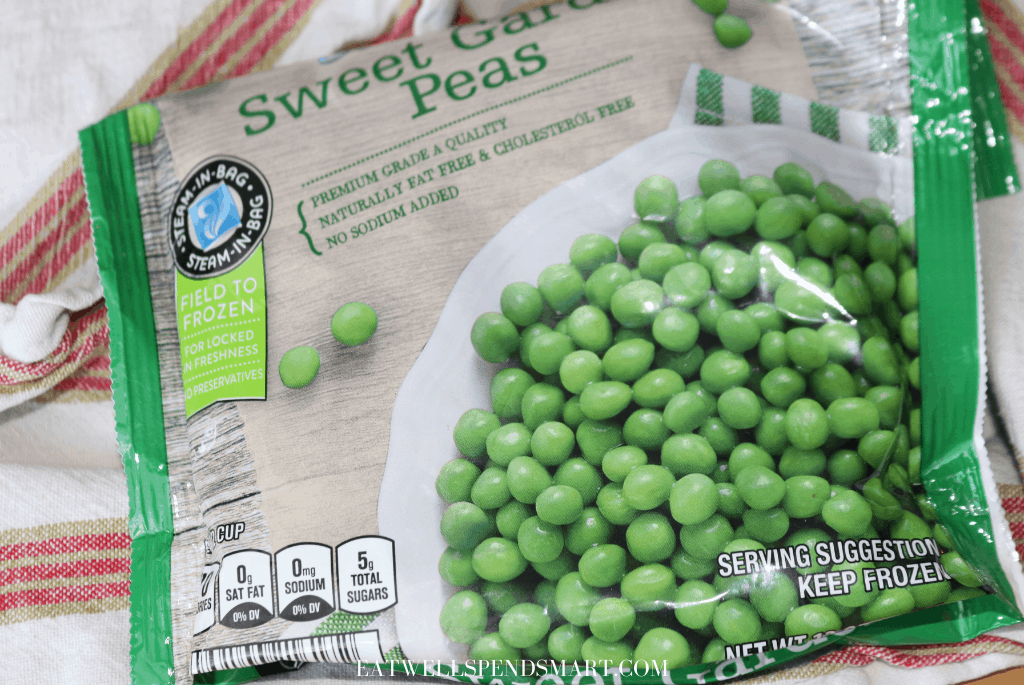 16. Frozen peas
Price: Walmart $.77/12 oz bag
Frozen peas should be a staple of every kitchen. Throw them in a pasta, put them in a soup, fried rice, or as an inexpensive side dish. I love frozen peas!
17. Frozen broccoli
Price: Aldi $.95/12 oz bag
Fresh broccoli is fairly inexpensive, but frozen broccoli is even cheaper. The best part is that the broccoli is also already chopped for you which makes it super convenient. Roast it, use it in a stir fry, or make broccoli cheddar soup. 
18. Frozen green beans
Price: Walmart (cut green beans) $.80/12 oz bag; (fine green beans) $1.34/12 oz bag
Frozen green beans are an absolute staple in my home. While canned green beans are also cheap, I prefer the crisp and freshness of the long thin frozen green beans. Use them as a side dish like garlic green beans, in a soup, a stir fry, or Cowboy casserole.
19. Frozen mixed vegetables
Price: Walmart $.84/12 oz bag
Frozen mixed vegetables are great to have on hand for casseroles, stir fry, fried rice, or a quick and easy side dish.
20. Spinach
Price: Aldi $1.09/8oz bag
Spinach is an excellent versatile green. You can eat it as a salad, in a soup, blended in a smoothie, sautéd with eggs, or on top of a sandwich.
21. Whole chicken
Price: Aldi $7.45
I often sing the praises of how economical a whole chicken is. Watch my video and read my post on how I get multiple meals from one chicken. It is a great way to stretch your food. Not only do you get the meat, you also get the bones to make broth!
22. Ground beef
Price: Aldi $3.39/lb 80% lean; $5.15/lb organic grass fed
As far as beef goes, ground will be your most budget friendly option. To get the best price, wait for it to go on sale and stock up on the sale price.
23. Chicken thighs
Price: Aldi $1.99/lb
Chicken thighs are one of my favorite meats. They don't dry out as easily as breasts and they are more flavorful in my opinion. Try my grilled chicken thighs or sheet pan herb roasted chicken thighs with vegetables.
24. Chicken legs
Price: Aldi $1.49/lb
Out of all of the cuts of chicken, drumsticks are probably the cheapest. They are also very kid friendly. Try my oven baked bbq chicken legs for a great cheap meal.
25. Pork
Price: varies depending on cut
Pork is often less expensive than beef and is very delicious. I often find large pork roasts on sale for a great price which can be stretched for multiple meals. Also pork chops often go on sale which are great for grilling or for skillet pork chops.
26. Canned tuna
Price: Walmart $.83/can
Canned tuna is great for tuna salad, but there is so much more you can do with this frugal protein.
Read: 16 CANNED TUNA RECIPES
27. Canned salmon
Price: Walmart $3.54/can
Canned salmon for salmon patties was a frugal staple in my childhood home. When we were broke, we ate salmon patties and I think they are delicious!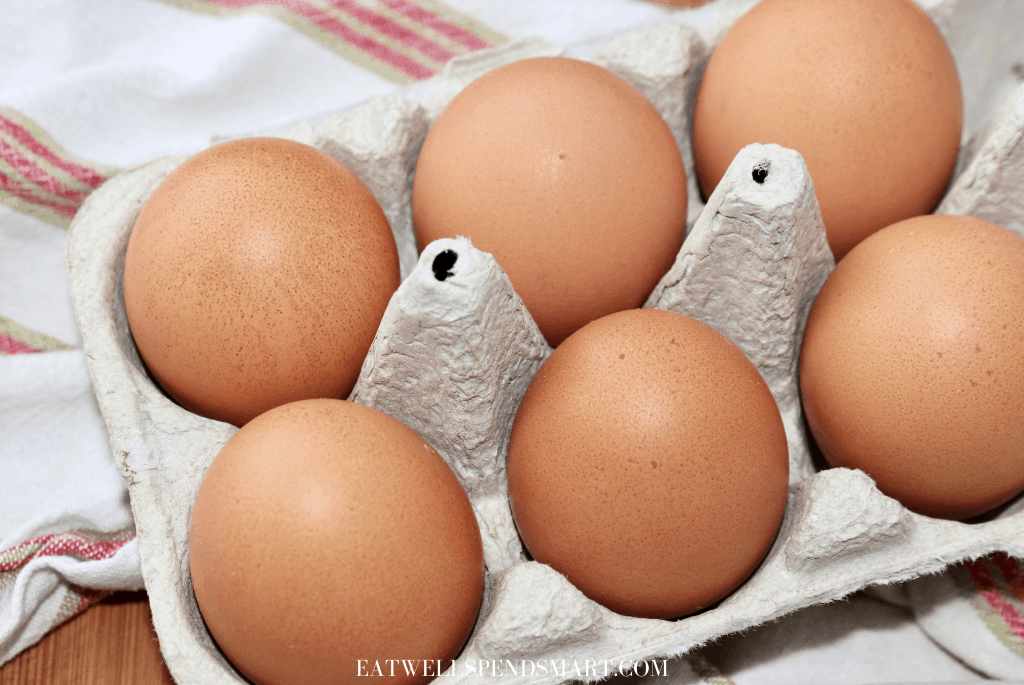 28. Eggs
Price: Adli $1.29/dozen
Eggs are an excellent cheap protein source and incredibly versatile. Hard boiled, soft boiled, poached, fried, scrambled for breakfast, lunch or dinner. Make a vegetable frittata or egg casserole. Make a fried egg sandwich, French toast, or egg salad. Even if you buy high end eggs, they are still one of the least expensive protein sources around, second to legumes.
29. Lentils
Price: Walmart $.98/lb
If you enjoy them, lentils should be in every frugal pantry. They are high in fiber and full of nutrition. They are great in soup, sloppy Joes, curries, and my favorite lentils and rice.
30. Dry beans
Price: Walmart $1/lb
White beans, pinto beans, garbanzo beans, black beans are all super cheap and a definite buy if you are on a budget. I love a big pot of slow cooker pinto beans and cornbread. Total comfort food and ultra cheap. Dry beans are more economical than canned, but they do require some time to prepare. 
Read: WAYS TO USE LEFTOVER BEANS
31. Canned beans
Price: Walmart $.54/15.5 oz can
For emergencies and when you need something super fast, canned beans should be another cheap pantry staple. You can make inexpensive crispy black bean tacos or chickpea curry. Both are very delicious and frugal. Read: 30 AWESOME RECIPES WITH BEANS
32. Rice
Price: Aldi $1.20/lb
There's a reason why when people talk about cheap food they call it a rice and beans budget. Rice is very inexpensive and filling. It is also extremely versatile.
Read: 20 DELICIOUS RECIPES USING RICE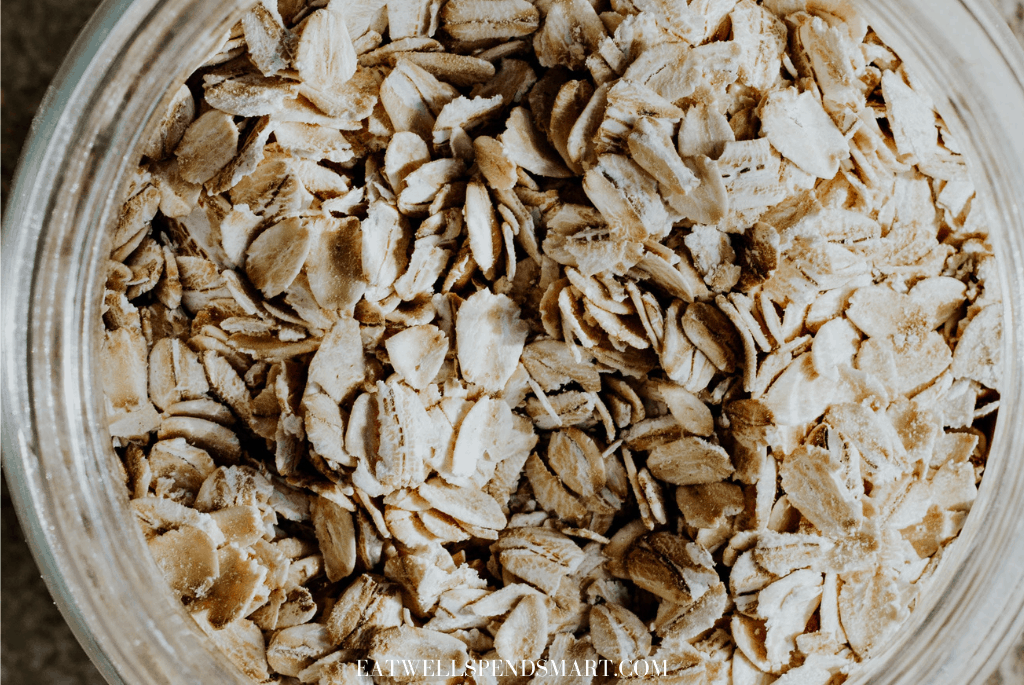 33. Oats
Price: Aldi $2.75/42 oz.
Oatmeal is a very inexpensive breakfast option and much cheaper than cereal. I also love making oat muffins for snacks or breakfast.
Read: 30 RECIPES USING OATS
34. Pasta
Price: Walmart $.82/lb
Pasta is the ultimate cheap food and also great for beginner cooks. It can be as simple as buttered noodles, pasta with peas and bacon, or paired with pasta sauce.
35. Pasta sauce
Price: Aldi $.95-$2.05 conventional vs. organic
Pasta sauce also is a great cheap food to have on hand for a quick and easy meal with pasta. Eat it meatless, with poached eggs, or chickpeas for a very frugal meal.
36. Bread
Price: Aldi $1.05/loaf
Great for toast, sandwiches, and French toast, bread is a vehicle to many cheap meals.
37. Grits
Price: Walmart $1.98/24 oz.
This is more of a southern food, but grits are very cheap and stretch a long way. It makes for a cheap breakfast item or inexpensive side dish.
38. Cornmeal
Price: Walmart $1.54/24 oz.
Cornmeal is great to have for homemade cornbread, breading foods, or corn cakes. I don't often use cornmeal in my kitchen, but it is very inexpensive and deserves its place on the cheap grocery list.
39. Corn tortillas
Price: Aldi $1.35/30 ct
Corn tortillas are an inexpensive alternative to flour tortillas. Use them in enchiladas, tacos, or slice them and crisp them up for tortilla soup.
40. Canned tomato products
Price: Walmart $.72-$1.14 conventional vs. organic
Canned tomato products come in so handy. Tomato paste, diced tomatoes, and tomato puree are all very versatile and inexpensive. You can make a pasta sauce, pizza sauce, put it in a soup, or make sloppy Joes. I always have a couple of varieties in my pantry.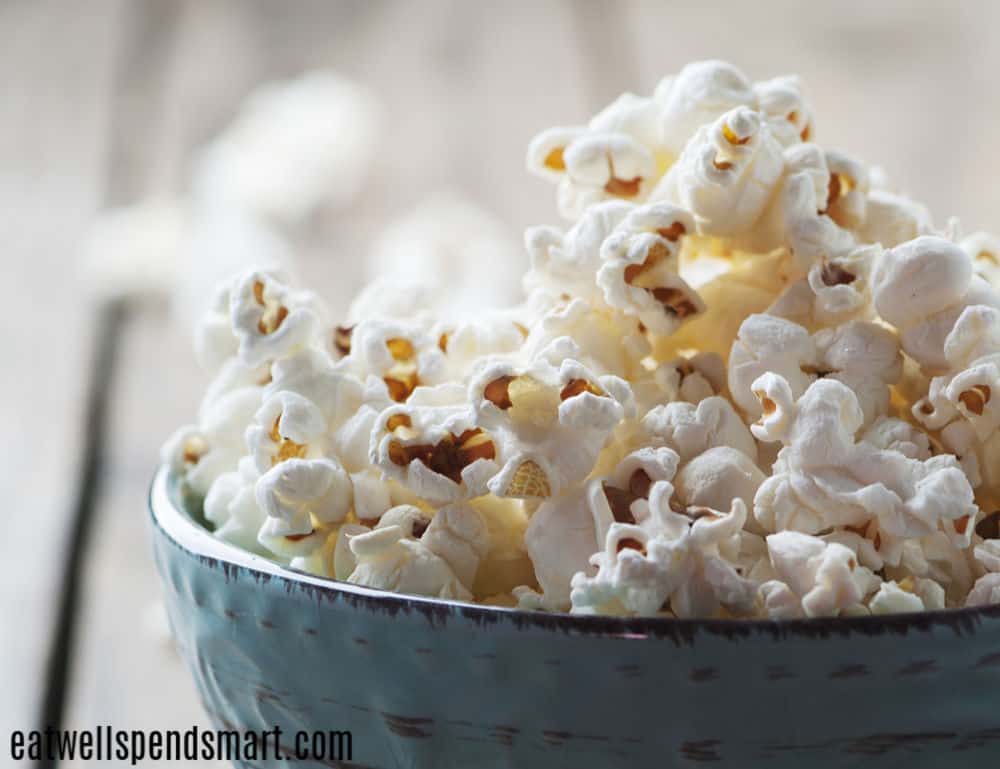 41. Popcorn
Price: Walmart $1.66/32 oz.
Skip the bags of popcorn and go for the kernels. It is a frugal high fiber snack and very kid friendly. Use an air popper or make stovetop popcorn.
42. Peanut butter
Price: Walmart $3.12/16 oz. natural peanut butter
A jar of peanut butter stretches a long way for sandwiches, snacks or stirred into oatmeal or smoothies. It's another frugal protein source and kid friendly.
43. Flour
Price: Walmart $1.18-$4.87 conventional vs organic
Flour is very inexpensive per pound and can be used in so many ways. Make pancakes or waffles, biscuits, tortillas, bread, homemade desserts, use as a thickener for gravy, or bread chicken tenders.
44. Yeast
Price: Aldi $.99/3 packs
Yeast is not a necessity, but if you want to make your own bread products, it is recommended. Try my pizza dough or whole wheat bread.
45. Sugar
Price: $1.98/4lb- $2.74/2lb conventional vs organic
If you are going to bake, sugar is an inexpensive sweetener to have in your pantry. Even organic sugar is inexpensive compared to other sweetening agents.
46. Baking powder
Price: Aldi $1.09/8oz
Another staple baking supply, baking powder is cheap and great for getting that rise in your homemade baked goods.
47. Baking soda
Price: Aldi $.55/16oz
Similar to baking powder, baking soda is also a cheap baking staple. Bonus: It also makes a dirt cheap deodorizer for your fridge and a great soap scum buster for tubs and sinks!
Sample Cheap Meal Plans
Now how do we use these cheap groceries to actually make meals? Good question.
Try this budget meal plan. It's a great bare bones meal plan when you are feeling broke.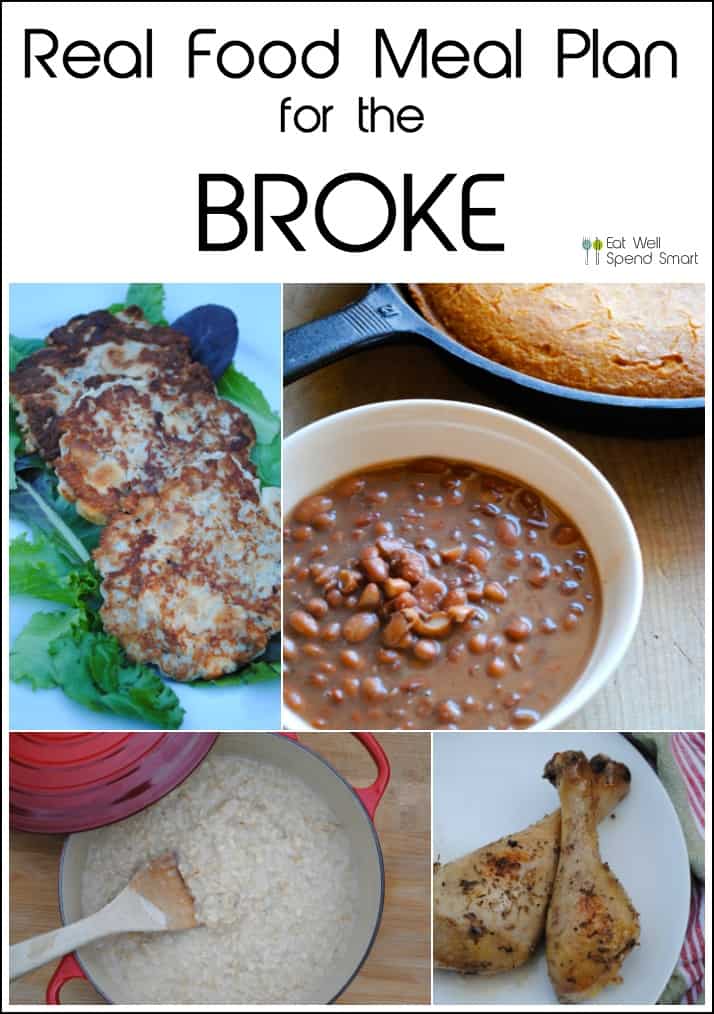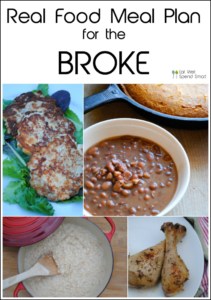 REAL FOOD MEAL PLAN FOR THE BROKE
Also see how we spent $60ish/week for our family of four for a month using many of the groceries listed above. It was definitely a stretch for us, but doable.
Week 5: Grocery shopping on a budget
Read my E-book for loads more grocery savings tips!